Compare All The Joker Laughs (Sorry, Jared Leto) With This Awesome Video Clip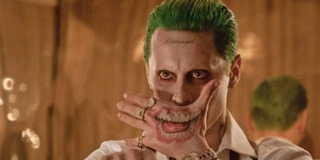 We've been hearing a lot about the Joker in the past several weeks. But one social media-savvy cinephile decided we hadn't heard quite enough. They compiled an awesome, and incredibly unique, video clip that shows off the villain's iconic laugh from the Cesar Romero to Joaquin Phoenix — and yes, Jared Leto is in there, too.
On November 9, Mark Hamill shared a video clip from Instagram user TheScenesOfCinema that illustrates the different ways that actors have portrayed the Clown Prince of Crime's laugh. The Star Wars actor was particularly delighted by the fact that it was presented as an old-school flip book, which appears to create an animated image when someone rifles through the pages in order. Mark Hamill's accompanying caption to the post said, "As a kid I used to collect Flip-Books, but in those days they were silent."
"A Full History of Joker Laughs" shows a quick animation of six iconic Jokers, and overlays audio from each. We see (and, of course, hear) Cesar Romero, who appeared in both the 1960s Batman television series and the 1966 Batman feature length film; Jack Nicholson, from Tim Burton's Batman; Heath Ledger from The Dark Knight; Jared Leto from Suicide Squad; and Joaquin Phoenix from Joker. Mark Hamill's voice appears too, thanks to his beloved take on the Joker from numerous Batman animated series.
It's a fun retrospective on one of the world's most iconic villains — and it revealed something interesting about the respective portrayals. Most of the actors take an approach that's somewhere between maniacal and hysterical. However, Jared Leto's stands in stark contrast, as he offered little more than a stilted "ha ha" during his run as the Joker. The animation fits his segment of the clip perfectly, too, as it shows him covering his giggle behind his mouth-painted hand.
Neither the clip's creator nor Mark Hamill pass judgment on any of the actors, but that didn't stop fans in the comment section from weighing in on their favorites — and getting in some digs, too. (Sorry, Jared Leto.) All opinions aside, the clip serves as an awesome reminder of the villain's legacy. The Joker has been brought to life on screen in some form for over 50 years, and four Oscar winners have taken on the mighty task of playing him.
And the clip, originally posted by TheScenesOfCinema on October 8, feels timely, given the renewed interest in the character. Within the last three years alone, we've seen two entirely different portrayals of the Joker in films. Joker has become one of the most successful comic book films of all time. The Clown Prince's cinematic history is likely far from over — we'll be waiting to see who's willing to take on his dastardly laugh next.
Your Daily Blend of Entertainment News