Jared Leto Is Right To Be Pissed About The Joker Situation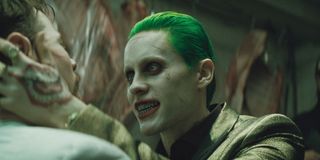 The new Joker movie is a massive hit that has won over both critics and the box office. The film is already in the top 10 global box office list of films based on DC Comics characters, and critics are wondering if the Oscars could be in the film's future. It seems everybody loves Joker to one degree or another. Well, except maybe Jared Leto, that is.
Over the weekend, a report claimed that when he first learned of the plan for Todd Philips to make a standalone Joker movie, Jared Leto, who had most recently played the character in the DCEU-set Suicide Squad, was less than happy. While Leto's people deny the claim, the report states that Leto tried to get his agents to kill the new project before it was ever made.
And honestly, if it is true, can you blame him? I say this as somebody who was largely underwhelmed by Suicide Squad as a whole, but the dude got screwed.
Almost from the beginning, when Jared Leto was cast as The Joker in Suicide Squad, it was clear the actor was going to be dealing with an uphill battle. The first image of the well-tattooed Clown Prince of Crime seemed to set a lot of people off. It was, to be sure, a very different direction for the character. At the same time, most people weren't excited by the idea of Heath Ledger playing the role in The Dark Knight, and that certainly worked out, so there was always a chance this would as well.
However, it seems like the deck was stacked against Jared Leto's Joker from the word go. The history of Suicide Squad's production is one of the more interesting stories in recent Hollywood, and while a lot of what actually happened is less than clear, there were almost certainly too many cooks in that kitchen. Multiple edits of the films were shown to different test audiences in an attempt to figure out just what the hell sort of movie to even release. Director David Ayer has specifically stated that the movie we saw was not his original vision.
The version that we got had almost no Joker in it, and what was there wasn't given a lot of love by critics. But Jared Leto has said he filmed a lot more than what we saw, and that, in the end, almost his entire performance was left on the cutting room floor.
All this likely resulted in an already pretty annoyed Jared Leto. Say what you will about his performance as The Joker, but he certainly made the role his own. He gave it everything and tried to make something out of it, and most of us have apparently never seen what he did. His role, which was supposed to be significant, was cut back so much it was entirely superfluous to the plot.
It felt like the character was only being shoehorned into Suicide Squad in order to get him introduced in the larger DC universe, but even from that perspective it didn't work.
Regardless of what happened with Suicide Squad, it initially looked like we were in for some more Jared Leto Joker anyway. Margot Robbie's Harley Quinn was the big hit of Squad, and since Joker and Harley are a double act, we figured we'd be seeing more of them both. There was Birds of Prey and Gotham City Sirens announced as vehicles for Harley that certainly could have included Joker. Suicide Squad 2 was given the green light quickly, and while it's turned out that it will be a very different movie than originally conceived, at the time, the expectation was that most of the original cast would be back. One of the announced projects that was even reportedly given a director was a movie specifically set to focus on the Joker and Harley Quinn as a couple.
The recent report also claims that WB had told Leto he would be getting his own standalone Joker movie. That obviously never materialized. Instead we got something entirely separate from Leto's character.
It's easy to see any move to squash Todd Philips Joker, if that in fact happened, as sour grapes, but there's certainly more going on than that. There's no good end to this scenario from Leto's perspective. While Philips' movie was always designed to be something separate from the DCEU characters, that minor detail was never going to matter. If Philips' movie bombed, it would only mean stock in the Joker as a character would go down. If the movie was a hit, as it has now proven to be, then interest in The Joker goes up, but nobody is looking for Leto to reprise the role.
Following Justice League, it feels like the DCEU is being largely ignored entirely. Movies like Aquaman and Shazam! technically took place within it, but not in any way that really matters. It's also looking The Batman will be set in its own continuity rather than Robert Pattinson playing a younger version of Ben Affleck's Caped Crusader, meaning it's clear there's no place for Jared Leto there either.
We've seen numerous ideas, like the Joker Vs. Harley Quinn movie, go through early development before fading away, apparently never to be heard about again. Is there still supposed to be a Cyborg movie? I'm pretty sure there is still supposed to be a Flash movie happening, but it won't be a Flashpoint movie; that's a different thing that got announced before being discarded.
And then, of course, on top of all that, there's simply the fact that seeing another Joker movie happen so soon after Jared Leto played the role makes it clear that there was no real support for the actor following Suicide Squad. That had to be frustrating.
Jared Leto will be fine. He's an Academy Award winner who will always be in demand, but, stories to the contrary, he's human too. This entire situation was a mess, and it mostly had nothing to do with him. It was all about a studio that clearly didn't really know what it wanted and was just throwing things at the wall to see what stuck. Evidently Leto's Joker wasn't one of those things that stuck, and that's fine, but I doubt the situation was presented to the actor that way.
And at this point, who knows what the future holds. Leto will try his fortunes in a different superhero franchise, as he boarded Sony's Spider-Man universe as Morbius. Clearly, based on recent comments regarding how Spider-Man will be fitting in there, there are plans for universe expansion here as well, and one assumes Leto's character will be part of that.
Whether or not Jared Leto tried to kill Joker, I have no idea. Clearly, it didn't work. But regardless I can certainly understand the actor's frustrations.
Content Producer/Theme Park Beat
CinemaBlend's resident theme park junkie and amateur Disney historian. Armchair Imagineer. Epcot Stan. Future Club 33 Member.
Your Daily Blend of Entertainment News
Thank you for signing up to CinemaBlend. You will receive a verification email shortly.
There was a problem. Please refresh the page and try again.