Tell Us What's Going On With David Spade's Face During Noah Centineo's People's Choice Awards Win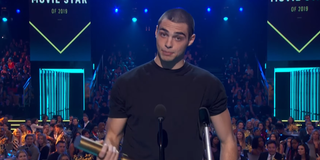 Well, if you weren't aware, last night saw the reveal of this year's People's Choice Award winners, and, as one might expect, there were a lot of surprises, touching moments and laughs to be had from the ceremony. But, there is one instance in particular which has captured the hearts and minds of award show viewers everywhere. The internet's current favorite boyfriend, Noah Centineo, won an award last night for his work in the Netflix film The Perfect Date. While everyone loves to ogle them some Centineo, it turns out he may have gotten some unexpected attention from another star in attendance.
Now, we know how these awards shows work, right? Noah Centineo was announced as the winner and as he made his way slowly to the stage (due to an injured knee) we were shown different members of the audience applauding the hot young rom-com superstar's win. Well, just take a look at what happened when an unsuspecting cameraperson gave us a shot of comedian / actor / talk show host David Spade:
Oh, my, Mr. Spade! We didn't know you had it in you! In case you couldn't see the clip clearly, David Spade was caught, as Noah Centineo walked to the stage with the help of presenter Sarah Hyland, licking his lips with an intensity normally reserved for, well, movies that come on streaming services. Bow Chicka Wow Wow!
So, this has led to some big questions from many fans who watched the show. Namely, what exactly the hell is David Spade doing? As I see it there are only three real potential answers, so let's run down each of them. First, isn't it possible that Spade had no idea what was going on and didn't even realize someone was accepting an award right then? I mean, who among us hasn't spaced out during an awards ceremony? Those things are looooong, friends. He could have just had...dry lips and no lip balm. We've all been there!
Secondly, let's remember that David Spade is a comedian. This is the man who helped keep Saturday Night Live relevant in the early 1990s, and went on to star in Tommy Boy, The Emperor's New Groove, Just Shoot Me, 8 Simple Rules, The Benchwarmers and Grown Ups, among other big and small screen comedies. This is Joe Dirt, people! Can we really put it past him to see a camera and respond with something funny, no matter how odd and out of left field it seems?
Third, and, of course, most importantly, we have the option that everyone is hoping for (as noted in the above tweet). It's not impossible that David Spade has the hots for Noah Centineo. Honestly, just look at the guy. He was partially broken when he accepted his People's Choice Award, not wearing anything fancy, and his full head of beautiful, man-curls were shaved down to military standards, yet he's still an adorable dream-scenario hottie.
And, not only did Noah Centineo continue to fuel fantasies with his award show look, he also seemed so surprised and humble, admitted he was nervous about being in front of so many people and said really nice things about helping others. It's all enough to make me...uh, us stay at home and binge The Perfect Date and To All the Boys I've Loved Before five more times. But only five more times, because we keep saying we're going to cook dinner on Wednesday and we're really going to do that this week, dammit.
It's not impossible that David Spade was thinking the same thing in that moment at all. Noah Centineo is about to be He-Man, after all. Who can resist the beauty and magnetism that's capable of that when it's right in front of them? This thirst might just be real, friends.
Noah Centineo can next be seen in Charlie's Angels, which hits theaters on November 15. David Spade can be seen in the upcoming film The Wrong Missy, and for more of what you can watch on the big screen this year, check out our 2019 new movie release guide. In the meantime, vote in the poll below and let us know what you think was going on with David Spade!
This poll is no longer available.
Yennefer's apprentice, Gilmore Girl; will Vulcan nerve pinch pretty much anyone if prompted with cheese...Yes, even Jamie Fraser.
Your Daily Blend of Entertainment News
Thank you for signing up to CinemaBlend. You will receive a verification email shortly.
There was a problem. Please refresh the page and try again.