David Spade Hilariously Talks Licking His Lips During Noah Centineo's People's Choice Win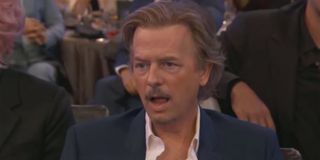 Another day, another meme. If you somehow missed David Spade licking his lips during Netflix star Noah Centineo's big People's Choice Award win, it's OK. Because today Spade addressed the meme and now we know what was going on during the moment the cameras caught the comedian.
During a recent episode of David Spade's Comedy Central show Lights Out with David Spade, the actor and host addressed what happened during the awards ceremony head on.
So, that's the real explanation from David Spade. However, Lights Out also takes it a step further with a bunch of jokes regarding Adam Sandler, and some cuts of David Spade the show allegedly didn't use. It's an amusing bit if you've caught the meme that went 'round the Internet yesterday. Take a look.
Meanwhile, it's actually pretty interesting to hear this reaction from David Spade was a total accident. Clearly, that was always a possibility, but as our own esteemed Adrienne Jones pointed out yesterday, it was only one of several possibilities, the others being Spade was trying to be funny and, finally, that Spade has a thing for Noah Centineo, who, let's be honest, makes lots of people swoon. It wouldn't be the weirdest thing David Spade has ever been involved with, that's for sure.
And because a viral reaction this good can't die out yet, I'm going to just go ahead and include it below. If you haven't given it a watch, yet, it's definitely a classic awards moment, right up there with Jennifer Lawrence tripping at the Oscars. Alright, alright, maybe not quite that iconic.
Some days the Internet may suck out your soul, but other days it gives you glorious David Spade moments to ponder over and laugh at. Intentional or not (he says not), the footage is everywhere right now, and I'm really glad he addressed it on his show and cleared up the matter for fans and casual People's Choice Awards watchers alike.
Now, I just wonder how Noah Centineo feels about the whole thing…
Reality TV fan with a pinch of Disney fairy dust thrown in. Theme park junkie. If you've created a rom-com I've probably watched it.
Your Daily Blend of Entertainment News
Thank you for signing up to CinemaBlend. You will receive a verification email shortly.
There was a problem. Please refresh the page and try again.