Fantastic Beasts 3: Are More Dumbledore And Hogwarts What The Sequel Needs?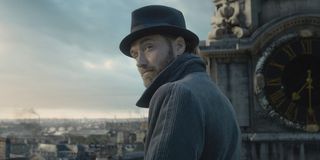 Albus Percival Wulfric Brian Dumbledore and Hogwarts School of Witchcraft and Wizardry: they're two iconic and critical elements of J.K. Rowling's Harry Potter story and two things we'll be getting a lot more of in Fantastic Beasts 3. With the recent news that the third film in Warner Bros.' Harry Potter spinoff/prequel series is moving forward next year came the detail that this next Fantastic Beasts film is expected to put more of a focus on Jude Law's wizard and set more action at the famed school.
In a vacuum, the prospect of seeing more of young Dumbledore and spending more time at Hogwarts would be incredibly exciting to fans of J.K Rowling's Wizarding World, and it still is to a degree. But this news about Fantastic Beasts 3 doesn't exist in a vacuum. It comes about at a time when there is a lot of doubt surrounding the franchise after the disappointing performance of Fantastic Beasts: The Crimes of Grindelwald.
So it is worth asking, are more Dumbledore and Hogwarts what Fantastic Beasts 3 really needs?
Just as the world isn't split into good people and Death Eaters, the answer to this question isn't black and white. Ultimately, I think that more of Dumbledore and Hogwarts can be a good thing for Fantastic Beasts 3, but it is not a cure-all for what ails the Fantastic Beasts franchise. First, let's dig into how we arrived at this point to give context for how these potential changes can impact the series moving forward.
How Fantastic Beasts Got Here
The third film in the Wizarding World series won't arrive in theaters until 2021, the result of a delay in production meant to give the film, which is said to be bigger than the first two combined, more prep time. A delay in and of itself is not necessarily a bad thing, but this one comes after the second installment in the franchise performed considerably worse than Fantastic Beasts and Where to Find Them by all meaningful metrics.
Fantastic Beasts: The Crimes of Grindelwald was critically drubbed, made over $161 million less than its predecessor, wasn't embraced by general audiences and was rejected by hardcore fans for what it did to the Harry Potter canon. The second film wasn't a commercial failure, but that downward trajectory and drop-off in acclaim and enthusiasm is surely alarming for Warner Bros.' valuable property. So something has to change, but what?
Not unlike the slowdown and cinematic hiatus happening in a galaxy far, far away in the wake of some creative and commercial disappointments, the Wizarding World is seemingly in need of some retooling to right the ship. And it seems that that is very much what Warner Bros. is attempting to do with Fantastic Beasts 3.
In addition to the production delay, we have heard that J.K. Rowling, who scripted the first two films in the franchise, is attempting to make Fantastic Beasts 3 better than The Crimes of Grindelwald (duh). Screenwriter Steve Kloves, who was a writer on seven of the eight Harry Potter films, has been brought in as a co-screenwriter to help her out in that task.
So it is possible that a greater focus on Dumbledore with more action set at Hogwarts is just another facet of Warner Bros.' multi-pronged attempt to cast reparo on the Fantastic Beasts franchise; a 'break glass in case of emergency' situation. And as far as prescriptions for renewed success are concerned, that's not a bad way to go.
The Comfort Of The Familiar
There are several obvious advantages to having more Dumbledore and more Hogwarts in Fantastic Beasts 3, the main one being that it would theoretically give this threequel a feel more akin to the Harry Potter series of films, which were hugely successful at the box office and largely appealed to fans.
There is comfort in the familiar and we all want more of the things that we love. We know and love the Dumbledore character, and there is still plenty we want to learn about him and see him do in this prequel series, not to mention the questions that need to be answered. So in that regard, getting to spend more time with him in Fantastic Beasts 3 is a good thing.
The same goes for Hogwarts. Being back in the warm embrace of the walls of Hogwarts is a good way to anchor this globe-trotting franchise (which will travel to Brazil in Fantastic Beasts 3) to a familiar location and provide a connection to the main story in this universe that we already love. So more of Dumbledore and Hogwarts could be exactly what Fantastic Beasts 3 needs.
It's Right For The Story
While the news that Fantastic Beasts 3 would feature more Dumbledore and more Hogwarts might seem like a knee-jerk reaction to return to something safe and familiar after the performance of Crimes of Grindelwald, this actually feels like the natural progression of the story. Sure, there may be some extra incentive to focus on Dumbledore and Hogwarts after the second movie, but ever since Grindelwald was revealed at the end of Fantastic Beasts and Where to Find Them, the story has been trending in that direction anyways.
It has become clear that Newt Scamander is a conduit and the lens through which this series will tell the story of the struggle between Albus Dumbledore and Gellert Grindelwald. Therefore, the fact that Fantastic Beasts 3 will focus more on Dumbledore and Hogwarts is to be expected, and frankly, it would be somewhat surprising if Dumbledore didn't take on a larger role in Fantastic Beasts 3 after the events of Crimes of Grindelwald.
Furthermore, despite the many issues people had with Fantastic Beasts 2, Jude Law's Dumbledore wasn't one of them. The actor's portrayal as a younger version of the famed wizard was one of the true highlights of the second movie, and truth be told, I think many people would have liked to have seen him have more to do. Therefore, leaning in to what is working in this franchise can only help Fantastic Beasts 3. But will that be enough? Maybe, but there are reasons to doubt it.
Dumbledore Couldn't Save Fantastic Beasts 2
Incorporating more Dumbledore and Hogwarts sounds good for the aforementioned reasons, but the obvious flaw in that logic is that they were already in Fantastic Beasts: The Crimes of Grindelwald, and that film is the reason we're even having this discussion.
Fantastic Beasts and Where to Find Them only mentioned Dumbledore and we never saw Hogwarts, but the second film brought in those familiar elements and it was way worse than the first. Fantastic Beasts: The Crimes of Grindelwald is an absolute mess for a whole host of reasons. It's slow and convoluted, with messy world building and elements that never go anywhere and seem unnecessary or underdeveloped. We still don't even really know what Grindelwald's crimes are!
Worst of all, character motivations in the movie are a real problem in the film, with characters making unexplained choices that are inconsistent with what we know about them seemingly in order to service the plot. Then there is what the film does to the lore and mythology of the Harry Potter universe.
In the wake of Fantastic Beasts: The Crimes of Grindelwald, there was a narrative that the sequel film didn't work for general audiences because it was too confusing and inside baseball, and that it really only appealed to hardcore fans that know the mythology. This is a misconception.
The Crimes of Grindelwald may have been confusing for general audiences, but for Harry Potter fans, it was our Prequels moment. Like the Star Wars Prequel Trilogy, Crimes of Grindelwald introduced unwelcome elements into the mythology and retconned things in a way that fans did not like (particularly regarding Dumbledore), not to mention the various continuity issues. So clearly familiar elements do not make for a better movie.
The Franchise Has Larger Problems
Like Harry's broken wand in Harry Potter and the Deathly Hallows, the problems with the Fantastic Beasts franchise may not be easily fixed. The backlash and poor reception to The Crimes of Grindelwald is reflective of the failings of that sequel film, but the decreased opening weekend and overall box office compared to the first movie may be an indictment of the franchise as a whole.
Part of the problem is that this franchise seems to be telling two stories: one involving Newt and his fantastic beasts, and another involving a greater wizarding conflict between Dumbledore and Grindelwald. The issue with that is that those two stories don't necessarily fit together that well organically, so Newt and his beasts are incorporated in a way that doesn't always make logical sense and can come off as forced.
In addition, over two films, this series has grown unwieldy, with lots of superfluous elements and characters that don't seem essential to the main story of Dumbledore and Grindelwald. These elements may become crucial down the line, but there is a lack of narrative focus in the series. Our true anchor point is Newt Scamander.
Unfortunately, Fantastic Beasts may have a Newt Scamander problem. Eddie Redmayne's character is charming and fun, and the actor gives a great performance, but the character himself isn't really working as the main protagonist in the way the trio did in the Harry Potter films. Newt's awkwardness makes him hard to connect with and his decisions are often frustrating. Unfortunately, Newt Scamander is a feature, not a bug.
Dumbledore and Hogwarts can't fix that. But maybe more Dumbledore will take the pressure off of Newt as the central focus and with more action set at Hogwarts we'll come to better understand and appreciate Newt.
So are more Dumbledore and Hogwarts what Fantastic Beasts 3 needs? Yes, but that's not all and more spellwork will be required to bring the magic back to the Wizarding World.
Fantastic Beasts 3 apparates into theaters on November 12, 2021. For movies arriving in theaters next year, check out our 2020 Release Schedule.
This poll is no longer available.
Your Daily Blend of Entertainment News
Nick grew up in Maryland has degrees in Film Studies and Communications. His life goal is to walk the earth, meet people and get into adventures. He's also still looking for The Adventures of Pete and Pete season 3 on DVD if anyone has a lead.
Your Daily Blend of Entertainment News
Thank you for signing up to CinemaBlend. You will receive a verification email shortly.
There was a problem. Please refresh the page and try again.