The Suicide Squad Has More Practical Effects Than All Of James Gunn's Movies Combined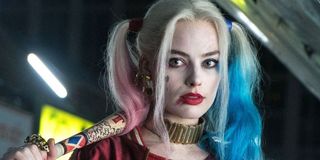 Some directors like to keep an air of mystery surrounding their sets. James Gunn is not one of those directors. He routinely shares morsels of information about his filmmaking process with fans. And thanks to that habit, we now know that his upcoming The Suicide Squad will have more practical effects than all of the rest of his films combined.
The director recently shared a fun behind-the-scenes clip from Guardians of the Galaxy Vol. 1 on Instagram. The short video shows several people inside a studio, watching footage from the film in which Gamora is yelled at by an angry mob in Kyln. The people in the studio are yelling, pointing fingers, and moving between microphones that are set up between them and the screen. They're helping to loop the audio, which means they're re-recording dialogue and background noises so the audio sounds clear in the film.
James Gunn added some context in his caption, explaining, "Moving the actors around from mic to mic adds dynamism to the surround sound. Loop group is always a fun part of the filmmaking process and helps bring a movie fully to life."
Fans responded favorably to the Instagram post, and one even commented, "Very nice. Good to see filmmakers are still using practical effects." And James Gunn apparently shares his enthusiasm for old-school movie-making. He responded to the comment, telling the fan:
It's an intriguing piece of intel about the film, which fans have been eagerly anticipating since James Gunn was announced as director. It means that The Suicide Squad will rely less on visual effects, like CGI, to bring the story to life. James Gunn's previous films, like Slither, Super, and the first two Guardians films, have all had elements of elevated reality or fantasy. So, it will be interesting to see how he pulls off a more old-school way of bringing the more fantastical elements of his latest film to life.
James Gunn's Instagram insights are the latest tidbits he's offered fans about his upcoming reboot. In September, he shared a photo of himself and a few members The Suicide Squad cast. In October, while answering fans' questions on the social media platform, he said that The Suicide Squad is the most fun film he's made so far. And he's even been open about why he's cut some Suicide Squad characters out of his movie.
We'll have to wait to August 6, 2021 to see how James Gunn utilizes the practical effects he's so excited about. And he has yet to comment on whether or not he'll use a similar method when he tackles Guardians of the Galaxy Vol. 3.
Your Daily Blend of Entertainment News
Thank you for signing up to CinemaBlend. You will receive a verification email shortly.
There was a problem. Please refresh the page and try again.