Blake Lively Is Back To Her Old Instagram Tricks To Promote The Rhythm Section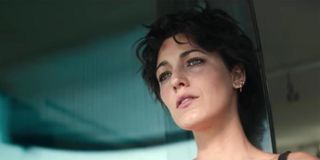 When Blake Lively updates her Instagram, it's usually to do one of a few things: promote an upcoming film or brand sponsorship, give us a behind-the-scenes glimpse of her life, or mercilessly troll her husband. So, her nearly 26 million followers weren't surprised at first when she used the social media platform to post a teaser for her new movie The Rhythm Section. That is, until she did something pretty drastic to make sure we were paying attention.
Back in September, Blake Lively shared the full trailer for her upcoming thriller in an Instagram post. And it's not that fans didn't notice it -- plenty liked and commented on the post. But weeks later, on November 16, she really made sure it was the only thing her fans could see, by deleting every other post on her account.
This isn't the first time Blake Lively has pulled this kind of promotional move. In 2018, she did the exact same thing to promote A Simple Favor -- except that time, she also unfollowed Ryan Reynolds. She eventually restored her account, and re-followed her husband. So we can probably expect her to do something similar once her promotional run for The Rhythm Section is over.
In the meantime, she's definitely drawn more attention to her latest project. The Rhythm Section follows the actress' character, Stephanie Patrick, as she tries to find out what happened after her family dies in a suspicious plane crash. Once she realizes that the plane crash wasn't accidental, she sets about to avenge their deaths by going full assassin. The trailer makes The Rhythm Section look like it will be a sexy, tense thriller -- and it also showcases another bold move for Blake Lively.
For at least part of the film, the actress will be sporting a brunette pixie cut. Blake Lively first revealed the haircut in a (now-deleted) Instagram post back in April. And it's not the first time she's become a non-blonde -- she also dyed her hair brown for her role in 2011's Green Lantern. The Rhythm Section trailer also shows Blake Lively's character going incognito with shaggy blonde hair and a femme fatale-esque red 'do.
Watching Blake Lively delve into a chameleon-like character should be a trip. In the past few years, she's proven that she's capable of tackling different genres, having showed off her comedic chops alongside Anna Kendrick in A Simple Favor and giving a harrowing performance in The Shallows. This is an entirely new kind of role for her though -- and one she's clearly excited for fans to see.
The Rhythm Section doesn't hit theaters until January 31, 2020. So we may have to wait quite a while before she returns to her usual Instagram habits.
Your Daily Blend of Entertainment News