What Fans Should Know About Blake Lively And Ryan Reynolds' Relationship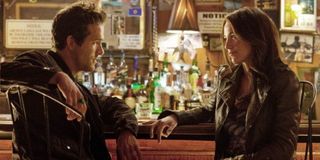 Hollywood has no shortage of well-publicized sweethearts. Everyone loves a good Hollywood romance, after all, and there are definitely more than a few to be found in Tinseltown. Yet, Blake Lively and Ryan Reynolds' marriage really seems to be something special.
As made evident throughout several interviews, red carpet events and humorous social media interactions over the years, Ryan Reynolds and Blake Lively share one of the most charming and winning relationships in Hollywood. Since they've been together for nearly 10 years now, the Detective Pikachu actor and A Simple Favor actress have seemingly only grown fonder and more loving toward each other in their affectionate companionship. Hopefully, that's not subject to change anytime soon!
Still, a lot has changed since Blake Lively and Ryan Reynolds first got together, including how they've grown as a family and more! Let's break it down.
How Did Blake Lively And Ryan Reynolds Meet?
Ryan Reynolds and Blake Lively first met on the set on 2011's Green Lantern. Though it's safe to say the movie itself turned out ill-fated —for a number of different reasons, both critically and commercially — the endearing romantic bond between these two set-to-rise celebrities turned out to be pretty special. The film may have some issues, but the casting director clearly did something right here.
Like most Hollywood blockbusters, it took a long while to film Green Lantern. Blake Lively and Ryan Reynolds first got acquainted in early 2010, roughly a year-and-a-half before the movie would make its way into theaters. While Green Lantern was falling part as the months went on, their off-screen relationship was only grew stronger. While the Green Lantern franchise is done-and-gone, they're still sticking together.
When Was Blake Lively And Ryan Reynolds' Wedding?
Ryan Reynolds and Blake Lively were married on September 9th, 2012, and they've been together ever since. The wedding ceremony took place at Boone Hall Plantation, a historical South Carolina destination, during a Sunday night ceremony in secretive fashion. The couple had been dating for roughly two years before they finally got hitched, and it certainly sounds like it was a joyous ceremony for the loving couple.
As for the wedding itself, it was considered pretty intimate. There were reportedly only 35 guests in attendance, according to The Daily Mail. As Blake Lively admitted, they wanted to get married in secret, but they didn't want to sacrifice the style in the process. Sure enough, the wedding sounds like it was gorgeous, and it sounds like the bliss hasn't left since.
What Is The Age Difference Between Blake Lively And Ryan Reynolds?
There is a bit of an age difference between Blake Lively and Ryan Reynolds. The Deadpool actor was born in 1976, while The Age of Adaline actress came into this world in 1987. That means Reynolds is 42-years-old, while Lively is 31. If you do a quick number crunch, you'll see that there is an 11-year separation between them.
While that is more than a decade age difference between these actors, it doesn't make a difference for these two sweethearts. The heart wants what it wants, and there are certainly way bigger age differences between a few other celebrity couples. We don't need to name any names, do we? Though Ryan Reynolds will be 50 before Blake Lively turns 40, that clearly doesn't seem to be an issue or a concern for these two lovers.
Was Ryan Reynolds Married Before Blake Lively?
Yes, the actor was married previously. Before Ryan Reynolds said "I do" to Blake Lively, he was previously in another marriage with another famous actress. That actress is none other than Scarlett Johansson. They were married in 2008, and their marriage lasted a couple of years. However, Ryan Reynolds and Scarlett Johansson were separated in 2010, then the ex-couple officially got divorced in 2011, shortly before Reynolds married Blake Lively.
The reason for Ryan Reynolds and Scarlett Johansson's fallout was never made explicitly clear, though it sounds like both parties have moved on well enough. Johansson got remarried in 2014 to journalist Romain Dauriac, though their marriage only lasted until 2017. More recently, Johansson has been in a relationship with "Weekend Update" personality and Saturday Night Live head writer Colin Jost.
When he discussed his divorce with Details Magazine, here's what Ryan Reynolds said about his separation:
Who Has Blake Lively Dated?
Before she was married to Ryan Reynolds, Blake Lively was in a few high-profile relationships. Most notably, she was dating Penn Badgley, her co-star on Gossip Girl. It's unclear how long they were dating, but they broke up around September 2010 under "amicable" circumstances, according to reports at the time. Meanwhile, it was around this time that Ryan Reynolds was dealing with his crumbling marriage to Scarlett Johansson.
Oftentimes, when it comes to relationships, timing is key. While Blake Lively and Ryan Reynolds were filming Green Lantern together, they were each dealing with their own relationships coming apart, and through their romantic on-screen relationship, sparks started to fly away from the cameras. Sure enough, it didn't take long before they were dating, then married.
How Many Kids Do Blake Lively And Ryan Reynolds Share Together?
Blake Lively and Ryan Reynolds share two daughters together, James Reynolds (4) and Inez Reynolds (2). James Reynolds was born in 2014, after the couple had been married for two years together. Inez Reynolds, meanwhile, was born in 2016. And the family is going to get even bigger soon. Blake Lively announced at the premiere of Detective Pikachu that she's currently pregnant with baby number three! As seen in the social media photos above, she's currently rocking the baby bump. It can be tricky business balancing parental duties with two active film careers. Blake Lively described this tough balance between work and family in an interview with Glamour. She said:
Where Do Ryan Reynolds And Blake Lively Live?
Blake Lively and Ryan Reynolds live just outside Pound Ridge, New York, in a house they purchased together back in November 2012. According to Velvet Ropes, the couple bought the house for a hefty $5.7 million. It's a 8,892 square feet home with seven bedrooms, six bathrooms, and a whole lot of acres. It's certainly a cozy residence to settle down in and raise a family, to say the very least.
There's no denying that Ryan Reynolds and Blake Lively like to keep themselves busy with their work, so it's unclear how often they spend time in this house. Particularly Ryan Reynolds, who continues to balloon his fame with the popularity of the Deadpool films and more recent hits like Detective Pikachu. They travel as a family from set to set, making sure they're not far apart from one another, which is key to their relationship foundation. With that in mind, do they spend a lot of time in this house? It's hard to say, but it's most certainly a gorgeous location.
Through a fun-loving, yet dedicated and committed, relationship and marriage, Blake Lively and Ryan Reynolds have proven themselves to be one of the best and most affectionate couples in Hollywood. They have been together for nearly a decade now, and they'll be celebrate their 10-year-anniversary sooner-than-later too, as long as everything goes according to plan in their lives. And it sounds like they're still as loving as can be, even if they're not afraid to make fun of each other on social media at any given occasion.
Nevertheless, for more updates on Ryan Reynolds and Blake Lively's marriage, as well as the latest news in film, television, pop culture, celebrity culture and a whole lot more, you can always be sure to check back with us right here at CinemaBlend to hear the latest scoop.
Will is an entertainment writer based in Pittsburgh, PA. His writing can also be found in The Playlist, Cut Print Film, We Got This Covered, The Young Folks, Slate and other outlets. He also co-hosts the weekly film/TV podcast Cinemaholics with Jon Negroni and he likes to think he's a professional Garfield enthusiast.
Your Daily Blend of Entertainment News
Thank you for signing up to CinemaBlend. You will receive a verification email shortly.
There was a problem. Please refresh the page and try again.