Yes, Some Upcoming Marvel Movies Should Be Exclusive To Disney+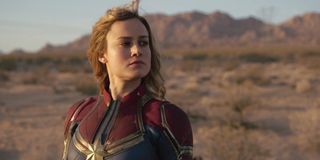 CinemaBlend participates in affiliate programs with various companies. We may earn a commission when you click on or make purchases via links.
Disney+ has officially launched, and while it may not seem like it right now, the service has the potential to be a game-changer for how audiences consume media. That is to say the company that owns some of the biggest movie franchises of all time now has a streaming service, and can now bypass theaters and release movies directly to its platform if it so chooses. That means Star Wars, Avatar and even Marvel could end up having exclusive Disney+ movies.
Will Disney+ pull the trigger and make some future Marvel features Disney+ exclusive? The knee-jerk reaction I'm assuming many will have is no, but I personally think it's a good idea. An exclusive MCU movie or two on the platform will almost certainly open up the MCU in unexpected ways, and maybe even save the average Marvel fan a chunk of change.
Not All Marvel Heroes Are Created Equal
Some MCU heroes are capable of headlining a series of films and can crush it at the box office, while others may be best suited for a series that gives Marvel some breathing room to tell an emotional story. This seems to be the school of thought Marvel has adapted, but there's still another untapped market. I'm talking, of course, about the heroes who are notable, but would do better in a one-off adventure rather than a prolonged series.
For example, is Ka-Zar of the Savage Land a name that will put butts in seats? Probably not, and while a series about him could be cool, the CGI budget for dinosaurs in that show would be massive. One could spend just as much making a feature film. Marvel could scale down on costs considerably or at least give viewers a better bang for their buck by keeping a feature run time over a series run time.
And of course, this idea works for more heroes than just Ka-Zar. Marvel now has a plethora of mutants who are just begging (cough, Gambit, cough) to have their own Marvel feature film, but past attempts just haven't worked out. Giving the fans features for heroes they love and releasing it on Disney+ for "free" only strengthens the recognition of that character, and may pave the way for a future theatrical release of a sequel.
Marvel Is Already Making Exclusive Content For Disney+ Anyway
One of the main arguments against making Disney+ exclusive MCU movies is that it would require anyone who wishes to keep up with the MCU to have a Disney+ membership. The alternative is to simply show up to a theater without whatever knowledge gained from that movie and risk being out of the loop on an inside joke, or even a key plot point.
I'm sorry to say for anyone worried about this, but that's already happening. Most all of the upcoming Disney+ live-action Marvel shows will be canon within the MCU, and yes, they will likely have some impact on the events of upcoming Marvel movies. For example, Jeremy Renner's Hawkeye will be training his successor Kate Bishop in the hero's upcoming series. That's a pretty significant change that may confuse the oblivious film goer should they skip out on Disney+'s Marvel offerings.
So if Marvel Studios is going to be developing content for Disney+ (which is currently offering a free seven-day trial deal) anyway, why restrict it to limited and ongoing series? Not all may consider what Marvel Studios does "cinema," but there's no denying there's been a lot of creative and entertaining things coming out of that studio for the past decade. I'd love to see what these creative minds could do with a two-hour movie that isn't sitting on the pressure of hitting massive box-office projections.
Marvel Movies On Disney+ Would Help Marvel Prepare For Future Phases
What Marvel Studios did with the Infinity Saga was incredible, and it managed to captivate audiences for over a decade. Now the studio hopes to keep those folks on the hook for even longer, and it's fair to say the challenge in 2020 is far greater than the one faced in 2008. So far, it appears Marvel's not too worried about that fatigue, as it's planning a solid lineup of movies from 2020 onwards.
2020 aside, on average, we're looking at around 3-4 movies a year from Marvel in the foreseeable future. That's quite a jump in content, especially so soon after the franchise supposedly wrote off major names like Iron Man and Captain America. In the near future, audiences will be asked to show up for more obscure characters, like The Eternals and Shang Chi, and one has to wonder if they'll have the same draw at the box office.
Marvel has shown it can turn obscure heroes into household names, but there's no denying that getting audiences to like something new over what they know will always be a bigger challenge. Disney+ exclusive movies could definitely help convince already-paying subscribers to roll the dice on heroes they may not be as familiar with, or to give them something they are interested in if the upcoming slate isn't quite what they're into.
The main advantage of peppering a few Disney+ exclusive MCU movies into the lineup is that it helps keep current MCU fans into the franchise with value. Lost theater revenue is a small price to pay if it means a Disney+ movie convinced an otherwise skeptical viewer to show up for the next major motion picture.
And it's not like any of these hypothetical Marvel movies would never appear in a theater. Maybe one of these movies could have a limited run its opening week like many major streaming films have been doing lately, or Marvel could arrange a big event down the stretch if the movie becomes really popular. Plus, if there really are people who are passionate about the MCU, but also don't own Disney+, a limited theater run would give them a chance to see it as well.
Mark Ruffalo Is Psyched About Spider-Man's Return To The MCU
Should Marvel Studios make some movies exclusively for Disney+ (opens in new tab)? Sound off in the poll and comments below, and be sure to continue to follow CinemaBlend for the latest in movies and television.
This poll is no longer available.
Mick likes good television, but also reality television. He grew up on Star Wars, DC, Marvel, and pro wrestling and loves to discuss and dissect most of it. He's been writing online for over a decade and never dreamed he'd be in the position he is today.