Judy Garland's Former Co-Star Reflects On Renee Zellweger's Judy Performance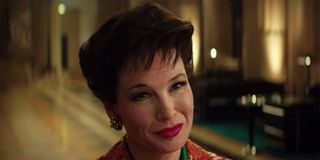 Playing a real person, let alone a Hollywood icon, is a challenge few actors are willing to take on. But Renée Zellweger rose to the task when she portrayed Judy Garland in this year's biopic Judy. The singer and actress' former co-star Margaret O'Brien has seen the film, and she offered her opinion about how accurate the portrayal was.
A movie legend in her own right, Margaret O'Brien is one of the few living actors who worked with Judy Garland during her career. They both starred in 1944's Meet Me in St. Louis, in which they played sisters. And while Judy mostly covers the time period after they filmed the holiday classic together, she told Entertainment Weekly that she still felt that Renée Zellweger was a fitting tribute:
Based on the Broadway play End of the Rainbow, Judy briefly addresses Judy Garland's early career before focusing on the last few years of her life. The film tackles the issues she had with anxiety, as well as the substance abuse that led to her death at the age of 47. Renée Zellweger has received critical acclaim for her compassionate and moving portrayal of the late actress. And Margaret O'Brien was so impressed with her performance that she was happy to lend a voice to the growing buzz about an Oscar nomination. In fact, she said she hopes the actress will win an Academy Award for her work in Judy:
Judy Garland was honored with an Academy Juvenile Award for her work in The Wizard of Oz. But she famously never won an Oscar, despite being nominated for both A Star is Born and Judgement at Nuremberg. Renée Zellweger has been nominated for three Academy Awards, and won for a Best Supporting Actress trophy for her work in Cold Mountain. It seems likely that she'll be nominated for Judy -- and if she wins, it would be her first Best Actress Oscar.
Keep up with everything still headed to the big screen this year with our 2019 movie release date schedule.
Your Daily Blend of Entertainment News