Disneyland At Christmas: Best Tips and Tricks For Visiting During The Holiday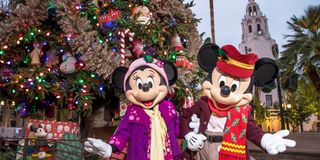 There's never a bad time to visit Disneyland; it is the happiest place on Earth, after all, but if there's a best time to visit Disneyland, it might be right now. Disneyland is a place that makes you feel like a kid again, and there's no better time to be a kid than during the Christmas holiday season. Put the two together, and you have double the magic.
However, like with any Disneyland vacation there's a lot to do, and a limited time to do it all in. So, what all is there to do during the holidays that you don't want to miss and what's the best way to make sure you see it all? Good news, we can answer those questions. Here are a few thoughts on things you'll want to check out, and the best way to handle them.
Disneyland's Holiday Themed Attractions
The biggest reason to visit Disneyland Resort is, of course, all the attractions. The Christmas season tends to be a busy time at Disneyland, but the up side of that is that there is rarely any maintenance scheduled during the period, so all the rides you want to ride should be up and running. However, there are a number of special attractions only available during the holiday season that you won't want to miss.
First and foremost, you have the Haunted Mansion Holiday. The classic Haunted Mansion is given a Nightmare Before Christmas overlay that starts with the Halloween season celebration and lasts through Christmas. This is probably the most popular attraction in the park that has a special holiday theme, so it's probably worth hitting, or at least grabbing a FastPass, early. If you're there at rope drop, go there first. As always, the highlight is the gingerbread house that is built from scratch every year. This year, it celebrates the 50th anniversary of the Haunted Mansion.
It's A Small World also gets a holiday overlay, which includes a holiday version of the classic song, which might drive you a little less to distraction if you're not a fan of the original Sherman Brothers classic. Although, if that's the case, we need to talk.
Hand Puffed Candy Canes
While the attractions are pretty well known and are obviously going to be well-publicized, not everything special at Disneyland during the holiday is going to be broadcast everywhere. One item that many Disney fans know, but the general public might be less in-the-know about, are the special handmade candy canes you can only get this time of year.
Only a limited number of the special sweets are made each day and they're only available certain days, so if you want one, you have to work for it. The candy canes are available at either Disneyland's Candy Palace or Disney California Adventure's Trolly Treats, depending on the day.
You're going to have to head straight to the appropriate location as soon as the gates open, which means you may want to get the park as early as an hour before Disneyland opens in order to be sure you're one of the first inside. Head over to the shop as fast as you can and get in line. From there, wristbands will be handed out which will give you a return time. Then you can go about your day and simply return at the right time to get this unique and limited item.
Here's the 2019 schedule
Candy Palace at Disneyland
November 29; December 2, 4, 6, 9, 11, 13, 16, 18, 20, and 24
Trolley Treats at California Adventure
November 30; December 3, 5, 7, 10, 12, 14, 17, 19, 21, and 25
Disneyland's Holiday Food Is Not To Miss
Attractions may be where we spend most of our time at Disneyland, but the second most fun thing to do in the park is, without question, eat. There are so many good food items to eat -- whether it's from a cart or a table service restaurant -- that it's essentially impossible to eat everything you want during a normal vacation, but that doesn't mean you shouldn't try.
Personally, if I'm getting breakfast in the park, I always head over to New Orleans Square and hit the Mint Julep Bar for a bag of Mickey beignets. They're always good, but during the holidays you can get candy cane beignets there, and that's even better. Grab some before hitting the Haunted Mansion, as it makes the wait much more bearable. Basically every place you can get food at either park is going to have something new to try, so be sure to check out as much as you can. There's a whole collection of unique churros you'll only find in specific locations. You can basically churro your way all across the Disneyland Resort and never eat the same flavor twice.
Over at Disney California Adventure, in addition to all the extra food at the normal restaurants, you'll find pop-up locations throughout the park with all kinds of festive foods and drinks to enjoy. Consider picking up the Sip and Savor Pass, which will allow you to try several of these offerings of your choice for a fixed price.
The Grand Californian Gingerbread House
The Haunted Mansion Holiday gingerbread house is a must-see creation, but it's not the only gingerbread house of note within the Disneyland Resort. There is another, and you won't find it inside either of the parks. Whether or not you're staying at the Grand Californian Hotel & Spa or not, make a point to head through Downtown Disney and visit the place.
It's a beautiful hotel that also houses the Napa Rose, the best restaurant in the resort, so you've got enough of a reason to go there anyway, but make sure to stop off in the lobby and check out the gingerbread house on display. You can get much closer to this one than you can the one in the Haunted Mansion.
Nighttime Viewing at the Disneyland Resort
No matter where you are, among the best parts of the holiday season at Disneyland and California Adventure are the decorations and specifically, the lights. Disneyland Resort is certainly no different, and if you're the kind that likes to cruise around your neighborhood and look at the lights on the houses, you'll want to do the same and cruise Disneyland and Disney California Adventure to see everything there is to see there.
Even if you don't want to go inside It's a Small World, make a point to visit the exterior after dark, as it is lit up beautifully every year. Sleeping Beauty's Castle is, of course, impossible to miss, especially when it's done up for the holidays. One final place you'll want to be sure you don't miss is Cars Land over in Disney's California Adventure. The neon lights are worth checking out year round, but during the holidays there's a special glow to everything.
Of course, both parks have special holiday nighttime shows worth checking out as well. Disneyland's Believe... In Holiday Magic, Fireworks Show and Disney California Adventure's World of Color - Season Of Light are both must see events. For World of Color, considering making reservations at one of the restaurants that includes preferred viewing area space. You have to eat anyway, right? This way you're guaranteed a decent spot, and also a good meal.
Disneyland's Candlelight Processional
This one is only relevant to your trip if you're going on certain days, and those days are coming up soon, the Disneyland Candlelight Processional, an event that was started by Walt Disney himself, will be taking place at the park on December 7th and 8th. A stage is constructed at the end of Main Street U.S.A. opposite the castle, and guests are treated to music and stories of the season.
The narrator of the event this year has not been revealed. It will likely be a surprise, but it's almost always a significant celebrity and somebody with a strong Disney connection. Past narrators have included Chris Hemsworth, Dick Van Dyke, and Warwick Davis among many, many others. It's a standing room only event and it will be crowded, but sometimes you just have to deal with that to experience something special.
There's so much to do at Disneyland during the holidays. This is far from everything being offered by the veteran theme park, but it will certainly get you started and get you in the spirit of the season. If you can't make it before Christmas, don't worry, all of these holiday festivities actually last into the new year, and won't actually end until January 6, 2020.
Your Daily Blend of Entertainment News
Content Producer/Theme Park Beat
CinemaBlend's resident theme park junkie and amateur Disney historian. Armchair Imagineer. Epcot Stan. Future Club 33 Member.
Your Daily Blend of Entertainment News
Thank you for signing up to CinemaBlend. You will receive a verification email shortly.
There was a problem. Please refresh the page and try again.