Shia LaBeouf Is Sorry You Caught Him Plagiarizing His Short Film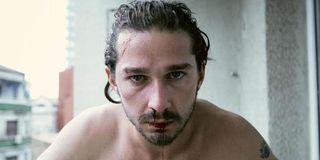 As a former child actor, Shia LaBeouf has had incredible access to how filmmakers like Michael Bay, Lars von Trier, and David Ayer work over the years. But in all the lessons he picked up behind the scenes, he somehow missed the one where you can't--well, shouldn't--claim someone else's work as your own. This week LaBeouf released a short film he directed called Howard Cantour.com onto the web, and the internet was quick to point out large portions of it were lifted directly from the graphic novella Justin M. Damiano by Daniel Clowes.
Howard Cantour.com stars comedian Jim Gaffigan as an online film critic whose glum voiceover explains to the viewer what his job means to him. "A critic is a warrior," explains Howard. "Most critics will give any movie three and a half stars if it flatters their self-image. I take it much more seriously. Have you ever noticed how most critics usually disagree with the public? That should tell you a lot about critics."
LaBeouf released the link to the short to critic-centric sites, like CriticWire, and there it received some praise for it's thoughtful depiction of critics as people instead of literal monsters. (Read the piece if you're unfamiliar with Willow or Lady of the Water-style revenge against critics.) However fans of Clowes soon surfaced to point out these lines are word for word pulled from his Justin M. Damiano. Even some of the shot choices were ripped from its pages. Yet LaBeouf makes no mention of the graphic novella nor Clowes in his credits, and he never approached Clowes nor his publisher Fantagraphics Books about the short.
We'd love for you to see the similarities between the two for yourself, but since the scandal broke, LaBeouf has put a password lock on the short, and is not responding to Deadline for comment over it. But you can see a key page from the graphic novella at Buzzfeed.
While LaBeouf hasn't commented about pulling the link, he has responded to the claims of plagiarism on Twitter:
On this last point, I think we can all agree. Some have said that as a short film, it's not like LaBeouf planned to make money off of the short, so who cares if he ripped off another artist's work to make something just for the sake of making it? The problem with this logic is that this short film has played at film festivals, including the illustrious Cannes Film Festival. Whether or not LaBeouf actually made money on this short, it was made and screened to impact his career. And for better or worse, it and the scandal that now surrounds it, will do just that.
UPDATE: He even plagiarized the above apology down to the capitalization of "IS." This time the source was a Yahoo Answer (via Gawker).
Come on, Shia! This has now officially become a pattern of plagiarism.
Your Daily Blend of Entertainment News
Staff writer at CinemaBlend.