Yelena Belova: Florence Pugh's Black Widow Character Explained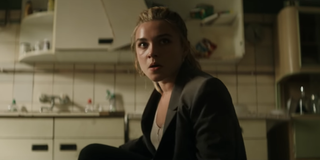 (Image credit: (Marvel))
Is it time for Phase 4 yet? Last week, Marvel Studios unveiled a thrilling first look at Black Widow – the first film from the super-powered franchise following the decade-long Infinity Saga. Yet, the upcoming summer release does have roots firmly planted in the MCU's past as Natasha, one of the few fallen Avengers from Endgame, gets her standalone film in the form of a prequel. (Finally!) There is one character comic fans are looking to potentially pave the continuing legacy of Black Widow: Florence Pugh's Yelena Belova.
In the recent Black Widow trailer, Florence Pugh made a huge splash as a badass Russian long-lost "sister" to Scarlett Johansson. The 23-year-old actress has already had a magnificent 2019 on the big screen, starring in WWE comedy Fighting With My Family, Ari Aster's vivid nightmare Midsommar and soon as Amy March in Greta Gerwig's Little Women. But who exactly is Yelena Belova? Here's some key information about her, via Marvel Comics:
Yelena and Natasha Are Not Actually Sisters
In the recent trailer, Natasha introduces Florence Pugh's Yelena Belova to audiences by calling her "sis" but the comic book characters are not biologically related. She's not expected to be Natasha's actual sister in the movie either! However, the two skilled Russian fighters share the camaraderie of going through the tough training program called the Red Room – though at different times. As teased earlier in the MCU, Natasha learned all of her lethal skills in the Russian program as a young girl, but since left her troubled past to join S.H.I.E.L.D and the Avengers.
Yelena Belova was chosen to undergo similar training when she was 15 years old, after Natasha gave away her loyalty to Russia for a more noble cause. And, the character is the first to go through the Red Room and actually surpass Natasha's marks. Yelena has an incredibly competitive spirit and this often contributes to her and Natasha's relationship when they begin to work together. The two women have a shared experience of the intense Red Room to have a "sister" dynamic, but as you'll see as you read on, it's more of a love-hate relationship than a cozy sisterhood.
In the comics, once she completes her training to become the Russian's replacement for Natasha, Yelena attempts to infiltrate Black Widow's mission on purpose so she can go head-to-head with the woman she's been brought up to succeed. Natasha is on a quest to get a deadly bio-weapon from the hands of a terrorist and Yelena seeks to nab it instead and defeat her Black Widow counterpart. But, Natasha still has more experience than Yelena. She's able to complete her own mission. As Natasha gets away, Yelena has a chance to pull the trigger and kill Natasha, but she keeps her alive so she can attempt to one-up her the next time.
Yelena and Natasha Had Their Own Face/Off Storyline
Although the two "Black Widows" are often adversaries in the comic books, Natasha understands what Yelena is going through under her Russian superiors. So, she decides to teach her younger counterpart a valuable lesson about the line of spy work Yelena seems to glorify and have naivety about. Along with Nick Fury and Daredevil, S.H.I.E.L.D captures Yelena for a "face-swapping" surgery between her and Natasha in order to complete a mission. Yes, in the vein of Nicolas Cage and John Travolta's iconic '90s flick, Face/Off. This is real harsh, Nat!
As you can imagine, this further complicates the pair's relationship! Yelena did not sign up for her face to be surgically placed on to Natasha's but it happens anyway. The young Black Widow nearly loses her mind post-surgery, likening the violation to the trauma of sexual assault. The mission is successful for Natasha and the two faces get placed on their rightful heads after. Natasha teaches Yelena a lesson about how spies are often used inhumanly as tools. The ends justify the means, I guess? It leads Yelena to retreat to another life as a model and business mogul for a time.
It's an interesting storyline between them woven into the fabric of the comics, but it would be tough to adapt directly to the big screen without the Nic Cage and Travolta comparisons striking. It's good to know going in, because when Yelena and Natasha meet back up in the Black Widow movie, they might have a troubled past in a similar vein. Even if face-swapping never happened, has Natasha done something to Yelena in the past that has created a similar complicated dynamic? Or on the wild side, if Yelena and Natasha swap faces ahead of Infinity War, Yelena is really the one who sacrificed herself on that cliff and Scarlett Johansson's character is really alive and well?
Hydra Once Genetically Modified Yelena To Copy The Avengers' Powers
In another notable storyline involving Yelena Belova, the character comes into the hands of Hydra – the terrorist organization who have notably been prominent in Captain America's storyline in the MCU. Just as they were involved in creating a super soldier out of Steve Rogers' Bucky, Yelena was once genetically modified by Hydra to serve the organization's own needs. When Yelena suffers debilitating injuries, Hydra uses Yelena for a project that allows her to copy each of the Avengers' powers – becoming quite the terrifying adversary. Now, it should be noted Black Widow's main villain, Taskmaster has similar powers!
As the "Super-Adaptoid", Yelena wears a cool droid-like helmet in front of her eyes (shown in picture above). After quite the battle, Yelena doesn't defeat the Avengers with this impressive genetic technology, but it's certainly enough to get the team sweating. This comic book storyline is definitely characteristic of how key Yelena's character arc has become before. Going up against the Avengers is huge! Because Yelena's powers are rooted in Hydra's operation, her involvement in the franchise could also signal more exploration of the terrorist organization in the universe.
Could her involvement potentially tie in to the coming The Falcon and Winter Soldier series as well? The Disney+ series premieres a few months after Black Widow comes to theaters and the MCU storylines are often interwoven with one another. It's tough to tell how exactly Yelena Belova, Hydra and the future of the MCU could play out at this point, but there's certainly source material there to bring them together! The key question to keep in mind is we don't know if we can trust Yelena. She has a history of being on the side of the enemy and could have ties to Hydra in the MCU.
Yelena Takes Over The Black Widow Title
Then there's the question on everyone's minds. Could Yelena Belova be the next Black Widow? The future of the MCU is still murky. We don't know if the upcoming phases are planning to set up another team of Avengers. There does seem to be some passing of the torches with characters such as Robert Downey Jr's Iron Man with Tom Holland's Spider-Man or when old Captain America handed off his shield to Falcon. The upcoming Hawkeye will see Jeremy Renner's character training Kate Bishop, and she takes up his mantle in the comics as well.
In the comics, Yelena Belova does become Black Widow once Natasha Romanoff dies. She goes around the world eliminating Hydra agents and infiltrating the remnants of the organization. By the time the female hero passes, Yelena has gained a respect for her and takes up the black costume in honor of her name. Perhaps something of this sort could happen over the course of the upcoming Black Widow. While Yelena may have a love-hate relationship with Natasha at the beginning, through the mission they go on in the movie, things may change.
Perhaps, Black Widow ends with Yelena finding out about Natasha's sacrifice in Endgame back in the current timeline after the movie takes place between Civil War and Infinity War. Then, she may seek out other members of the Avengers or S.H.I.E.L.D and continue to be involved in the running plotline of the series. At Brazil Comic-Con, Marvel chief Kevin Feige stated that Black Widow "sets up the future of the MCU" along with the past. Could Yelena be the bridge between the two?
Turns out, there's a lot to Florence Pugh's Yelena Belova! And, she's one of a handful of new characters from the MCU that will be introduced in Black Widow! David Harbour's Red Guardian, Rachel Weisz's Melina Vostokoff and Taskmaster. The movie is the first in Marvel's fourth phase which will also include Eternals in 2020, Shang-Chi, Doctor Strange in the Multiverse of Madness, Spider-Man 3 and Thor: Love and Thunder in 2021.
Are you excited to see Florence Pugh take on this comic book character in the MCU? What do you think Yelena Belova's role will be in Black Widow come May 2020? Sound off in the comments below and check out the 2020 release calendar.
YA genre tribute. Horror May Queen. Word webslinger. All her writing should be read in Sarah Connor's Terminator 2 voice over.
Your Daily Blend of Entertainment News
Thank you for signing up to CinemaBlend. You will receive a verification email shortly.
There was a problem. Please refresh the page and try again.