The 10 Most Exciting New Movies Coming To Theaters In January 2020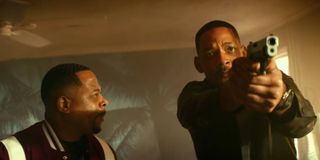 It is not often that a moviegoer voices excitement for the new movies releasing in theaters for the month of January, given that most of the attention is reserved for the Awards darlings during that time. However, January 2020 is looking to be surprisingly promising month for theatrical releases.
A classic buddy cop franchise's long-anticipated third entry, Aladdin director Guy Ritchie's return to his British crime thriller roots, and a dark retelling of a classic fairy tale are just a few of the new movies soon to be in theaters in January 2020. It is setting up to be a month of intriguing variety for movies that we are excited to see.
Which among the upcoming January 2020 releases have us rubbing our palms and marking our calendars? Let's break down our most anticipated picks.
Bad Boys For Life - January 17, 2020
Whatcha gonna do when they come back for you? Hitting theaters the January 17, 2020, Bad Boys For Life sees Marcus Burnett (Martin Lawrence), promoted to police inspector, reuniting with his former longtime partner Mike Lowery (Will Smith) -- who has not outgrown his rebellious methods of justice one bit -- for, supposedly, one last case.
It has been 16 years since Will Smith and Martin Lawrence teamed up for the explosive comedy thriller Bad Boys II, the sequel to the 1995 hit that redefined them as action stars, so to see them return to dodging bullets and maturity at this point in their careers looks to be an especially fun treat. Acclaimed Belgian filmmakers Adil El Arbi and Bilall Fallah are taking over directing duties for Bad Boys For Life, likely to lend a new vision to the franchise once traditionally helmed by Michael Bay.
Color Out Of Space - January 24, 2020
The collaboration of H.P. Lovecraft and Nicolas Cage sounds like a match made in a mind-bending, Earth-shattering, soul-bludgeoning alternate dimension. That looks to be exactly what this adaptation of the horror pioneer's short story "Color Out Of Space," starring the Academy Award-winning actor, promises.
From the producers of his acclaimed 2018 psychedelic revenge thriller Mandy, Color Out Of Space stars Nicolas Cage as a man whose family is plagued by strange occurrences after a meteorite lands in their backyard. Graced with the bizarre vision of cult director Richard Stanley, this film is shaping up to be one of the most insane, trippy nightmares to hit cinemas in January 2020 and, probably, the following months to come.
Dolittle - January 17, 2020
Most people, nowadays, probably associate the name "Dr. Dolittle" with Eddie Murphy's 1998 modern-day comedy, not realizing that the enchanted veterinarian, created by author Hugh Lofting, has existed since the 1920s. From the trailer of Universal Pictures' latest cinematic iteration of the character, Dolittle, it seems to be taking more inspiration from that era.
Robert Downey, Jr. stars as the titular John Dolittle, a physician with the ability to communicate with animals, who embarks on an international adventure joined by his animal friends, voiced by the likes of Tom Holland, Emma Thompson, and Selena Gomez, to name a few. It has been a while since we've seen a live action talking animal movie and even longer since we've seen Downey out of the MCU sandbox, so this adventure, releasing January 17, 2020, could be a breath of fresh air.
The Gentlemen - January 24, 2020
I am sure that Guy Ritchie had fun trying his hand at literary mystery thrillers and musical fairy tales, but it's clear that British crime thrillers are his bread and butter. It appears that we are in for one crunchy, cholesterol-packed breakfast with The Gentlemen.
The ensemble cast alone, featuring Matthew McConaughey, Charlie Hunnam, Colin Farrell, and Hugh Grant, to name a few, is enough to pique interest in this tale of a war for the possession of a high profitable marijuana empire hitting theaters on January 24, 2020. However, the clear attention-grabber here is seeing Guy Ritchie revive the British gangster comedy style he pioneered with films like Lock, Stock, and Two-Smoking Barrel and Snatch.
Gretel & Hansel - January 31, 2020
No, that is not a typo: this new adaptation of the classic dark fairy tale switches the order of the titular brother and sister duo's names in the title. However, if you have seen the trailer for Gretel & Hansel, you would know that title change is not even the most jolting thing about this thriller, set to release on January 31, 2020.
It star Sophia Lillis stars as Gretel, who, along with her little brother Hansel (Samuel Leakey), is taken in by a strange old woman (Alice Krige) living in the woods, where safety appears few and far between. Director Osgood "Oz" Perkins' vision of Gretel & Hansel looks like the Grimm Brothers fan's answer to The Lighthouse helmer Robert Eggers.
The Grudge - January 3, 2020
It is fair to be skeptical of an American remake of a Japanese horror film and I can also understand an American remake of an American remake of a Japanese horror film receiving the same, or an enhancement of, the same treatment. Yet, I would not be too quick to judge the latest update of The Grudge, dropping January 3, 2020, so soon.
The Evil Dead creator Sam Raimi returns to produce this new vision of the cursed house classic directed by acclaimed new horror specialist Nicolas Pesce. The cast, including Andrea Riseborough, Jon Cho, Demián Bichir, and certified Scream Queen Lin Shaye (Insidious), also gives me reason to believe that this might be the Americanized version of Takashi Shimizu's original Ju-On: The Grudge that really shows it some justice.
Just Mercy - January 10, 2020 (Wide Release)
Michael B. Jordan portrays real-life attorney and civil rights activist Bryan Stevenson in a retelling of one of his first (and most prolific) cases after graduating from Harvard Law, in Just Mercy, receiving a wide theatrical release January 10, 2020. Oscar-winner Jamie Foxx plays Stevenson's client Walter McMillan, who was wrongfully put on death row in 1987 for the murder of an 18-year-old girl in Alabama.
Just Mercy, also starring Academy Award-winner Brie Larson, follows Bryan Stevenson's uphill battle against corrupt, prejudiced lawmakers in defense of his clearly innocent client. From Daniel Destin Cretton, the acclaimed writer and director of 2013 Short Term 12, this is looking to be the moving, and important, courtroom drama of the year.
The Rhythm Section - January 31, 2020
With the upcoming releases of Wonder Woman 1984 and Black Widow, 2020 is looking to be a great year for ass-kicking women. Kicking that off on January 31, 2020, is The Rhythm Section, based on Mark Burnell's novel following Stephanie Patrick (Blake Lively), a woman hellbent on bringing those responsible for the plane crash that claimed her family's lives to justice.
From Reed Morano, known for her Emmy-winning turn directing an episode of The Handmaid's Tale, and featuring Black Lively donning a British accent and ditching her signature blond locks for a role unlike anything we've seen her in before, The Rhythm Section looks to be on explosive thriller. It better be, given what Lively put herself through to film it.
The Turning - January 24, 2020
Mackenzie Davis plays a woman hired to look after two young orphaned siblings (Finn Wolfhard, star of Stranger Things and the It films, and The Florida Project's Brooklynn Prince). Quickly, it becomes apparent that something is just not right about these kids in the modern day-set The Turning, hitting theaters on January 24, 2020.
The Turning is not the first screen adaptation of Henry James 1898 horror novella "The Turn of the Screw," and not even the only adaptation of it to be released in 2020, given that Mike Flanagan's follow-up season to Netflix's The Haunting of Hill House is inspired by the tale. However, this modern-day take on the story from The Runaways director Flora Sigismondi and the co-writers of The Conjuring has some real potential to make your skin crawl.
Underwater - January 10, 2020
A group of aquatic researchers (including Kristen Stewart, Vincent Cassell, and T.J. Miller) find their subterranean laboratory compromised and their safety threatened by an earthquake (or was it?). Desperately seeking a chance at returning to the surface, the crew discovers that they may not be alone on the ocean floor.
Sparking memories of the adventures of submerged horror that were popular in the '80s (such as James Cameron's The Abyss or Leviathan), Underwater, set to come out on January 10, 2020, is not poised to be a particularly refreshing revival of that trend, but could be a fun throwback if it knows what it's doing. Plus, it is nice to see T.J. Miller's return to the horror genre, which is where he got his start on the big screen back in 2008 with Cloverfield.
There is no telling at this given moment how the month of January 2020 will perform on the big screen, but these movies are a good indication that you might have more on your mind that month than Oscar nominations. Which new movies coming to theaters in January 2020 are you most excited for?
This poll is no longer available.
Jason has been writing since he was able to pick up a washable marker, with which he wrote his debut illustrated children's story, later transitioning to a short-lived comic book series and (very) amateur filmmaking before finally settling on pursuing a career in writing about movies in lieu of making them. Look for his name in just about any article related to Batman.
Your Daily Blend of Entertainment News