Which Haunting Of Hill House Cast Are Returning For Netflix Sequel The Haunting Of Bly Manor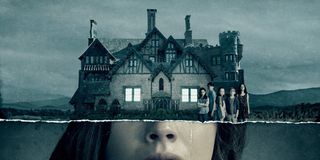 (Image credit: Netflix)
The Haunting of Hill House debuted back in 2018 to deliver the best kinds of thrills and chills to Netflix subscribers everywhere, and it was lauded as one of the best horror series of the year. Unfortunately, the way Hill House ended pretty much guaranteed that a second season with the killer cast reprising their roles as the Crain family wouldn't work.
The good news is that The Haunting of Hill House is becoming an anthology series rather than a standalone, with a second installment of episodes coming under the title of The Haunting of Bly Manor, and it will feature some familiar faces for Hill House fans. Hill House veterans are returning for Bly Manor.
First of all: what's The Haunting of Bly Manor going to be about? Like Hill House before it, Bly Manor will be based on a written work. Henry James' 1898 horror novella The Turn of the Screw is the inspiration for the new season, and fans of that work can probably already guess that we're in for something very scary and quite different from Hill House.
The Turn of the Screw centered on a young governess who is tasked with caring for two kids in a remote country home. Their uncle, who is their official guardian, couldn't care much less about the kids, and it turns out that Bly Manor isn't a place to leave impressionable minds to their own devices. Also, probably ghosts, because what would a scary story from Hill House creator Mike Flanagan be without ghosts?
Interestingly, The Turn of the Screw isn't packed with nearly as many characters as Hill House, so a key question is how big the cast will be. If the show follows the novella, no more than seven or so significant characters will be around. So far, three actors from Hill House fame have signed on. Read on for what's in store from which members of the Hill House family!
Victoria Pedretti - The Governess
Victoria Pedretti, who both terrified and devastated The Haunting of Hill House viewers with her performance as the adult Nell Crain, will star as the governess in The Haunting of Bly House. In the original source material, the governess is actually never given a name, but that won't be the case for the show's adaptation. Pedretti revealed the name herself in a video announcing her role in Bly house. Take a look!
Dani the governess already sounds quite different from Nell Crain on Hill House, but she probably won't have much of a happier time than Nell did. "Unusual children" in a horror story usually mean supernatural things are afoot! Victoria Pedretti is only 24-years-old, which places her at not too much older than the governess from The Turn of the Screw.
I won't rule out Dani having bad dreams at Bly Manor, but I just hope she won't have to experience something like Nell did with her sleep paralysis in Hill House! Now, what other Hill House veterans will join Victoria Pedretti in Bly Manor?
Henry Thomas - ???
In The Haunting of Hill House, Henry Thomas played the young version of Hugh Crain, which actually means that The Haunting of Bly Manor could allow Thomas to share the screen with actors who played Hugh's adult kids for the first time! Series creator Mike Flanagan announced Thomas joining Bly House via Twitter, but unfortunately for fans hungry for spoilers, he didn't reveal the character Thomas will play for the series.
If The Haunting of Bly Manor follows The Turn of the Screw without adding any huge characters, then there aren't too many options for Henry Thomas. I would put my money on the 47-year-old Thomas playing the absentee uncle of the series, although it's possible he could play the narrator or the man who owns the manuscript that tells the governess' story. He could also be a servant at Bly Manor, but I see him with a larger role.
The uncle in the novella is likely younger than Henry Thomas, but aging him up would be simple. The governess is attracted to the uncle in The Turn of the Screw, which might strike Hill House fans as kind of uncomfortable considering they played father and daughter in the previous season. Only time will tell.
Oliver Jackson-Cohen - Peter
Oliver Jackson-Cohen played the troubled adult version of Luke Crain on The Haunting of Hill House. Nell's twin, Luke had a rough ride in Hill House, but his ending was probably as happy as it could have been. Will that be the case for The Haunting of Bly Manor? Well, based on Netflix's description of his character, he might be causing more trouble than experiencing it.
The 32-year-old actor will play a man by the name of Peter, who lives at Bly Manor and will make life "very difficult for everyone who lives there." Does that include ghosts?
There's a man by the name of Peter Quint in The Turn of the Screw, so it's easier to connect some of the potential dots for Oliver Jackson-Cohen's role than for Henry Thomas. I don't want to spoil the details of the novella in case the show follows it pretty precisely, but it's probably safe to bet that Oliver Jackson-Cohen and Victoria Pedretti will have a very different dynamic in Bly Manor than they did as twins Luke and Nell in Hill House.
Kate Siegel - ???
Kate Siegel played the adult Theodora Crain in The Haunting of Hill House, and she's the latest to be announced as part of the Bly Manor cast. Creator Mike Flanagan (who also happens to be Siegel's husband), announced the news via Twitter, and it prompted a cute response from his wife:
Unfortunately, neither Kate Siegel nor Mike Flanagan revealed what character she'll play in The Haunting of Bly Manor. Obviously the governess lead role is taken, but there are still some vacant Turn of the Screw roles for women, and I think she could be an excellent fit for playing Dani's predecessor. We'll have to wait and see!
Is That It For The Cast Of Hill House In Bly Manor?
There are still several Turn of the Screw characters that have yet to be cast for The Haunting of Bly Manor, and more members of the Crain family could definitely fit the roles. Honestly, I'd love to see the actors who played Young Nell and Young Luke in Hill House play the two "very unusual children," but that might be too much. They were just so good!
Carla Gugino, who played Olivia Crain in Hill House, had some promising words about potentially joining the series when asked about it back in June. While she couldn't "say anything definitive," should "would be honored to" be a part of the show and would love to work with Mike Flanagan again if "all schedules allow."
The Haunting Of Hill House Creator Says Season 2 At Bly Manor Is 'Much Scarier'
There's at least one role I think the 47-year-old Carla Gugino could be a fit for: housekeeper Mrs. Grose. Surely Bly House could find room for Elizabeth Reaser (adult Shirley Craine), MIchiel Huisman (adult Steven), Timothy Hutton (present Hugh Crain), and/or even Annabeth Gish (Mrs. Dudley)!
Luckily, Mike Flanagan revealed more casting announcements for Bly Manor are on the way, and we can cross our fingers that more Hill House alums are part of those announcements:
Stay tuned to CinemaBlend for any and all announcements about The Haunting of Hill House actors signing on for The Haunting of Bly Manor. The horror anthology series American Horror Story has proved time and time again that shows can recycle the same actors for very different roles over and over again, so why shouldn't this be the case for the Haunting universe?
The Haunting of Bly Manor won't debut on Netflix until 2020, so count on celebrating Halloween this year with a rewatch or by dabbling in another scary series/movie. Netflix has plenty of options now and in the not-too-distant future to choose from.
Your Daily Blend of Entertainment News
Laura turned a lifelong love of television into a valid reason to write and think about TV on a daily basis. She's not a doctor, lawyer, or detective, but watches a lot of them in primetime. Resident of One Chicago, the galaxy far, far away, and Northeast Ohio. Will not time travel, but will sneak references to The X-Files into daily conversation.