8 New Attractions Coming To Walt Disney World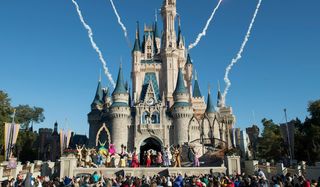 Anyone who has ever visited Walt Disney World knows that it's more of a living organism than an amusement park. With an ever-changing assortment of attractions - rides, experiences, hotels, and restaurants - the powers that be at the "Happiest Place on Earth" are always coming up with something to keep the millions of annual visitors eager to return year after year.
By the looks of it, 2020 won't be any different, as the resort will be introducing a number of new attractions throughout the multiple theme parks, hotels, and fully immersive areas that call Walt Disney World home.
Here are just eight of the exciting attractions and experiences Walt Disney World Resort has in store for guests in what will be a memorable 2020 season.
Mickey & Minnie's Runaway Railway
Guests walking along Hollywood Boulevard in Disney's Hollywood Studios will be greeted by Mickey & Minnie's Runaway Railway, the first ride to feature the famed Mickey Mouse and friends in the park's nearly 50-year history.
The ride features numerous twists, turns, gags, and transformations throughout, and will allow riders to team up with Mickey and Minnie to save the day. Guests will be able to take a ride for themselves when Mickey & Minnie's Runaway Railway opens on March 4, 2020.
Remy's Ratatouille Adventure
As Epcot prepares for its 40th anniversary in 2021, the famous Disney park is ramping the production of several new areas, rides, and experiences, some of which will debut in 2020. One of the most anticipated additions is Remy's Ratatouille Adventure, which will allow guests to shrink down to the size of the famous rat as he traverses through Gusteau's restaurant on what will be a memorable adventure for years to come.
An exact release date has not yet been announced, but guests can expect to take a ride for themselves when the ride opens in the France pavilion come summer 2020.
Cirque du Soleil - "Drawn To Life"
In 2020, Walt Disney World and Cirque du Soleil will team up for the first time with the debut of "Drawn To Life" which brings together the artistry and acrobatics of the famous contemporary circus company and the iconic Disney storytelling. This one of a kind show will feature the heart and artistry that have made the two properties worldwide sensations, this time they'll be doing it together.
Previews of the show are set to begin on March 20, 2020, with the world premiere being held on April 17. Drawn to Life will run through August 29.
Roundup Rodeo BBQ
Following the success of yet another Toy Story sequel in 2019, the Roundup Rodeo BBQ table service restaurant will bring Woody, Buzz, Bo Peep, Jessie, and the rest of the beloved characters from the popular Pixar franchise. Located in Toy Story Land in Disney's Hollywood Studios, the new BBQ restaurant is modeled to replicate Andy's backyard and will transform guests to the size of a toy.
As guests dine in a makeshift rodeo constructed of cardboard and other household items, they will be greeted by a number of toys and games for a completely immersive experience like none other.
There is not official opening date for the restaurant at this time, but it is slated to open at some point in 2020.
Space 220
Have you ever wanted to visit a restaurant that is 220 miles above Earth - the height at which the International Space Station flies? Well, you'll soon have an opportunity to do just that when Disney World debuts its long-anticipated Space 220 restaurant in Epcot.
Upon entering the restaurant, guests will enter a special elevator that will take them to the space station where they will be greeted by out of this world dining experience. With views and decor meant to replicate the environment in which astronauts live and work, this dining experience will be the stuff of legends for children and adults alike.
Opening in early 2020, Space 220 will afford guests the chance to dine among the stars in a setting that is simply out of this world.
HarmonioUS
One of the biggest attractions coming to Disney World in 2020 is the new "HarmonioUS" nighttime spectacular, which upon its debut will be the largest show of its kind ever created for a Disney park.
With a focus on the music of Disney and how people all across the globe relate to it, "HarmonioUS" will feature everything from floating sets, custom LED panels, fountains, lights, fireworks, lasers, and plenty of other surprises. The art featured in the show comes from a diverse group of artists that will make for a one of a kind show.
Beauty and the Beast Sing-Along
Remy's Ratatouille Adventure isn't the only new addition coming to the France pavilion next year, as the new "Beauty and the Beast Sing-Along" will open up for guests shortly after the new year in January 2020.
This reinterpretation of the Disney classic was directed by Don Hahn, who served as a producer on both the animated and live-action renditions of fan favorite addition to the Disney catalog.
Disney Genie
In addition to all the rides, restaurants, and experiences being introduced next year, Walt Disney World will also be debuting the Disney Genie app, which has the potential to be a major game changer for how people plan their trip to the resort.
Through the Disney Genie app, guests will be select what they do at Disney World and when they do it and enter the information into a custom itinerary to get the most out of their trip. This is a cool and long due innovation for the Disney park experience as it allows individuals and families to better organize their extremely busy visit to the resort. One of the best things about the Genie is the fact that guests will be able to sync the app with the MagicBand during their stay.
Available in late 2020, the Disney Genie app looks to revolutionize how people experience Walt Disney World Resort.
Those are just eight of the rides, attractions, restaurants, and experiences that will debut to Walt Disney World Resort guests in 2020. With all of these additions, it looks like Disney World will continue to be the "Happiest Place on Earth."
Your Daily Blend of Entertainment News
Philip grew up in Louisiana (not New Orleans) before moving to St. Louis after graduating from Louisiana State University-Shreveport. When he's not writing about movies or television, Philip can be found being chased by his three kids, telling his dogs to stop yelling at the mailman, or yelling about professional wrestling to his wife. If the stars properly align, he will talk about For Love Of The Game being the best baseball movie of all time.
Your Daily Blend of Entertainment News
Thank you for signing up to CinemaBlend. You will receive a verification email shortly.
There was a problem. Please refresh the page and try again.