ReelBlend #97: Quentin Tarantino Returns For An Epic Conversation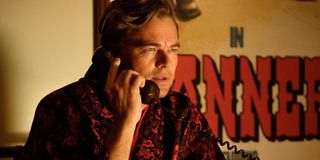 We couldn't believe that we got Quentin Tarantino to guest on the ReelBlend podcast earlier this year. And then, it went well. So well that he actually said, "We should do this again."
At the time, that sounded like industry speak, something common in Hollywood. "That was fun, let's do it again." Only, Tarantino is an actual man of his word. He came back to the ReelBlend podcast for a follow up conversation. And he gave us more than two hours of his time.
This is the most epic interview we've ever had on ReelBlend. It's the longest interview we've ever done, with one of our all-time favorite filmmakers. So monumental that we sacrificed the rest of the show to make as much room as possible for Quentin Tarantino. No news. No reviews. No Blend game. Just a full, extended conversation with the director of Once Upon a Time… in Hollywood.
It's glorious. So stop reading and go listen!
ReelBlend is a weekly podcast that we do on CinemaBlend. You can download the latest episode (and all of our past episodes) for FREE on our iTunes page! Visit. Subscribe. Like and comment. Review! Apple loves when you have star ratings and reviews, so if you listened, and you liked it (or even if you didn't), let us know. We also are on Spotify. And Google Play. And basically everywhere that you download podcasts. So download us.
Meanwhile, follow the guys on Social Media! We have an official Twitter feed for the show, so follow @ReelBlend. In addition, follow the guys at @Sean_OConnell, @JakesTakes and @KevinMcCarthyTV.
Managing Director at CinemaBlend. ReelBlend cohost. A movie junkie who's Infatuated with comic-book films. Helped get the Snyder Cut released, then wrote a book about it.