Wow, Morbius Has A Surprise Connection To Marvel's Spider-Man Movies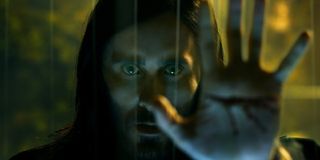 It's a subject we've all wondered about for some time now: how, if at all, would the Sony-Marvel film adaptation of Morbius connect to the Spider-Man movies starring Tom Holland. While Jared Leto's blood-sucking protagonist is also a fan of healing science gone wrong, this new addition to the studio's comic canon is a little more at home on the Venom side of the house.
Surprisingly, we got an answer more quickly than we thought we would, as the first trailer to Morbius decided to drop a pretty big clue at the end of its first look (and following the image that leaked yesterday). It all hinges on an MCU villain we haven't seen since Spider-Man: Homecoming, but if you haven't seen the trailer yet, you should definitely watch it before we move forward:
Alright, with that out of the way, let's discuss that surprising cameo!
The Potential Connection Between Morbius And Spider-Man
In a move that shocked pretty much everyone, at the very end of Morbius' teaser trailer, we see Michael Keaton cracking wise with Dr. Morbius in an alleyway. Now if this looks like what we think it looks like, Keaton could be returning to movie screens as Adrian "Vulture" Toomes. We say "could," because there's not a lot of context in this first look, and as any Marvel Cinematic Universe fan will tell you, unless it's confirmed by the studio, anything is up for grabs.
Which starts us off on the path to discussing just what this connection to Marvel's Spider-Man­ movies has in store for us. So let's begin with the biggest question we have when it comes to Morbius' big twist:
Why Would Morbius Bring Back Adrian Toomes?
Before breaking down some potential problems with this big Morbius reveal, it has to be asked: why would director Daniel Espionosa's film want to bring back Adrian Toomes? And the answer, quite simply, is that it serves as a bridge between Spider-Man and this particular Sony property, as well as the future of the Marvel Cinematic Universe.
As we last saw Michael Keaton's character go to jail for his illegal salvage operation/acts of thievery in Spider-Man: Homecoming, there has to be an event that brings him back to the table, should The Vulture ever fly again. So if we're seeing Adrian Toomes in Morbius, he's probably busted out of prison, perhaps with Mac "Scorpion" Gargan, and started to put together The Sinister Six. Though that's a big "if," as some more details are required.
Could Michael Keaton Be Playing A New Character In Morbius?
Much like Kenneth Choi, Alfre Woodard, Mahershala Ali and Gemma Chan, there's an outside chance that Michael Keaton could be coming back to the Marvel fold as a new character who we haven't met yet. As the exact context of this meeting between Dr. Michael Morbius and Keaton's unconfirmed character isn't defined, this could still be the case.
That bet being hedged, it doesn't feel like Michael Keaton would jump into the Marvel sandbox to play just anyone at this point. So while it'd be wise to wait until Kevin Feige himself confirms that Adrian Toomes has broken out of prison, we have a good feeling that wisecracker Morbius' eponymous antihero ran into in the alley is, in fact, The Vulture!
How Big Of A Role Will Adrian Toomes Play In Morbius?
If Adrian Toomes is coming back, much as we like to think in our heart of hearts, the next big question is just how much Michael Keaton we should expect to see in Morbius? With a cast that already boasts Jared Harris, Matt Smith, Adria Arjona and Tyrese Gibson, there's quite a bit of star power to comment on. Which winds back to the fact that we're expecting Toomes to be the character in question that shows up in Morbius.
Should the Spider-Man: Homecoming baddie himself sprung out of prison, then it's a pretty good bet that Keaton will be back in a cameo capacity. Come to think of it, there's an even better chance that we've just seen the mid-credit stinger that sets up a connection between Morbius and the MCU; which leads to another potential beacon of hope.
Does This Mean Morbius Will Finally Bring Venom Into The MCU?
The $1 billion all of this frivolity surrounding Morbius leads to is one we've been puzzling over since 2018's debut of Venom. It's not a stretch when you consider how Morbius is a Spider-Man adjacent character, much like Tom Hardy's Eddie Brock was in the comics. So if Dr. Michael Morbius can hook up with the Marvel Cinematic Universe's incarnation of Spider-Man, what's to say that Venom and all of the other Spider-related characters in Sony's pocket can't?
A bridge between both worlds has been confirmed in recent months, and if that historic agreement between Sony and Marvel Studios never went through, you could bet that Peter Parker was going to run into either of these horror-tinted comic leads at some point or another.
Michael Keaton's Adrian Toomes seems like the perfect key to unlocking the world of Sony Pictures and Marvel Studios' shared universe, and it feels like this isn't just meant to be a cute reference to Spider-Man: Homecoming, or even Keaton himself.
This looks to be the moment that the Marvel Cinematic Universe and Sony's Spider-Man adjacent sandbox not only collide, but merge into a greater whole. But it rests on the scales as an even handed prospect, until Adrian Toomes is confirmed or denied to be in Morbius.
That's why it's so important for confirmation to be present, as that bumps this surprise connection into a well-informed move to tie Sony even closer into the fabric of the Marvel Cinematic Universe. So we'll have to keep our eyes and ears open for whatever the future will bring.
In the meantime, this first look at Morbius is a dark and disturbing treat that promises to frighten as well as dazzle its audience. The movie takes to the dark of your local movie theater on July 31. But if you're curious about what else is headed your way throughout this year, take a look at our 2020 release schedule and discover what the competition looks like.
CinemaBlend's James Bond (expert). Also versed in Large Scale Aggressors, time travel, and Guillermo del Toro. He fights for The User.
Your Daily Blend of Entertainment News
Thank you for signing up to CinemaBlend. You will receive a verification email shortly.
There was a problem. Please refresh the page and try again.