The Harry Potter Cast: A Look Back Then And Now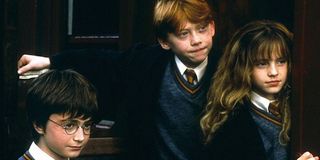 It's been almost 20 years since the first movie adaptation of J.K. Rowling's Wizarding World hit the big screen in the form of 2001's Harry Potter and the Sorcerer's Stone. Since then, the fantasy franchise has spun seven sequels, a completely new film series called Fantastic Beasts, and a highly popular land in Universal Studios.
The phenomenon has been around for nearly a generation, and while the main cast of the classic series have had close to a decade to grow apart from with their iconic roles, it's always magical to look back at what's changed between their first trip to Hogwarts to today. There's been a mix of glo ups, sad passings and exciting projects between the Harry Potter film family between then and now. Let's take a look:
Daniel Radcliffe (Harry Potter)
Look how far little Harry has come since his humble beginnings living in the Cupboard Under the Stairs! The star wizard of the series scored his famous role when he was just eleven years old and he will always be best remembered as the boy who lived. His first Harry Potter follow-up was the 2012 horror flick The Woman in Black, but he's also starred in the indie rom-com What If, the box office flop Victor Frankenstein alongside James McAvoy, the critically-acclaimed indie Swiss Army Man and the 'magical' Now You See Me sequel.
Radcliffe also lit up Broadway in How To Succeed In Business Without Really Trying revival, starred in a two-season television series with Jon Hamm called A Young Doctor's Notebook & Other Stories, and currently stars in TBS mini-series Miracle Workers as a low-level angel trying to settle a bet with God (Steve Buscemi) and stop the destruction of Earth. The actor has dabbled in just about everything as he nears 30 this year and doesn't seem to stop pushing the boundaries of his talent each time we see him. Maybe Wolverine next?
Rupert Grint (Ron Weasley)
Remember when an 11-year-old Rupert Grint saved all of Hogwarts as Ron Weasley in Sorcerer's Stone thanks to some expert chess knowledge? Iconic. While the actor recently admitted that he almost called quits on the role after wrapping Goblet of Fire when fame took hold, he stuck it out and without regrets… but what has life been like since?
Rupert took on a few off-beat roles directly after Deathly Hallows Part 2, such as in the action-comedy Moonwalkers with Ron Perlman and the Shia LaBeouf lead drama Charlie Countryman. He's recently found his place on television in Sick Note with fellow child star (and redhead) Lindsay Lohan, Crackle's Snatch remake and as Inspector Crome in BBC's The ABC Murders. The actor is also set to star in M. Night Shyamalan's upcoming Apple show. The actor has kept with the much darker roles he's drawn to without swinging deep back into the spotlight.
Emma Watson (Hermoine Granger)
For many, Emma Watson's Hermoine Granger was the nerdy, overachieving bookworm we could finally relate to, so when the actress took on Belle for Disney's live-action Beauty and the Beast, it felt a bit like she was living in her glory days. In between, the 28-year-old Brit has also challenged herself as an actress, become an outspoken women's rights activist and created her own feminist book club.
After saying goodbye to Hermoine, Watson took on some edgy roles for The Perks of Being a Wallflower, This is the End and The Bling Ring along with starring in thrillers such as Regression, Colonia and The Circle. Beauty and the Beast was by far her most successful Harry Potter follow-up, as it made over $1.2 billion worldwide. Watson is also gearing up to star in Greta Gerwig's Little Women with Saoirse Ronan, Timothée Chalamet, Meryl Streep and Laura Dern. Raising your hand in class pays!
Tom Felton (Draco Malfoy)
Just about every young hero has a bratty bully to face, and Tom Felton's Draco Malfoy certainly fit that bill throughout the Harry Potter franchise. So what was the first role the actor book after a decade as the deplorable villain? You guessed it… another baddie in 2011's Rise of the Planet of the Apes.
Since then, Tom Felton has earned acting credits in quite a few off-radar films with some big names such as Sebastian Stan, Taraji P. Henson, Oscar Isaac, Elizabeth Olsen and Gemma Chan. His most memorable new role is certainly as Julian Albert in CW's The Flash in Season 3. The actor has recently floated to a new television show on YouTube TV's new sci-fi show Origins. The spaceship-set series on the new streaming platform has seen some exciting success, so season 2 could be on the way!
Bonnie Wright (Ginny Weasley)
Ron's little sister and Harry Potter's future wife has transformed from an adorable child actress to an all grown-up lady! While to most the actress hasn't maintained the star status of her fellow Harry Potter stars, she has maintained active in the filmmaking community as an actress, screenwriter and director.
On screen, Bonnie Wright has starred in mainly made-for-television titles primarily geared for a family-friendly audience such as My Dad Is Scrooge, Who Killed Nelson Nutmeg? and A Christmas Carol. She made her debut writing/directorial project with Harry Potter co-star with David Thewlis (he played Remus Lupin) with a 2012 short film and has since developed a handful of other projects under her own Bon Bon Lumiere production company.
Matthew Lewis (Neville Longbottom)
Neville Longbottom may start off as a clumsy and laughable kid in Sorcerer's Stone, but as the franchised progressed, the character became an important part of the team, as he destroyed the final Horcrux by slicing off Nagini's head clean off. He saved them all! Actor Matthew Lewis became quite the viral sensation as he exited Harry Potter with an unexpected glo up. Yes, those two are the same person…
The 29-year-old actor has since mainly worked in British television shows such as The Syndicate, Bluestone 42 and Girlfriends, along with having a role in 2016 romance Me Before You. Lewis recently got married to Angela Jones, an event planner with Universal who he met at a Wizarding World event in Orlando. We're not sure what's next for Lewis other than being perfect and happy. I'd say that's not a bad real-life ending for Neville!
Ralph Fiennes (Lord Voldemort)
For a character known as "He-who-must-not-be-named," Ralph Fiennes was certainly one of the biggest names in the Harry Potter franchise when he was cast as the main antagonist at the turn of the 21st century. Before taking on Voldemort, Fiennes was a two-time Oscar nominee for Steven Spielberg's Schindler's List and The English Patient.
Between and after Harry Potter, the actor kept on keeping on with high-profile roles in The Hurt Locker, Skyfall, The Grand Budapest Hotel, and he had recent voice roles in Kubo and the Two Strings and as Alfred in The Lego Batman Movie. On paper, the iconic role is just one of his many roles (over 70 acting credits) and he's nearly unrecognizable as the villain in any other movie. Next, Fiennes will be in The Voyage of Doctor Dolittle, the next Kingsman movie and Bond 25.
Richard Harris/Michael Gambon (Dumbledore)
Did you know two actors played Dumbledore in the Harry Potter films? Richard Harris first played the role in Sorcerer's Stone and Chamber of Secrets before his 2002 passing, after the actor was hospitalized with pneumonia and diagnosed with Hodgkin's disease. Before playing Dumbledore, Harris had roles in quite a few of classics including 1967's Camelot, Unforgiven and Gladiator.
Michael Gambon took over the role in 2004 and played Dumbledore until the final installment. He turned down the role of James Bond in 1970, though made a name for himself in his roles in The Singing Detective, as president Lyndon B. Johnson in Path to War and The Life Aquatic with Steve Zissou. After playing Dumbledore, Gambon has been in a ton of projects – most notably as the voice of Uncle Pastuzo in the Paddington movies.
Robbie Coltrane (Hagrid)
The bear-huggable Harry Potter character was another accomplished Brit before Hagrid came to him as a famous comedian, with roles all over the map, such as Valentin Zukovsky, a character opposite Pierce Brosnan's James Bond, and star of the three-season series Cracker.
After playing Hagrid, Robbie Coltrane took on a couple voice parts for Arthur Christmas and Brave and starred in a couple projects involving his Potter family co-stars: an adaptation of Great Expectations with Ralph Fiennes and Helena Bonham Carter, and the Hulu show National Treasure with Julie Walters, who we'll get to. The 68-year-old actor is also nearly unrecognizable between his husky bearded look in the fantasy films and usually more clean-cut roles in recent years. Though his unmistaken unfamiliarity will stump the untrained eye.
Alan Rickman (Severus Snape)
When Alan Rickman stepped into his Harry Potter role, he already had an extremely memorable role as Hans Gruber in 1988's Die Hard – a Christmas classic. He also starred in Sense and Sensibility and Galaxy Quest. Rickman's portrayal of Severus Snape is a beloved fan favorite and he offered some franchise highlights. During his time on Harry Potter, he played a part in Love Actually as the breaker of Emma Thompson's heart and all of ours, starred in Sweeney Todd, Bottle Shock and the caterpillar in 2010's Alice in Wonderland.
However, his time after the Harry Potter movies ended up being his final years. The actor played meaty roles such as Ronald Reagan in Lee Daniels' The Butler and King Louis XIV in A Little Chaos among others before he died of pancreatic cancer in January 2016 at the age of 69. The actor certainly had an illustrious career, greatly defined by his time as Snape.
Maggie Smith (Minerva McGonagall)
When Dame Maggie Smith started playing Professor Minerva McGonagall in 2001, she was 67 years old and one of the most famous British actresses of her time. However, her Harry Potter role made her a household name among younger and newer audiences who may not have known about her otherwise.
When Maggie Smith hung up her pointed hat, she starred in even more movies (many of which, critically acclaimed), such as The Best Exotic Marigold Hotel movies, Quartet, The Old Lady, The Lady in the Van and the highly acclaimed TV series Downton Abbey as Violet Crawley, Dowager Countess of Grantham, whom she will reprise in a planned feature film to follow the television show. Retirement who? Maggie Smith's star status has only grown since Harry Potter.
Gary Oldman (Sirius Black)
Here's something crazy about Gary Oldman: while he was playing the father-figure to young Harry, Sirius Black he was also in the thick of playing Gordon in Christopher Nolan's Dark Knight trilogy. The actor was one of the few who was simultaneously on two monumental franchises of the time and will also be remembered for playing these well-known pop culture characters.
Since, he earned two Best Actor nominations for Tinker Tailor Solider Spy and as Winston Churchill in Darkest Hour, which he won the golden trophy for in 2018. He's also starred in a few action flicks including RoboCop, Dawn of the Planet of the Apes and The Hitman's Bodyguard. Among the masses, he is overwhelmingly known as Sirius Black, even though he has played many other memorable parts.
Helena Bonham Carter (Bellatrix Lestrange)
Helena Bonham Carter was already defined by her dark roles in fantasy films (primarily from Tim Burton) such as Big Fish, A Series of Unfortunate Events, Charlie and the Chocolate Factory and Corpse Bride. So, when she joined Harry Potter in the second half of the franchise, she fit right in as key player, Bellatrix Lestrange. After Deathly Hallows Part 2, she has continued doing a bit of the same in movies such as Dark Shadows, Les Misérables and worked in Disney films The Lone Ranger, Cinderella and Alice Through the Looking Glass.
The actress recently starred in the female-fronted Ocean's 8 as fashion designer Rose Weil in 2018 and will be taking over the role of Princess Margaret from Vanessa Kirby in the upcoming season of The Crown as Olivia Colman follows Claire Foy's Queen Elizabeth in her middle-aged years.
Julie Walters (Molly Weasley)
What about the Weasley parents? Julie Walters, a.k.a. Molly Weasley is quite the accomplished actress and her fame has only grown since starring as a mother of wizards. She first really turned heads in 1983's Educating Rita opposite Michael Caine, which earned the both of them Oscar nominations, before earning another nod for her role in Billy Elliot.
While she was doing Harry Potter, Walters starred in Calendar Girls and Mamma Mia! After the franchise was over, she joined Robbie Coltrane with a role as the Witch in Brave and on the Hulu show National Treasure, played Mrs. Bird in the Paddington movies and recently starred in Mary Poppins Returns as Ellen.
Mark Williams (Arthur Weasley)
To finish off this list of the talented main cast of the Harry Potter films, is the other half of the Weasley parents: Arthur Weasley, played by Mark Williams, who was best known for the BBC sketch comedy series The Fast Show for the six years before nabbing a role on the Harry Potter films.
After playing Mr. Weasley in just about every movie, the actor traded out his red hair and guest starred in Doctor Who in 2012 and then scored his own BBC television series Father Brown. The show, currently in its seventh season, is based on books by GK Chesterton about a Catholic priest who solves mysteries in the English countryside.
Oh, how the time turner… turns! Can you believe how the Hogwarts students have grown and adults have grown more distinguished? What do you think of these career shifts since for the actors, have you been following them or did they take you by surprise? Sound off in the comments below!