How Don Cheadle Wants War Machine To Return To The MCU After Avengers: Endgame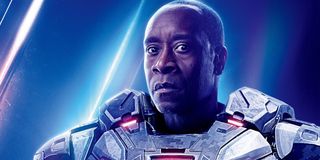 For as many MCU heroes as we said goodbye to in Avengers: Endgame, there are still plenty left standing. The question is how many of them will continue to pop up in future Marvel Cinematic Universe endeavors. If Don Cheadle has his way, then we haven't seen the last of his War Machine. And he even has an idea of where they can take his character next.
Don Cheadle has played James "Rhodey" Rhodes, a.k.a. War Machine, since Iron Man 2. So he definitely has a good grasp of who the man is and what might be most interesting to explore as Marvel moves into Phase 4. At the TCA winter press tour, he offered his opinion as to whether there is a next chapter in War Machine's story. He was a bit vague, but he did make it clear he's open to reprising the role (via Comicbook.com):
Terrence Howard actually played Rhodey in the first Iron Man movie, which launched in MCU in 2008. Interesting that Don Cheadle would like to go back to something in that vein. We wouldn't be opposed to seeing Rhodey get a bit more development. While his character may seem like a perfect candidate for one of Disney+ miniseries, Cheadle wasn't ready to formally weigh in on that option:
If War Machine did get his own series, he'd be in good company. Thus far, Disney+ is planning to spoil MCU fans with content. There's Loki with Tom Hiddleston; WandaVision with Elizabeth Olsen and Paul Bettany; The Falcon and the Winter Soldier with Anthony Mackie and Sebastian Stan; plus upcoming series for new characters Moon Knight, She-Hulk, and Ms. Marvel.
And there's also plenty of opportunities for War Machine to appear in future MCU films. Though he's played an essential role in saving the day (and the president) in several Avengers films, it still feels like there's a lot more to explore where James Rhodes is concerned (especially since we now know that the Russo Brothers once flirted with the idea of making him Vice President in Avengers: Endgame). Though it would be interesting to see him in a world without Tony Stark, now that we know there's a potential for Iron Man to return to the fold in some capacity, we'd love to see the two characters on screen together again.
In the meantime, Don Cheadle is keeping busy. He's appearing in Netflix's Ratched, based on One Flew Over the Cuckoo's Nest. And he'll also star alongside Lebron James in Space Jam 2, due to hit theaters in 2021.
Your Daily Blend of Entertainment News