Looks Like Disney+'s The Falcon And The Winter Soldier Has Suffered A Setback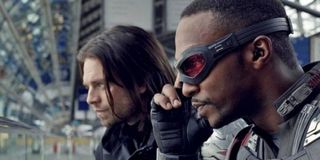 Anything can happen during filming and cast and crew of The Falcon and the Winter Soldier are experiencing that firsthand. Unfortunately, the Disney+ series, which will follow the adventures of Captain America's friends Bucky Barnes and Sam Wilson post-Avengers: Endgame, has suffered a setback in filming due to real-life events.
The Falcon and the Winter Soldier was scheduled to begin filming in Puerto Rico this week. However, the island nation was hit with two massive earthquakes recently, causing the Disney+ series to suspend any plans to shoot there. Originally, The Falcon and the Winter Soldier's cast and crew were supposed to fly into Puerto Rico Tuesday to begin setting up and filming for two weeks, but now reports have confirmed the earthquake changed all plans.
Per Puerto Rico's local outlet Butaca del Medio (via Deadline), The Falcon and the Winter Soldier, which unveiled concept art of the characters' new costumes, was reportedly set to film on the island of Aricebo before filming was delayed.
It's unclear where the series will shoot next, but production is expected to continue moving forward, although it's unclear if The Falcon and the Winter Soldier will have to find a new location to film in place of Puerto Rico. However, there's no confirmation that the Puerto Rico location shoot is completely off the table quite yet.
There's also no telling whether the delay will push back the date for The Falcon and the Winter Soldier's release on Disney+, which is currently set for the fall of this year, but here's hoping that it won't take long before filming resumes.
The Disney+ series marks the first Marvel show to hit the new streaming service and is set to kickstart a string of Marvel properties linked to the studio's ever-expanding cinematic universe, including WandaVision, Loki, She-Hulk, Ms. Marvel, Moon Knight, Hawkeye, and the animated anthology series, What If…?
The Falcon and the Winter Soldier is set in the aftermath of Avengers: Endgame and sees the team-up of Bucky Barnes and Sam Wilson against the villain Baron Zemo and the U.S. government's U.S. Agent, who seems like a bit of a Captain America rip-off. The Disney+ series had been filming in Georgia. While there, a local coffee shop implored fans not to take pictures of the cast and crew while they were coming in to get their coffee. Perhaps the series could return to this location to finish shooting? That remains uncertain and probably depends on what setting the show is trying to capture.
The Falcon and the Winter Soldier doesn't have a scheduled release date yet, but stay tuned to CinemaBlend for updates. In the meantime, check out our 2020 midseason schedule to find out when every new and returning show will premiering, and be sure to survey our complete Disney+ guide.
Your Daily Blend of Entertainment News