Why Bad Boys For Life's Credits Scene Was Almost Cut From The Movie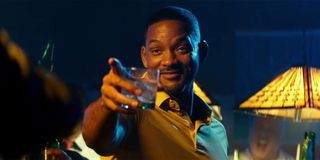 Spoilers obviously abound for the new Will Smith and Martin Lawrence venture Bad Boys For Life. This piece is about a mid-credits scene, too, so you know we are going to get really deeply into the spoilers.
If you were one of the many, many theatergoers who shelled out dollars to see Bad Boys For Life in theaters this weekend, you should by now know the film rolled out a couple of end-credits scenes – that is, if you stuck around for the end credits. What you may not know is that one credits scene was actually almost cut from the movie.
Speaking in a new interview, co-director Adil El Arbi talked about how the first mid-credit scene featuring Will Smith's Mike Lowrey and his now-known son Armondo Aretas possibly teaming up for the good guys was ultimately included because the fans felt they needed closure:
In the scene, Mike Lowrey follows up on his promise from the end of the movie that he would be there for Armondo and would visit him in prison. He doesn't just come to show moral support, however. Instead it looks like Bad Boys For Life's AMMO group might possibly be able to use some help for Armondo, which would "shave off" some prison time (never mind that Armondo assassinated a bunch of high profile people earlier in the film.
Speaking to Collider, the co-director (whose partner is Bilall Fallah) also says they toyed around with whether or not the scene was important to include in the final draft of Bad Boys For Life. It honestly sounds as if it was a huge discussion related to the movie, and even Will Smith and Martin Lawrence had a hand in the talk. However, it was the test audiences that seemingly swayed the vote and at the last minute the scene was added to the final version.
Interestingly, the other end-credits scene was an outtake that didn't advance the plot at all, so pairing them together was an interesting juxtaposition (although we've seen that sort of mismatch in end-credits scenes before).
On the one hand, having a mid-credits scene like the one between Mike Lowrey and Armondo Aretas serves to reveal that Lowrey has kept his word and has been visiting his kid, but it also conveniently sets up for Bad Boys 4, which is allegedly already in the works. There was some feeling as I left the theater that obviously the franchise was using the scene to tease a sequel, which is a tact that can sometimes cheapen an otherwise fun movie. Yet, Bad Boys For Life was so ridiculous plot-wise from beginning to end that I was personally fine with that happening.
I have to ask though:
This poll is no longer available.
Amazing Race & Top Chef superfan with a pinch of Disney fairy dust thrown in. Theme park junkie. If you've created a rom-com I've probably watched it.
Your Daily Blend of Entertainment News
Thank you for signing up to CinemaBlend. You will receive a verification email shortly.
There was a problem. Please refresh the page and try again.