Meet Florence Pugh: 7 Things To Know About The Up-And-Coming Oscar Nominee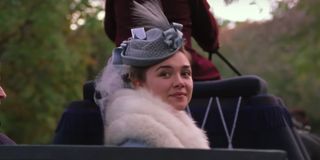 Even before she was nominated for an Academy Award for Best Supporting Actress, Florence Pugh's name was on the adoring mouths of many movie critics. With her lead role in the wrestling biopic Fighting with My Family, her bold turn in Ari Aster's traumatic Midsommar, and now her performance in Little Women getting attention at the Oscars, 2019 was certainly the English actress' year.
She has not been in the mainstream spotlight as an actor for very long, but at 24, Florence Pugh has led an impressive filmography, earning widespread acclaim and awards glory for most of her roles. Of course, since it is still early in her career, there is still much to learn about this talented actress.
We took the time to educate ourselves about this rising star and what we learned only makes us admire the talented young woman more. These are just a few things you should know about Florence Pugh.
Florence Pugh Is A Master Of Hiding Her English Accent
You might not know it from her more high-profile characters, but Florence Pugh is actually a Brit. With the exception of her recent roles in Fighting with My Family, Outlaw King, Lady MacBeth, and the BBC-produced miniseries The Little Drummer Girl, the actress, born January 3, 1996, in Oxfordshire, England, is best known for playing an American in Midsommar and Little Women and even as a Russian assassin in Marvel's upcoming Black Widow solo movie.
In fact, Florence Pugh's experiment with accents began at the dawn of her performing days. While performing in her school's recreation of the Nativity, she came up with the idea of giving her character, the Virgin Mary, a broad Yorkshire accent which, as Pugh told The Guardian, had "everyone pissing themselves" and gave the young performer her first taste at the evocative power of acting.
Florence Pugh's Brother Was On Game Of Thrones
Possessing a passion for performing since childhood was more than a discovery for Florence Pugh as it is in her blood and it runs in the family. The most notable example of this is her older brother Toby Sebastian, an actor who is likely best known for playing Trystane Martell on Game of Thrones.
Florence Pugh's mother, dance teacher Deborah Pugh, was the one who encouraged her to pursue a career in her talents, which also go beyond acting - she is skilled in piano and guitar. Aside from her restaurateur father, Clinton, Florence Pugh's family is actually full of performers. In addition to her brother, her older sister, Arabella Gibbins, is a successful stage actress and her younger sister Rafaela Pugh made an appearance in the action thriller Born of War.
Florence Pugh Has Been An Awards Contender Since Her Screen Debut, 'The Falling'
She may have earned her first Academy Award nomination in 2020 with Little Women, but awards talk is nothing new for Florence Pugh. At 18, she made her onscreen acting debut in the British coming-of-age thriller The Falling, which also allowed her to exhibit her musical talent. Her and co-star Maisie Williams (Game of Thrones' Arya Stark) each received nominations for Young British/Irish Performer of the Year at the London Critics Circle Film Awards in 2016.
Florence Pugh's next film role as the lead in the 2016 British period drama Lady Macbeth (surprisingly not a female-driven rewrite of the William Shakespeare tragedy) earned her several nominations and wins and, two years later, she was nominated for a Best Actress BAFTA for the Netflix period drama Outlaw King (a far more Shakespearean film starring Pugh as the wife of Chris Pine's rebellious Scottish royal). Many see 2019 as the actress' breakthrough year, including the several organizations that have nominated and awarded her as Breakthrough Performer of the year for the triple-threat of landing weighty roles in in Fighting with My Family, Midsommar, and Little Women.
'Midsommar' Star Florence Pugh Is No Stranger To Psychological Horror
Much of the praise for Hereditary auteur Ari Aster's sophomore feature-length effort, Midsommar, can be credited to Florence Pugh's devastating performance. One could only assume that her role as Dani, an emotionally distraught woman whose relationship with her distant boyfriend (Jack Reynor) is put to the ultimate test at a mysterious Swedish festival, would be an exhausting experience. However, apparently, she revels in it.
Having made her cinematic debut in the dark thriller The Falling and playing a scam artist posing as a medium in the 2018 Netflix exclusive horror film Malevolent, it is clear that Florence Pugh was prepared for whatever trauma Ari Aster was set to put her through on the set of Midsommar, which must be the secret to the mastery of her performance. She even credits Thomas Harris' The Silence of the Lambs as her favorite book and Jonathan Demme's adaptation as her favorite film and would even love to play Hannibal Lecter's daughter in a future sequel. While that may be unlikely, we may not have seen the last of Pugh's emergence as a bonafide scream queen.
Florence Pugh Credits 'Midsommar' As Helpful In Creating Her 'Little Women' Character
Of course, given that playing Dani in Midsommar was clearly not without its challenges, Florence Pugh does consider moving onto work on Little Women almost immediately after as "the exact therapy" she needed. Not to mention, her time on set of the horror film was tangentially helpful in developing her performance as Amy March for the period drama.
As Florence Pugh told IndieWire, director Greta Gerwig and her Little Women cast had spent weeks rehearsing before the initial shoot, most of which Pugh was unable to participate in while finishing up Midsommar, which she initially feared would make her an outsider to the cast. Fortunately, the experience would pay-off in portraying the spoiled, self-centered brat of the March Sisters to Oscar-nominated acclaim.
Florence Pugh Has Some Thoughts On Talk To Make Bond Female
Florence Pugh was cast as English actress Charlie Ross, who is recruited by Israelis to infiltrate a Palestinian terrorist group in the 2018 mini-series The Little Drummer Girl. Her performance in the adaptation of John Le Carré's novel had some thinking the actress could make a great James Bond, as talk of a female iteration of the character had been prevalent, but Pugh was less than flattered by the idea.
The actress recounted to Digital Spy a time when someone asked her if she would be interested in being the first to play 007's female counterpart, to which she replied that "I don't think we necessarily need that whole conversation. Do we need to have a female Bond? Couldn't we just make something new?" Longtime James Bond franchise producer Barbara Broccoli seems to agree with Florence Pugh's sentiment, as she has recently promised 007 will remain male even after Daniel Craig's exit, but if Pugh is ever in talks to lead a new spy franchise, sign me up.
Florence Pugh Will Make Her MCU Debut In 'Black Widow'
Speaking of spies and franchises, while Florence Pugh may not be leading the Bond series anytime soon, themes of espionage will play a big part for her role in this summer's Black Widow. The MCU "inbetweenquel" will chronicle the whereabouts of Natasha Romanoff (Scarlett Johansson) after Captain America: Civil War and before Avengers: Infinity War as she returns to her native land of Russia to defeat a new enemy.
Joining forces with Black Widow is Yelena Belova, played by Florence Pugh, who has a few skills of her own. As Pugh told CinemaBlend, what attracted her to the film was not the opportunity to use a Russian accent, but the opportunity to work with director Cate Shortland and "the only female superhero for the past 10 years," Scarlett Johansson as well as the realistic pain and grit she felt in the script. Looks like we can expect a really intense ride in Black Widow, as confirmed by Oscar-nominee Florence Pugh.
Florence Pugh is on her way to superstardom and with a consistently impressive resume at her coattails. Whether or not her Little Women performance sends her home with an Oscar in hand, she has already earned a great prize in the form of widespread admiration in Hollywood.
Jason has been writing since he was able to pick up a washable marker, with which he wrote his debut illustrated children's story, later transitioning to a short-lived comic book series and (very) amateur filmmaking before finally settling on pursuing a career in writing about movies in lieu of making them. Look for his name in just about any article related to Batman.