Batman V Superman Concept Art Reveals Slimmer Suit For The Dark Knight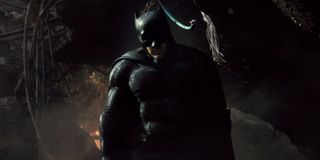 When Christian Bale's journey as Batman ended with 2012's The Dark Knight Rises, it didn't take Warner Bros that long to launch a new era for the Caped Crusader. Just a year later, Ben Affleck was announced to be playing a new version of the Caped Crusader in Batman v Superman: Dawn of Justice, and by 2014, we got our first look at Affleck in the Batsuit.
Ben Affleck's Batman bulky costume was inspired by what the superhero wore in The Dark Knight Returns, not only rocking a grey color scheme, but also being the first time that a Batsuit was made out of fabric rather than armor. However, some Batman v Superman: Dawn of Justice concept art has surfaced showing off a slimmer, more futuristic Batsuit.
As artist Jerad Marantz explained in his Instagram post, he designed this Batsuit for Batman v Superman: Dawn of Justice before getting the memo that the costume would be a fabric, Dark Knight Returns-looking one. Still, this was one of several designs Marantz came up with, and he also noted that some of the shapes on this Batsuit would find their way onto the tactical suit Bruce Wayne would don in Justice League.
While the Batsuit that was ultimately chosen for Batman v Superman: Dawn of Justice is thus far the one that looks the closest to what Bats traditionally wears in the comics, this Batsuit somewhat resembles the one from the animated series Batman Beyond with its sleekness and lack of cape, although Bruce is rocking a traditional cowl here rather than a full face mask. The Batman Beyond suit was packed with technology that Bruce utilized as he continued to fight crime in his middle-aged years, and decades after his retirement, Terry McGinnis donned that same suit to fight evildoers in Neo Gotham.
Considering that Ben Affleck's Bruce Wayne had been Batman for approximately 20 years by the time Batman v Superman: Dawn of Justice begins, it would have made sense to see him wear a Batsuit that augmented his strength and was packed with other goodies that gave him an edge when beating up criminals. After all, he does say to Alfred that he's getting slow in his old age, so anything would be helpful in leveling the proverbial playing field.
But as we saw in Batman v Superman: Dawn of Justice, Ben Affleck's Batman was still in tip top physical shape, with his workout including tire dragging and weighted pull-ups. With the kind of physique he had, it's no wonder that he ended up wearing a bulkier costume, although the carbon fiber tri-weave definitely contributed to the suit's size too.
Maybe if we'd followed along with Ben Affleck's Batman for many more years, we might have seen him put on a Batman Beyond-style costume. Alas, at the start of 2019, a little over a year after Justice League's release, it was finally confirmed that Affleck was hanging up the cape and cowl, so our time with this Bruce Wayne in the DC Extended Universe is over.
Now we're getting a new Dark Knight in the form of Robert Pattinson, who stars in Matt Reeves' upcoming movie The Batman. Principal photography began on that movie earlier this month, and while no specific story details have been revealed yet, the story will involve the superhero crossing paths with adversaries like Riddler, Penguin, Catwoman and Carmine Falcone. With leaked set photos having already emerged online, here's hoping an official look at Pattinson in his Batsuit is released to the public before a random, unofficial photo pops up.
The Batman swoops into theaters on June 25, 2021, so stay tuned to CinemaBlend for updates on that and other DC movies on the way. Check out our comprehensive guide about what else is in development for this superhero franchise.
Connoisseur of Marvel, DC, Star Wars, John Wick, MonsterVerse and Doctor Who lore. He's aware he looks like Harry Potter and Clark Kent.
Your Daily Blend of Entertainment News
Thank you for signing up to CinemaBlend. You will receive a verification email shortly.
There was a problem. Please refresh the page and try again.