The 10 Best James Bond Theme Songs, Ranked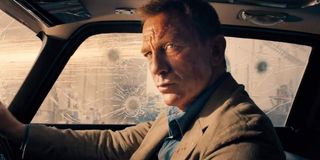 In April, the James Bond series will make history as No Time To Die has drafted Billie Ellish to co-write and sing the latest entry in the franchise's catalog of theme songs. As the youngest person to ever hold this honor, it's a pretty huge happening, in a history that's brought us some of the slickest, most entertaining singles to come from the world of the movies.
Out of the 24 existing songs, spanning all the way back to Monty Norman's original James Bond theme, there are 10 that represent what we believe to be the best James Bond theme songs of all time. Excluding the omnipresent theme itself, this lineup encapsulates the highlights of this ever expanding library of killer tracks.
Here now are the 10 James Bond theme songs that have shaken and stirred audiences over the ages. And don't worry if you think we're missing a song on this lineup, as you'll have your chance to join the conversation after we've come to the end.
10. Sheryl Crow - Tomorrow Never Dies
One of the last people you'd have expected to sing a James Bond theme song is, undeniably, '90s pop-rock star Sheryl Crow. And yet, her work on the title song to Tomorrow Never Dies is a surprising departure from the music that most would identify her for. It's an absolutely gorgeous downer, told from the point of view of an ex-lover from Bond's past.
Much like her work on "The Globe Sessions" album, Crow's song is a morbidly romantic tune that laments how danger and love collide in the world of James Bond's line of work. If there was ever one statement that could pin down why Bond hasn't been the best mate in his checkered past, it'd have to be the lyrics detailing how, "martinis, girls, and guns [are] murder on our love affair." It's a wonder he's ever been married, and may very well be again in No Time To Die.
9. Paul McCartney & Wings - Live And Let Die
The Roger Moore era of James Bond saw some interesting transitions when it came to music. Once that traditional Bond sound had been established with theme tunes bombastic and lavish, the more rock and roll themes always felt like something that snuck in.
However, in the best cases, such as Paul McCartney & Wings' classic James Bond theme song to the film Live and Let Die, that surprise is a breath of fresh air when things are starting to get too comfortable. A fast, hard driving opener that starts out under a false sense of security, McCartney and his post-Beatles band helped bring Bond into the '70s in style.
8. a-ha - The Living Daylights
If the stories are to be believed, a-ha's titular theme to The Living Daylights was the song that apparently led series composer John Barry to finally retire from the James Bond franchise. Which is a damned shame too, as this is one of the most memorable entries from the '80s James Bond canon.
This particular song isn't the aggressive, synth laden sort of product we saw just one film prior with A View To A Kill, but rather a crossroads between Barry's orchestral stylings and a-ha's modern sound. Bordering on melancholy, but not lacking the steam needed to excite the audience, "The Living Daylights" is a song that sets up Timothy Dalton's more grounded Bond in a brief, concentrated context.
7. Garbage - The World Is Not Enough
Chances are, if you're a singer named Shirley, you've got good odds of singing a killer bond theme. Garbage's lead singer Shirley Manson proved this fact once again when The World Is Not Enough delivered its mournful ballad of conquest at the end of the 20th century.
Part retro throwback to the flowery orchestral stylings of the classic James Bond theme songs, the song was most definitely something that Garbage would have released even if they weren't asked to officially create a Bond theme. It's a song that teases villainous intent, with a sexy edge, a reflection of the film's own twisted plot.
6. Duran Duran - A View To A Kill
Earlier, we mentioned how aggressive Duran Duran's theme to A View To A Kill was when compared to the energy of the song that directly succeeded it, a-ha's The Living Daylights. Yet its aggressive nature is exactly what makes this James Bond theme song something to truly behold, as it's another example of a song that sounds like it's dedicated to the villain.
Perpetuating a flare for the dramatic, the band's lyrics about "first crystal tears" and a presence that will "dance into the fire," it's a pulpy treat that blazes through synth runs that both please and pierce the ears. For a movie with Christopher Walken as the villain, this feels perfectly at home.
5. The John Barry Orchestra - On Her Majesty's Secret Service
One of the only James Bond theme songs that lacks lyrics (at least, lyrics known to the general public,) On Her Majesty's Secret Service is one of John Barry's finest contributions to the world of 007's musical landscape. It's also one of the most memorable themes, in an impressive lineup of songs that sing some pretty terrific metaphors.
All Barry needs is a vague clocklike ticking to set his tune against, and this James Bond theme song encapsulates the feeling of a new era arriving in the world of this British super spy. As George Lazenby strutted into his first, and only, film in the role, James Bond blazed a musical trail that's still a breathtaking work to behold.
4. Tom Jones – Thunderball
The history of James Bond theme songs all boil down to one, simple construct of music: talented singers belting out tunes that are either supporting the heroes or lamenting the villains. Tom Jones' masterful performance of Thunderball is one from the latter category, as we're introduced to baddie Emilio Largo in truly dramatic fashion.
With a climax that was rumored to cause Jones to collapse after recording it, the swagger on "Thunderball" is off the charts. It's too bad he never returned to sing another theme, as he could have been the male counterpart to the truly royal talent that left her stamp across eons of the James Bond firmament.
3. Shirley Bassey – Goldfinger
All hail Shirley Bassey. The woman who lent her forceful vocals to the title tracks for Goldfinger, Diamonds Are Forever, and Moonraker, her presence is one that still reverberates throughout every performance that mimics her classic style. Though if we had to single one particular song out, it'd have to be her very first entry in the 007 series.
Goldfinger is still, apologies for the unintended pun, a gold standard when it comes to James Bond theme songs. Bassey knows Auric Goldfinger, and through a booming title track warns you up front what this man is capable of. From that point on, any danger incurred was at the fault of those foolish to not heed those warnings.
2. Chris Cornell - You Know My Name
Like a brick through a plate glass window, Daniel Craig's casting as James Bond sent shockwaves through the system that had gotten used to another lull of familiarity in the landmark franchise. And with a new, daring Bond, a bold new direction was needed for Casino Royale's theme song; which is where the late great Chris Cornell came in.
"You Know My Name" is one of the few James Bond theme songs that isn't titled after the film its accompanying, but much like the title of Ian Fleming's first 007 novel, fans wouldn't forget the name of this innovative rock tune that gave a new age of espionage the forceful pulse it needed.
1. Adele – Skyfall
Sometimes, tradition isn't such a bad thing, especially if it's dressed with the right modern trappings. As Sam Mendes took to the 007 series for the first of two directing gigs, Skyfall symbolized its blend of classic Bond style with modern storytelling in several ways.
The newfound vulnerability of James's psyche is reflected in a beautifully haunting tune that, upon further examination, is a love song of sorts. Not a romantic one, mind you, but one that symbolizes the pseudo mother-son relationship Craig's Bond had with Dame Judi Dench's M. Dramatic strings, and an ominous horn section seal the deal as Adele's soaring vocals led this song to be not only the best James Bond theme song ever, but also the first to ever win an Oscar for Best Original Song.
There are so many terrific tracks that we haven't mentioned throughout the rest of the extensive back catalog of themes. But if we're sticking to the 10 best James Bond theme songs, these are the gems that will last as long as diamonds tend to do.
Naturally, we'd like to know what you think the best James. Bond theme song is, be it something from this list or a title we didn't include in our ranking. So vote on the poll below, and leave some feedback in the comments section below.
And don't forget, No Time To Die hits theaters on April 2nd in the UK and April 10th in the US.
This poll is no longer available.
Senior Movies Contributor
CinemaBlend's James Bond (expert). Also versed in Large Scale Aggressors, time travel, and Guillermo del Toro. He fights for The User.
Your Daily Blend of Entertainment News
Thank you for signing up to CinemaBlend. You will receive a verification email shortly.
There was a problem. Please refresh the page and try again.