Adele Has Planned Her EGOT After Oscar Win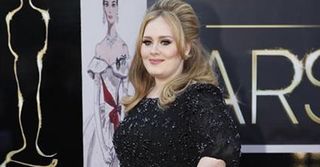 When the irrepressible, amazing Adele took the stage to accept her Best Original Song Oscar for "Skyfall," it was like the best part of the Grammys had been magically transferred to the Oscars. Adele is far from the first singer to win both a Grammy and an Oscar, but at the rate she's going-- she's only 24!-- could the ever-popular EGOT be far behind?
EGOT, if you're not a 30 Rock, refers to Emmy, Grammy, Oscar, and Tony-- the top prizes in television, music, film and stage that are hard enough to win one of, much less all four. Only 14 people have done it, and though plenty of people have two like Adele does, they might not have planned it out quite as distinctly as she has. Asked backstage at the Oscars if she was on her way to an EGOT, Adele didn't just get the reference, but she picked a fellow pop diva to emulate on her way toward an Emmy:
Before you get too excited about her "Someone Like You" power ballad musical, Adele is quick to admit it's "not in my probability for the moment" to do a musical-- probably because she's too busy raising a baby and being completely fantastic to focus on Broadway. But if you want yet another reason to root for Adele to get that EGOT, revisit her performance of "Skyfall" from last night. Why wouldn't you want someone who looks that good in sparkly shoes to be at every awards ceremony from now on?
Photo Credit ©ABC
Your Daily Blend of Entertainment News
Staff Writer at CinemaBlend
Your Daily Blend of Entertainment News
Thank you for signing up to CinemaBlend. You will receive a verification email shortly.
There was a problem. Please refresh the page and try again.