There's A New Petition To Get Brie Larson Out Of Captain Marvel, Because Of Course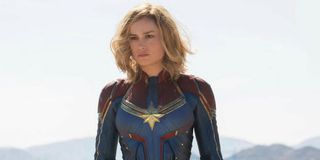 We've only recently had confirmation that Captain Marvel 2 is a go. But fans of the MCU have gotten a head start on voicing concerns about Brie Larson's involvement in the film. And they've created a petition asking for Disney to recast the role of Captain Marvel so that she is closer to her comic book origins.
Care2 Petitions, a popular site for citizen-based calls to action, recently became host to a petition entitled "Demand Captain Marvel is Played By a Woman of Color, Not Brie Larson!" The petition's creator offers the following explanation for why they think Disney needs to act:
The petition also claims that Brie Larson has not donated to any charities other than The Motion Picture and Television Fund Foundation, and that she needs to step down, seemingly in order to show that she is committed to her earlier calls for inclusivity. As of January 25, 2020, the petition reached more than 27,000 signatures -- not far off of its original goal of 30,000.
Fans who support the petition are referring to Monica Rambeau, who is, indeed, the first female incarnation of the Captain Marvel character. She first appeared in Marvel Comics in 1982. Carol Danvers did not assume the identity of Captain Marvel in the comics until 2012. Though Monica was included in the Captain Marvel film, and will also appear in Disney+ upcoming WandaVision series, it's clear these fans would like for her to have a role in the MCU that is more befitting of her comic legacy.
This is not the first time that fans have taken issue with Brie Larson's role in the MCU. In 2018, some fans took issue with her portrayal of Captain Marvel's Carol Danvers because they thought she should be a bit more smiley. After she responded to the criticism by sharing photoshopped images of other Marvel heroes smiling, she didn't exactly endear herself to her critics.
Then, in 2019, her comments about the importance of inclusivity and diversity in the press rankled even more feathers. The backlash fueled a movement to downvote Captain Marvel on Rotten Tomatoes -- and forced Brie Larson to clarify her original comments.
Despite vocal critics, Brie Larson does have considerable support from fans who appreciate her willingness to express her opinions. Those fans helped propel Captain Marvel to a billion dollar revenue at the box office -- which, no doubt, helped Disney make the decision to continue her story. Thus far, the studio has not responded to the petition requesting Brie Larson's removal.
Your Daily Blend of Entertainment News
Thank you for signing up to CinemaBlend. You will receive a verification email shortly.
There was a problem. Please refresh the page and try again.