Star Wars: The One Way Duel Of The Fates Should Make Its Way To The Masses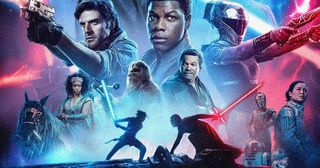 In an alternate universe, Star Wars fans are quite possibly raving over the success of writer/director Colin Trevorrow's Star Wars: Duel Of The Fates. While this original version of what would eventually become Star Wars: The Rise of Skywalker was cancelled, there's been a lot of buzz around what that film would have given the fans, and it's why the project should make its way to the masses in a medium that has traditionally been kind to Star Wars: comic books.
Should there be any sort of official release of this alternate story, written by Colin Trevorrow and Derek Connolly, it would be best if Star Wars: Duel of the Fates was released as a comic adaptation. There's several really good reasons for why that sort of strategy is preferred, so let's start talking them out with the biggest Wampa in this particular room.
Duel Of The Fates Material Is Leaking Anyway
With Colin Trevorrow and Derek Connolly's script apparently finding its way into the open, there have been reports as to what Star Wars: Duel of the Fates would have delivered. Some of those aspects, both in the alleged script and concept art that's made its way onto the internet, have even partially been confirmed by Trevorrow himself as being accurate.
So if Star Wars: Duel of the Fates is making the rounds through the internet already, why not make it official? With Lucasfilm already partnering with fellow corporate sibling Marvel Comics on a regular basis, putting the entire story in the hands of the eager fandom seeking it out only seems right.
Lucasfilm Could Make Some Major Star Wars Money Off Said Comic
If Lucasfilm and Marvel were to release Star Wars: Duel of the Fates as a comic, it'd be a moment that would undoubtedly put fans and critics into a fit of madness. Even better, if a Marvel comic of an "unmade" Star Wars movie was released in comic book shop shelves in the near future, perhaps it could make as much money as a typical movie in the franchise would in theaters. Okay, maybe that not that much, but it would still break various records.
Between the episodic release format, as well as trade paperbacks and collector's edition collections of the entire Star Wars: Duel of the Fates run, there's no telling how much money could roll in by recycling this dormant idea in four panel form. With the Skywalker Saga completed, and the fate of the next Star Wars film in the air, this could be a good stopgap measure to keep the public tuned in.
Star Wars Has Used This Sort Of Strategy In The Past
Honestly, if a comic were to be written and released based off of Colin Trevorrow and Derek Connolly's Star Wars: Duel of the Fates, it wouldn't be an entirely crazy notion. In fact, rather famously, previous brand partner Dark Horse Comics brought to life another infamous alternate draft through a series of books: George Lucas' original draft of The Star Wars.
With the adventures of a grown Luke Skywalker and his Jedi Padawan Annikin Starkiller being the main focus of this particular book, Star Wars fans got a look at what could have been if Lucas' initial vision was the one that made it to the screen. Star Wars: Duel of the Fates would be another exciting example of this strategy paying off, while also adhering to franchise tradition.
It's The Cheapest And Most Sensible Option To Adapt Star Wars: Duel Of The Fates
After Star Wars: The Last Jedi riled up the fanbase, there were petitions to have writer/director Rian Johnson's film remade in order to please the rambunctious crowd. While that was obviously never an option, and would be just as feasible with Star Wars: The Rise of Skywalker, making a comic is probably the easiest way to release this story to the masses.
If Disney and Lucasfilm wanted to kick in some extra money, there's always the possibility of turning Star Wars: Duel of the Fates into an animated series or another sort of interactive/visual medium. But even if that idea is being entertained in any small capacity, a comic series would be a good rough draft, as well as a toe in the waters of how fans feel about this alternate take.
Star Wars Fans Are Going To Keep Asking For Duel Of The Fates Until It's Released
Internet fan culture is pretty determined when it gets an idea in its head. With a world that has both a sequel to Alita: Battle Angel and the "Snyder Cut" of Justice League still taking up some serious bandwidth, Star Wars: Duel of the Fates is bound to become a bigger deal as time and legend build its reputation further.
While something as simple as an annotated screenplay being put into published form could settle for bringing this vision of alternate Star Wars history to the masses, a comic adaptation would be a visual feast that could take both the plot and pictures everyone has seen from Star Wars: Duel of the Fates, and turn them into an alternate adventure for all to discuss and enjoy.
Enjoyment may not be guaranteed, but the satisfaction of the fandom's curiosity about what could have been would be fulfilled. Demystifying projects that change course as radically as Colin Trevorrow and Derek Connolly's original draft of Star Wars' dramatic Skywalker Saga conclusion acts as the ultimate compromise between fans and franchise gatekeepers.
Star Wars: The Rise of Skywalker isn't going anywhere. Whether you're a fan or a foe, that film will always exist, as well as the conversation surrounding its content. That said, with the information the mysterious cloud of hype and information that has surrounded Star Wars: Duel of the Fates has grown to the point where it's too great to simply ignore.
The choice is a simple one: to either deliver this hypothetical blockbuster as a potential comic masterpiece, or to continue to let its legend grow. And it's all down to you, the fans, to make the best case for this potential investment to become a reality.
With the poll provided below, let us know if you'd like to see Star Wars: Duel of the Fates brought to life. And in case you want to see Star Wars: The Rise of Skywalker again, just to be sure, the film is still in theaters as we speak; though not in the plentiful number of theaters it once was.
This poll is no longer available.
Your Daily Blend of Entertainment News
Senior Movies Contributor
CinemaBlend's James Bond (expert). Also versed in Large Scale Aggressors, time travel, and Guillermo del Toro. He fights for The User.
Your Daily Blend of Entertainment News
Thank you for signing up to CinemaBlend. You will receive a verification email shortly.
There was a problem. Please refresh the page and try again.