Wonder Woman 1984's 'Lonely' Diana Faces A 'Crazy' Game-Changing Event, Gal Gadot Says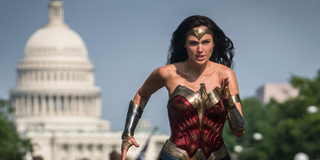 Diana of Themyscira had a pretty rough go at the end of Wonder Woman. Though she fought the good fight and defeated Ares, she lost the man she loved -- and that made for some tough lessons, and a lot of loneliness. And it seems that the events of that film will directly inform her experience in Wonder Woman 1984, and help pave the way for what Gal Gadot says is a "crazy" huge event.
According to Gal Gadot, the Diana we meet in Wonder Woman 1984 will be different than the one we last encountered (via Extra TV):
At first glance, it's easy to see how the sequel to the hugely successful Wonder Woman will be a lot different (and not just because there are changes to Diana's armor and weaponry). While the first standalone film was set in the World War I-era, this one follows Diana into a brighter, extremely technicolor modern era, where she will face off against both Cheetah (Kristen Wiig) and Maxwell Lord (Pedro Pascal). She'll also somehow reunite with Steve Trevor (Chris Pine).
Even without the new era, it will be interesting to see this new side of Diana. In Wonder Woman, we saw only glimpses of how she handled her grief over losing Steve. Though it seemed as though she'd found a way to move on in the present day, we didn't get to see her journey to that point. The "loneliness" Gal Gadot alludes to could easily be, at least in part, due to that loss. Though it's easy to imagine that being an immortal warrior goddess also makes it a little hard to hold down long-standing relationships of any kind.
But interpersonal issues aside, Gal Gadot's hints about plot of Wonder Woman 1984 are very intriguing. She could be referring to the fact that Diana once again encounters Steve -- that would certainly throw anyone for a loop. Or the "crazy" event could have something to do with her new foes. After all, it looks like Diana and Barbara Ann start out as friends, so something pretty huge must happen to make their relationship sour.
Gal Gadot isn't the only one who's hinted that Wonder Woman 1984 is going to be wild. Patty Jenkins has called the sequel "mind-blowing," too. All the hype does beg the question as to whether the film's crew has a few more surprises up their sleeves or another twist that will leave us reeling.
Wonder Woman 1984 is scheduled to open in theaters June 5, 2020. Keep up with everything heading to the big screen this year with our 2020 movie release date schedule.
Your Daily Blend of Entertainment News