New Mutants Originally Had More X-Men Connections, And It's A Good Thing It Doesn't Anymore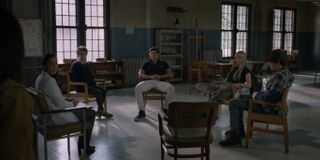 Last year, the X-Men series that began all the way back in 2000 concluded with the release of Simon Kinberg's Dark Phoenix – but technically we have not yet seen the X-Men franchise as a whole come to an end because of the forthcoming and long-delayed release of Josh Boone's The New Mutants. While the horror movie doesn't really have any specific connections to the events that audiences saw play out with mutants in past blockbusters, it is technically still a part of the universe… even though that universe doesn't really exist anymore.
It makes for strange environment for the movie to be released in, but things weirdly could have been far more awkward, as early plans for the project actually saw The New Mutants feature much more definitive connections to everything going on with Professor X and his team, and even had a period setting to make that work.
This was a detail that Josh Boone openly discussed back in August of 2017 while talking to a small group of journalists on the set of The New Mutants – a group of which I was a part. It had been hinted at during other interviews that there were early plans for the movie to be set in the 1980s, and when the subject was brought up with Boone he explained how things were initially going to work with the film:
Simon Kinberg's "own X-Men movie," of course, was the aforementioned Dark Phoenix, but the big thing to focus on is the bit of namedropping of key X-Men characters. Had this early version of New Mutants remained intact as it made its way through development, this is a film that could have perhaps featured Alexandra Shipp's Storm and James McAvoy's Professor X (which would have been interesting if not just because Professor X was the leader of the New Mutants in Marvel Comics).
However, that version of New Mutants didn't remain intact. So what happened? According to Josh Boone, the simple answer to that question is "X-Men: Apocalypse." The Bryan Singer film got a poor reception from critics, and underwhelmed at the box office, and apparently that led the higher ups at 20th Century Fox to decide that the big problem was the fact that the movie was set in the 1980s.
This was something that Josh Boone had no qualms about mocking saying (Note: keep in mind, this quote was from years before the Disney-Fox merger was a thing),
As fans know, the X-Men series never really got to that place. While there may at one time have been plans after Dark Phoenix to have a blockbuster set in the 2000s, and then another set in the 2010s, they won't be moving forward because of the Disney-Fox merger, which will eventually see new versions of classic mutants integrated into the Marvel Cinematic Universe.
Those who would have been excited to see those future X-Men movies may be sad, but in the big picture everything in this arena turned out alright for The New Mutants. Had the film featured stronger ties to the main X-Men series, releasing it now post-Dark Phoenix would have been very odd.
As it happens, Josh Boone also feels that taking those elements off the table helped the movie simply from a story perspective. He suggested that at first there was some unease about limiting the pool of characters that would potentially have a role to play in The New Mutants, but having that limitation wound up being a good thing as the script was reconstructed and he realized that there was an invitation to let the project stand on its own. Said Boone,
Written by Josh Boone and Knate Gwatney and based on the comics of the same name, The New Mutants brings movie-goers into the confines of a secret facility where young individuals with uncontrollable powers are given haven for their own protection. This includes Rahne Sinclair (Maisie Williams), who can transform into a wolf or human/wolf hybrid; Illyana Rasputin (Anya Taylor-Joy), who can teleport using magic rings; Sam Guthrie (Charlie Heaton), who can rcket through the air with thermo-chemical energy excreted from his skin; Roberto da Costa (Henry Zaga), who can manipulate solar energy, and Danielle Moonstar (Blu Hunt), who can create powerful illusions of a person's deepest fears.
After years of waiting, The New Mutants will soon be coming to a theater near you, set to be released on April 3rd (to see what else is coming your way, be sure to check out our 2020 Release Calendar). Stay tuned for more news and updates about the movie as we get closer to its spring release date, and be on the lookout for more stories from my time on the set of the film!
NJ native who calls LA home; lives in a Dreamatorium. A decade-plus CinemaBlend veteran; endlessly enthusiastic about the career he's dreamt of since seventh grade.
Your Daily Blend of Entertainment News
Thank you for signing up to CinemaBlend. You will receive a verification email shortly.
There was a problem. Please refresh the page and try again.