How Daniel Craig Got Fit For A Year Before Filming No Time To Die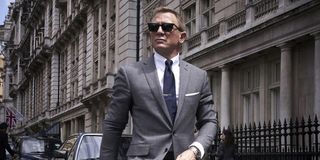 There's no denying that Daniel Craig's physical prowess is pretty impressive. The 52-year-old actor recently completed his fifth (and final) stint as the iconic spy James Bond in No Time To Die, and he prepared himself to do that with an intensive training regimen that lasted a whole year.
Simon Waterson has worked as Daniel Craig's trainer since he first began playing James Bond in 2005, and nd he spent a year with the actor to help him prepare for No Time To Die. Needless to say, he's got a pretty good idea of how to whip the star into shape. The personal trainer told The Times (via DailyMail) that it begins with his diet:
And that's just a small part of the diet the actor partook in to keep his body Bond-ready. According to Sam Waterson, Daniel Craig would alternate between plant-based, pescetarian, protein-rich and vegetarian meals throughout the week, only allowing himself to have red meat on Fridays. However, he'd also allow himself an occasional indulgence and enjoy a beer if he had a day off.
What Daniel Craig didn't consume while he was training to be James Bond is just as important, too. Sam Waterson said that, on his advice, the actor quit smoking when they first began training together:
That was good news for Daniel Craig's lungs, since he engaged in some pretty intense workouts while he was prepping for No Time To Die. The personal trainer said they mostly focused on HIIT-type exercises, including lunges and mountain climbers. And while earlier reports about Daniel Craig's training regimen said he would engage in 12-hour workout sessions, apparently he and Sam Waterson also saw some value in time management:
That sounds fun? All the hard work definitely paid off. Even though he suffered an injury on set during production, Daniel Craig was clearly up to the physical demands of the role. From what we've seen of No Time To Die, Daniel Craig looks better than ever. Of course, we'll have to wait a bit longer than we'd expected to fully see him in action. Like many other films, No Time To Die's release date has been pushed back due to the COVID-19 pandemic. For now, we can plan to see him in all his HIIT-and-kimchi induced ass-kicking glory when the movie hits theaters on November 25.
Your Daily Blend of Entertainment News