How Bruce Willis Got Stuck In Quarantine With His Ex-Wife Demi Moore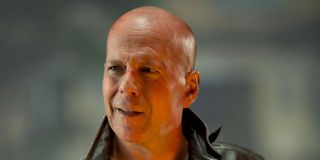 On the list of "awkward coronavirus quarantine partners," an ex-spouse would likely be at the top of most people's lists. Bruce Willis and Demi Moore aren't most people, though. Even though the former couple has been divorced for 20 years, a strange twist of fate has led to them quarantining together in Idaho -- without his Willis' current wife.
There's actually a number of good reasons why the exes ended up self-isolating together. In the years since they separated, they never exactly went their separate ways.
Bruce Willis and Demi Moore have remained close friends, as they've co-parented their children together. They even own property close to each other in Sun Valley -- and that's where they both were, along with their family, when the spread of COVID-19 made it necessary for millions of Americans to shelter in place.
A source familiar with Bruce Willis and Demi Moore's relationship told ET that the actor was visiting Sun Valley about a month ago when the area became a coronavirus hotspot. Demi Moore and their children were also in Sun Valley at the time, and the group collectively chose to take the threat seriously and quarantine there, even though that meant Bruce Willis would be away from his current wife, Emma Hemming, and their two children, who are quarantining in Los Angeles.
There's the potential for that situation to become extremely awkward for a lot of the people involved. It's one thing to stay friendly with an ex, and entirely another to find yourselves under the same roof with no chance of escaping for weeks on end. From the sounds of it, though, everyone is handling it pretty well.
Bruce Willis is still in touch with his wife and younger children, who understand why he needed to stay in Idaho. He's also finding some creative ways to stay busy Demi Moore and their adult brood including daughters Talulah and Rumer. According to Demi Moore's Instagram feed, the Willis/Moore crew recently bonded by, among other things, starting a book club:
It also looks like Bruce Willis may have found his second calling while on lockdown. Talulah Willis recently shared a video of her dad helping her shave her head. Though he doesn't have a history as a hairstylist, he proved to be pretty adept -- the results looked pretty fabulous.
Bruce Willis and Demi Moore aren't the only celebrities who've kept us updated on their quarantining experience. Tom Hanks and Rita Wilson kept fans up to date while they were being treated for coronavirus in Australia. The Rock is one of many who've spent a decent amount of time communicating with fans in live chats. And Jared Leto made sure we all knew that he found out about the quarantine really late (because of course he did). It's still unclear when everyone will be able to ease off on the recommended social distancing measures -- so at least Bruce Willis and Demi Moore can take comfort in knowing their friendship can remain intact even in the weirdest of situations.
Your Daily Blend of Entertainment News