Venom Fight Scenes Look Hilarious In Tom Hardy's Behind-The-Scenes Video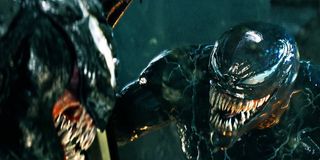 Tom Hardy has been a busy man as of late. The trailer for his latest movie, Capone, released along with news that it would be released direct to video-on-demand, and, of course, he's been engrossed in superhero films, specifically Sony's Venom franchise. Yet, despite being busy, he still takes time to share things with his fans on social media.
Fans of Venom are undoubtedly eager for their first taste of the sequel but, in the meantime, Tom Hardy has shared a new video on Instagram that gives a behind-the-scenes look at the fight between him and co-star Riz Ahmed from Venom. However, the battle doesn't look quite like it did in the actual film. It has to be seen to be believed. Check it out:
It's hard to say if they're doing some kind of slow-motion jiu-jitsu or a brand-new dance routine. Either way, it's pretty funny to watch, especially with Eric Carmen's "Hungry Eyes" from Dirty Dancing playing in the background.
Tom Hardy spent months shooting Venom 2, which is directed by none other than Andy Serkis. Considering the amount of motion capture and CGI involved in these kinds of superhero movies, Andy Serkis feels like the perfect choice to direct. I am personally hopeful that Serkis can bump the franchise up a notch.
Andy Serkis gave a small update on the project in February, in which he mentioned that the crew was 40 days into shooting. He also said the movie will build upon the relationship between Venom and a "nemesis character." That character is likely Woody Harrelson's Cletus Kasady, also known as Carnage, but this could even refer to someone else. Maybe Spider-Man comes into play?
When it released, Venom was greeted with a heavy divide between audiences and critics, with many fans loving it and most critics deriding it. Still, the producers seem to be taking notes of what they got right, and one thing they want to explore even further in Venom 2 is the relationship between Eddie Brock and Venom, a bond many fans enjoyed in the comics and on screen.
Last month, a set photo of Tom Hardy and Woody Harrelson was shared on social media, and they were both all smiles. But it's doubtful that'll be the case in the movie. When we first saw Woody Harrelson's Cletus Kasady at the end of Venom, he was in prison, but it was obvious that he wouldn't be behind bars for long. Venom 2 will be the first time we see Carnage, in the flesh, on the big screen and one can imagine there will be an epic fight between him and Venom.
Though Venom didn't exactly hit the standard set by the movies of the Marvel Cinematic Universe, there's a lot of room for growth when it comes to sequels. If the creatives can strike the right tone, it may be fun to see a crossover between the Venom and Spider-Man franchises, especially if we get to see hilarious video of Tom Hardy and Tom Holland fight-dancing. Venom 2 is slated to hit theaters on October 2, 2020.
Your Daily Blend of Entertainment News