Dressing The Gentlemen: The Secrets Of Making Charlie Hunnam And Matthew McConaughey Look So Good On Screen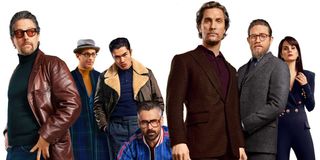 When you're watching a Guy Ritchie-directed film like The Gentlemen, the fashion is something that always sticks out. The keen sense of how characters are dressed is something that's followed Ritchie through landmark films like Lock, Stock, and Two Smokin' Barrels and Snatch, as well as in recent entries such as The Man From U.N.C.L.E. And when it comes to the secrets of making men like Charlie Hunnam and Matthew McConaughey looking so good on screen, you can thank one crucial member of the production: the costume designer.
Storied designer Michael Wilkinson, who's worked on movies like Justice League, American Hustle and Tron: Legacy, designed the looks that The Gentlemen's all-star cast wore on screen. And when it came to dressing both Charlie Hunnam and Matthew McConaughey for the screen, there were certain aspects that Wilkinson had kept in mind with how he put their characters together.
As I was recently invited to submit questions for an interview via email, I was keen to learn more about the Academy Award-nominated artist's approach. Specifically, I was wondering what sort of influences and challenges that Michael Wilkinson had faced on his second collaboration with Guy Ritchie, after their previous work together on the Disney smash-hit Aladdin.
Michael Wilkinson was, naturally, a font of knowledge when it came to The Gentlemen's specific clothing needs. Starting with his commentary on Matthew McConaughey's look, you can begin to see how the film got its one-of-a-kind look.
The Unique Challenge Matthew McConaughey Posed For The Gentlemen's Costume Designer
Mickey Pearson, as played by Matthew McConaughey, is an enterprising young man who started dealing the green stuff at Oxford University, eventually dropping out to become a marijuana magnate, and who's looking to sell his stakes and retire to a more peaceful life. His youthful vibe is crossed with the height of British fashion, as Michael Wilkinson when tackling the challenges that Mickey's threads posed:
Rather than taking a tight and rigid feel to Matthew McConaughey's Mickey, the character calls for a refined but more confident air. Another great advantage to the loosening of Mickey's style is the fact that when he's in action throughout The Gentlemen's plot of action and criminal intrigue, he can move freely when he's aiming his pistol at an offending party.
Of course, not everyone's style can be a relaxed and new age as Mickey's, which leads us to Charlie Hunnam's character and his special look. And in the case of Raymond Smith, Hunnam's well-suited gentleman, Michael Wilkinson used a very special inspiration to set him apart.
How Charlie Hunnam's Costumes In The Gentlemen Set Him Apart From The Rest Of The Cast
As the loyal associate to Matthew McConaughey's Mickey, Charlie Hunnam's Raymond is a man that isn't afraid to get his hands dirty, while looking good in the process. This isn't the only honor that Hunnam's character has been bestowed, as Michael Wilkinson admits that when it comes to his personal aesthetic, Raymond is the closest to his own dress sense:
Raymond's flashy outfits look at home while having peaceful discussions with those who would threaten Mickey Pearson's empire, as well as when he's holding a semi-automatic to threaten people with incriminating cell phone information.
Let's face it, those are the two modes one finds themselves in within the criminal underbelly of the Guy Ritchie universe. Though Michael Wilkinson's comments about Raymond seeming pretty cut out to design the costumes for the movies, they do make him sound like an unlikely bedfellow for another character in The Gentlemen's hierarchy.
Why Hugh Grant's Creepy Character From The Gentlemen Was So Much Fun To Dress
While he might not be as fashion forward as Mickey or Ray, Hugh Grant's paparazzi/wannabe filmmaker Fletcher has a slick style of his own that invokes his directing desires. Michael Wilkinson's commentary on Grant's look in the film sounds totally on brand for the sort of outfit both the character, and a Guy Ritchie villain, would wear:
Looking at Grant's style as Fletcher, the first person that comes to mind is a darker version of legendary producer Robert Evans. The Wayfarers really go a long way, as Evans' trademark tinted glasses and stylish jacket combo give off a different vibe when that grayish-purple coloring comes into play.
As Fletcher and Raymond have a fair share of interactions throughout their time together in The Gentlemen, the contrast of Hugh Grant's morally compromised character and Charlie Hunnam's more upstanding associate is drawn at a regular interval throughout the film's action. In the dialogue-heavy context that rules the interactions with those characters, this sort of clash in wardrobes is as visually exciting as any sequence of gunplay and fisticuffs.
This is only a sampling of the skill and aplomb that Michael Wilkinson brought to The Gentlemen's fashion landscape. As his eye helped make everyone from Henry Golding to Michelle Dockery, and all other cast members in-between, look sharp as anything, it's certainly one of the best dressed films of this still early year. Even more impressive is that thanks to Wilkinson's efforts, The Gentlemen is a movie that also sticks out in the well suited filmography of Guy Ritchie's madcap filmography.
The Gentlemen is now available on Digital HD, as well as 4K UHD, Blu-ray, and DVD. And if you're looking for a special #GentlemansNightIn, you can enter our giveaway for a special kit that'll help you get into the headspace of Guy Ritchie's colorful characters.
Up next: The Gentlemen Cast Interviews With Matthew McConaughey, Charlie Hunnam And More
Your Daily Blend of Entertainment News
Senior Movies Contributor
CinemaBlend's James Bond (expert). Also versed in Large Scale Aggressors, time travel, and Guillermo del Toro. He fights for The User.