Liam and Chris Hemsworth Are Hatching A Plan To Do A Movie Together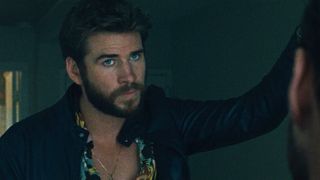 In some ways, Chris and Liam Hemsworth's careers have been similar. They both rose to fame thanks to their roles in huge Hollywood franchises: Avengers and The Hunger Games, respectively. In other ways, though, they've taken very different paths -- and more power to them. Perhaps most surprisingly, they've never appeared in a film together -- though it sounds like they're planning on changing that soon.
When Liam Hemsworth came to Hollywood, his career took off pretty quickly -- he starred in The Last Song with Miley Cyrus before becoming Gale to Jennifer Lawrence's Katniss. He's managed to forge a successful career and largely stayed out of his older brother's shadow, even though he famously beat Liam to play Thor, the role that made him a superstar. Chris Hemsworth, on the other hand, has proven he has enough versatility as an actor to be seen as more than just an Avenger.
If there's been any sibling rivalry since the two brothers became movie stars, it's never gone public. On the contrary, it seems like Liam Hemsworth has found nothing but support from his older brother as he's made his way through his own career:
Okay, yes please. We already know both of them are well-suited for action movies. They've also both proven to be great comedic actors as well. It's easy to imagine that their brotherly bond would only amplify their comedic timing. When speaking with Men's Health, Liam Hemsworth didn't give any more details about their potential future plans but, if he's talking about it in an interview, that could mean they're at least a bit more than hypothetical. There seem to be infinite possibilities for how it could play out. Will they play brothers? Friends? Enemies? Honestly, any option sounds like it would be worth the price of admission.
In the meantime, both brothers are staying pretty busy - or as busy as they can at the moment. Chris Hemsworth will film Thor: Love and Thunder whenever Hollywood resumes production, while Liam Hemsworth will be starring in Quibi's upcoming thriller series Dangerous Game.
Would you be down to watch the Hemsworth brothers on screen together? What kind of movie would you want to see them star in? Let us know in the comments.
Your Daily Blend of Entertainment News
Thank you for signing up to CinemaBlend. You will receive a verification email shortly.
There was a problem. Please refresh the page and try again.