Dwayne Johnson's Moana-Obsessed Daughter Is Still Unaware Of One Key Fact About The Film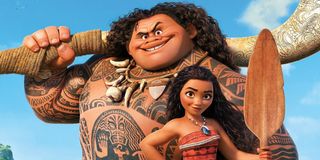 Dwayne Johnson has played a plethora of characters during his acting career, but the role that certainly connects with younger viewers is the demigod Maui from Moana. Johnson's daughter is also a fan of the film and enjoys hearing her father sing the Maui's signature song, "You're Welcome." However, it would appear that she still hasn't figured out something about the movie.
While staying at home, Dwayne Johnson has been reaching out to fans on social media to discuss different aspects of his life. He recently shared a video on Instagram in which he sings "You're Welcome" (for the umpteenth time) to his daughter. But in the caption, Johnson reveals that she has yet to discover that he voiced Maui in the film. You can check out the sweet video below:
You can't help but chuckle a bit when you think about the fact that Dwayne Johnson's daughter hasn't figured out that her famous dad is the voice of one of her favorite characters. Though she is very young so, at this point, she's probably not concerned with connecting the dots and is more consumed in the fun of the movie.
It's clear to see Johnson doesn't mind the fact that his daughter doesn't know his connection to Maui. Based on the video, he just appears to be happy that there's a film in his body of work that she can enjoy now. Not getting shut down while he's signing is likely positive as well.
Maui quickly became a breakout character in Moana, and "You're Welcome" is considered to be one of the key titles from the movie's soundtrack. Not only did it add a memorable song to Disney's already extensive catalog of tunes, but it also proved that there's nothing Johnson can't or won't do when it comes to his film roles.
Although Dwayne Johnson seems to find ways to connect with all of his roles, Maui was special to him for a specific reason, as he based the character on his grandfather, a Samoan chief.
This component surely makes Johnson's signing to his daughter that much more special because in a way, it allows him to pass down a piece of his grandfather to her. It may not be a major familial connection, but it is a unique one that Johnson and his family will be able to preserve for generations to come.
Within the next few years, Dwayne Johnson's daughter will undoubtedly figure out that it's her father that lent his voice to the Disney character. But don't expect her to be impressed just because he's her dad. Although she may respond with shock and delight, she could just as easily just shrug it off. Whatever the case, Johnson will definitely be happy when he can slightly ease off on the singing. Moana is now available to stream on Disney+.
Your Daily Blend of Entertainment News
Covering superheroes, sci-fi, comedy, and almost anything else in film and TV. I eat more pizza than the Teenage Mutant Ninja Turtles.
Your Daily Blend of Entertainment News
Thank you for signing up to CinemaBlend. You will receive a verification email shortly.
There was a problem. Please refresh the page and try again.