Texas Will Allow Movie Theaters To Reopen Very Soon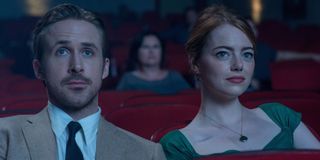 Back in mid-March, all major theater chains, like Regal, AMC, and Alamo Drafthouse, closed their doors in response to the COVID-19 pandemic. The sudden shift sent shockwaves through the film community. As the dominoes fell, studios switched gears and sent some of their current theater releases straight to video-on-demand.
Now, after a little over a month later, theaters may start slowly reopening. According to The Hollywood Reporter, Texas governor Greg Abbott announced that certain businesses can reopen starting Friday, including theaters, as long as crowds are limited to 25 people are fewer. But even then, don't expect theaters to roll the cameras anytime soon. Here's what a spokesperson from Alamo Drafthouse had to say on reopening:
The topic of reopening theaters has been circling the movie community for a while now. Theater chains have been reluctant to give a final date as the global situation continues to unfold. In early April, AMC's CEO has come out saying he hopes his theaters will be able to reopen in mid-June. More recently, however, Cinemark announced they're shooting for a reopen date of July 1st. The caveat to that date is if local and national laws allow for it.
As theaters continue to stay closed, economic forecasts for the industry have been precarious. Depending on how long they stay shuttered and how long it takes for people to trickle back into theaters once they open, some have predicted a domestic box office that's less than $7 billion, the lowest seen this century. Last year's box office total was roughly $11 billion.
With theaters closed and everyone inside, many studios are rapidly adjusting to the times and evaluating their models. Studios like Warner Bros. and Universal have announced they're rethinking how they approach their releases with how consumer behavior has changed due to the pandemic. Here's what the WarnerMedia CEO had to say:
Meanwhile, video-on-demand sales for theatrical movies have supposedly been doing well. Universal announced that the early release of Trolls World Tour has broken records and been their biggest debut for a digital release. Of course, there's no way to track the financials of the film.
Other former theatrical releases have either been delayed for a later date or sent right to a streaming platform like Netflix, Amazon Prime, or Disney+. Expect to see more of this from studios until theaters open their doors again.
Your Daily Blend of Entertainment News
Your Daily Blend of Entertainment News
Thank you for signing up to CinemaBlend. You will receive a verification email shortly.
There was a problem. Please refresh the page and try again.