Black Widow: 8 Key Things We Know About Natasha Romanoff Before Her Solo Movie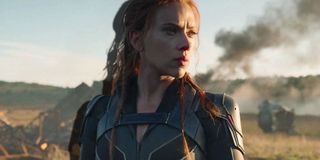 There are many reasons to be excited for Cate Shortland's upcoming Black Widow movie, but certainly toward the top of the list is the fact that the film will shed light on what is one of the most mysterious heroes in the Marvel Cinematic Universe. Natasha Romanoff was raised as a spy, and she has spent her entire life in that profession – which means that she excels at keeping personal details to herself.
The solo film should shed light on the character in interesting ways, and add context where there previously wasn't any. But before we get set to go see Black Widow later this year, let's first take a look back at the decade-plus of the heroine on the big screen and compile everything we know about her history, starting with…
Black Widow Was Born In Russia
Listening to Natasha Romanoff speak, you wouldn't be able to pinpoint her accent being anything other than American, but that's just step one of her everyday duplicity. The truth is that she is a Russian expat, born during the Soviet era. That surely must have been rough all by itself, but stories of her adolescence really only get darker. As revealed in Avengers: Endgame, her father was named Ivan, but she didn't know that until near the end of her life due to the fact that she was taken away from her family at a young age. So who took her away? Well…
Black Widow Was Trained At A Place Called The Red Room
As previously glimpsed in flashbacks, most notably in Avengers: Age Of Ultron, Natasha Romanoff was raised as a weapon who could execute missions on behalf of the state to greater the glory of Mother Russia. The facility in which she was trained was called the Red Room, and it existed to essentially remove her humanity from her. Via different programs, including dancing and marksmanship, Natasha spent her youth working to become a perfect spy/assassin, her training eventually finding her take her first life – an unidentified man she was instructed to shoot.
Black Widow Can't Have Children
When Black Widow and Hulk are figuring out the status and future of their relationship in Avengers: Age Of Ultron, the former dropped a rather significant bombshell: she is incapable of having children. It's a horrible part of her story that extends from her time in the Red Room, as it was believed by her Russian handlers that becoming pregnant would be a distraction from her life as a killer, so the option was surgically taken away from her. This may not be something that specifically comes up in the Black Widow solo film, but it's a standout detail that could wind up informing elements of the character – such as her relationship with her spy "family" who we'll meet in the movie.
Black Widow Has A Dark Story Involving Drakov's Daughter
Black Widow's story is one of redemption, as she went from living her life as a cold-blooded killer to becoming a hero working to save the world. That being said, she apparently did some really terrible things in her past, and one of those things involved the daughter of a person named Drakov. Along with something about Sao Paulo and a hospital fire, this bit of information was first dropped by Loki in The Avengers when Natasha went to interrogate the God of Mischief, but we'll likely learn more about the incident in Black Widow. This is because the 2020 film will actually feature Drakov as a significant character, played by the great Ray Winstone.
Black Widow Met Hawkeye When He Was Sent To Kill Her
It was part of the same aforementioned conversation with Loki in The Avengers that we also learned about both the origins of Black Widow and Hawkeye's relationship, and how she went from fighting for the bad guys to fighting with the good guys. After years of operating as an assassin, Natasha Romanoff found herself with a target on her back, and aiming right at that target (presumably with a bow and arrow) was Clint Barton a.k.a. Hawkeye. Rather than killing her, however, he decided to both spare her life and recruit her, which is how she wound up becoming a S.H.I.E.L.D. agent working for Nick Fury.
Black Widow And Hawkeye Had Some Kind Of Crazy Adventure In Budapest
During their time working together, Black Widow and Hawkeye surely went on all kinds of wild adventures, but one in particular that has long been teased as being rather extreme involved a mission in Budapest. Sadly we have never been given more information than that, but it is something that Clint found himself reminded of during the Battle of New York in Avengers when the spy duo were taking out Chitauri soldiers. Given that it's been confirmed at least some of the Black Widow movie will take place in the Hungarian city, hopefully we'll soon get to know more about the incident.
Black Widow Has History With The Winter Soldier
Thanks to her time working for S.H.I.E.L.D., Black Widow was able to form strong relationships with Hawkeye, Nick Fury, and Captain America, but not to be forgotten is that she has some history with another notable Marvel Cinematic Universe character as well: Bucky Barnes a.k.a. The Winter Soldier. In Captain America: The Winter Soldier, Natasha recounted an incident that went down in 2009 that saw a protection detail go totally sideways when Hydra's best hypnotized assassin was called in. She ended up getting shot by the killer, and wore a scar on her stomach as a memory of the incident.
Black Widow Died In The Year 2014 On A Planet Called Morag
You may have noticed the use of past tense throughout this article when talking about Black Widow, and it's because the character's life sadly came to an end in the Marvel Cinematic Universe last year, as featured in Avengers: Endgame. Though she lived until the year 2023, she technically died in the year 2014 while on a time travel mission with Hawkeye to retrieve the Soul Stone from the planet Morag. She sacrificed herself so that the archer could get the precious ingot, bring it back to their team, and save the universe.
What are you most excited to learn about Black Widow in her upcoming solo film? Hit the comments section below, and be on the lookout for more of our Marvel Cinematic Universe coverage here on CinemaBlend.
Your Daily Blend of Entertainment News
Assistant Managing Editor
NJ native who calls LA home and lives in a Dreamatorium. A decade-plus CinemaBlend veteran who is endlessly enthusiastic about the career he's dreamt of since seventh grade.
Your Daily Blend of Entertainment News
Thank you for signing up to CinemaBlend. You will receive a verification email shortly.
There was a problem. Please refresh the page and try again.