Trolls World Tour's Justin Timberlake And Anna Kendrick's Favorite Performances Involve Oprah, 24-Hour Sunlight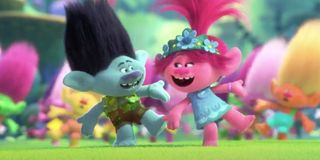 CinemaBlend participates in affiliate programs with various companies. We may earn a commission when you click on or make purchases via links.
There's no doubt Justin Timberlake and Anna Kendrick have incredible singing chops. They put those talents to use in the animated movies like Trolls as well as the follow-up Trolls World Tour, but they also have had their fair share of live performances.
While promoting Trolls World Tour, Justin Timberlake and Anna Kendrick eventually shared some stories about their personal favorite performances. And yeah, they're probably not what you would expect. Here's what Justin Timberlake had to say:
Surreal, indeed. I can't imagine how Justin Timberlake could stay awake, much less sing, in conditions that seem reminiscent to the movie Insomnia. But it sounds like he pulled it off, since it was a favorite performance and not a nightmare.
The Trolls World Tour soundtrack is currently available to stream on Tidal. You can use this link for a trial membership.
While Timberlake has done plenty of performances all over the world at huge venues including like the Super Bowl, Anna Kendrick admitted her live performance experience is more limited. But the Pitch Perfect actress did recall a time she sang at the Oscars. Here's what she said:
As for Trolls World Tour, its performance among critics and audiences is mixed. Surprisingly, more critics like the movie than audiences. Cinema Blend's own Mike Reyes, however, wasn't feeling it, and wanted the feeling to stop altogether.
This boisterous and colorful kids animated movie is not without controversy. It made headlines around mid-March when Universal decided to release it via VOD. Audiences were allowed to buy it for $20 at home. The strategy seemed to work out for Universal with rental sales booming to $100 million, earning more than its predecessor did in theaters. However, this has drawn the ire of movie theater chains.
Trolls World Tour follows Poppy and Branch as they discover there are six other troll tribes with different styles of music. When the rocker tribe tries to destroy the other tribes' music, Poppy and Branch set out to save the other tribes from extinction and unite them all, instead.
Of course, right now, Trolls World Tour is available on-demand, and it seems like some kids can't get enough of it. So, if you need similar movies to watch, there's plenty of options to choose from online.
Your Daily Blend of Entertainment News