xXx 3: 10 Cool Behind-The-Scenes Facts About Return Of Xander Cage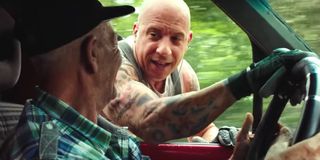 Just like Vin Diesel's homecoming in the 2017 release of xXx: Return Of Xander Cage, I am back with another round of action-packed behind the scenes facts from everyone's favorite extreme sports spy franchise. I've covered the first two movies, so I thought, why not write about the lesser known xXx 3 and call it a day.
Much like the previous two entries in the never-ending saga of Xander Cage and all the insane filmmaking techniques that star Vin Diesel and the franchise's producers have drawn up, the making of xXx: Return Of Xander Cage was full of twists, turns, punches, and some zero-g action. With a larger and more dynamic cast, Diesel and company didn't hold back for the third, and probably not final, entry in the xXx saga. Prepare to enter the Xander Zone once again.
Vin Diesel Felt Like He Owed A Debt To His Character
Anyone who watched the 2005 box-office bomb xXx: State Of The Union quickly noticed that the adrenaline junkie turned secret agent was nowhere to be seen. Killed off in low-budget short film (that didn't even feature Vin Diesel), Xander Cage was nothing but a distant memory by the time Ice Cube's Darius Stone took his place in the xXx program. That all changed in the lead-up to Return Of Xander Cage.
In the Third Time's The Charm: Xander Returns documentary that accompanied the home release of xXx: Return Of Xander Cage, Vin Diesel explained that he decided to come back to the franchise to make things right after his abrupt departure all those years earlier, stating:
Rob Cohen, The Director of xXx, Was Originally Set To Return For The Third Movie
Vin Diesel wasn't the only major player from xXx to be absent from State Of The Union, as director Rob Cohen pulled out to direct the science fiction military film Stealth. But Cohen looked to return to the director's chair for Return Of Xander Cage, at least very early on in its development.
During an interview with IGN back in December 2008 (that's how long the movie was in pre-production), Rob Cohen explained that after stepping aside for the second film, he was very much involved with the film that would bring Xander Cage back into the fold, stating:
In the interview, Cohen went on to say that the film was originally supposed to hit theaters in July 2010, but the actual movie, which didn't involved Cohen, wouldn't be released for nearly seven years in January 2017.
UFC Star Conor McGregor Was Attached To The Project But Dropped Out After A Big Loss
Former UFC Middleweight Champion Michael Bisping had a minor role in Return Of Xander Cage as Xiang's (Donnie Yen) muscle, but the role was originally written for a completely different UFC fighter. You might have heard of him — Conor McGregor.
The former UFC Featherweight and Lightweight Champion was slated to appear in the third xXx film, but he went into a dark place and needed to focus on fighting after suffering a loss to Nate Diaz at UFC 196. During an interview with Brazilian TV show Giro Combate (via MMA Fighting), Vin Diesel explained:
The Skiing In The Jungle And Motocross On Water Stunts Were Based On Actual Events
Just like the first xXx movie, Return Of Xander Cage took a lot of inspiration from the extreme sports world to build up Xander Cage's character within the world. This called for some pretty insane stunts that seemed to defy logic just as much as they defied gravity, but a lot of the scenes, especially the skiing through the jungle and motocross on water scenes were based on feats that had actually happened.
During the I Live For This Sh#t! documentary that accompanies the home release of xXx: Return Of Xander Cage, producer F. Scott Frazier was the first to admit that these stunts seemed too good to be true, but stuff like that had actually happened, stating:
The Zero-G Fight Aboard The Plane Was Shot Throughout The Entire Production
One of the most exciting, and well-shot, segments of the movie is the scene where the xXx plane is crashing down to the ground, resulting in a zero-g fight scene. But this wasn't something that was achieved through CGI or other special effects, most of what you see in this scene was created through the use of wires, highly trained stuntmen, and a lot of work.
During the I Live For This Sh#t! documentary, supervising stunt coordinator Bobby Brown explained that as soon as filming got underway in Toronto, he started working on getting everything ready for this scene, stating:
Brown went on to say that there would be upward of 17 riggers doing various jobs to get the actors going in different directions to pull off the look of zero-g, and that his crew filmed bits and pieces of the scene almost through the entire movie.
The Crew Developed A New Fighting Style Called MXMA
In addition to spending weeks getting the look and feel down for the zero-g scenes, the stunt crew had multiple other aspects of the movie to iron out before production wrapped. One of the most inventive breakthroughs the crew had during shooting was the creation of a new fighting style that combined elements of martial arts with motocross.
During the I Live For This Sh#t! documentary, the cast and crew go into great detail about finding a crew of riders who focused on different aspects of motocross like flipping, jumping, and even fighting, which Vin Diesel was pretty stoked on, stating:
Nina Dobrev Was 'Genuinely' Scared On Set
Former Vampire Diaries star Nina Dobrev had one of the funniest and the most memorable roles as Becky Clearidge in xXx: Return Of Xander Cage, but while her character remained calm throughout the movie, the actress, who was starring in her first action movie, was anything but. Sitting down with Coveteur in 2017, Dobrev had this to say about her experience on set:
Jet Li Was Originally Cast In The Role That Eventually Went To Donnie Yen
Donnie Yen, the famed Hong Kong martial artist, actor, and all around badass mopped the floor with most of his castmastes in xXx: Return Of Xander Cage, but future start of Disney's live-action Mulan remake wouldn't have shown up in the movie if the producers' original pick for the role of Xiang wouldn't have dropped out.
In January 2016, The Hollywood Reporter released an article announcing that legendary martial artist turned actor Jet Li had been cast in one of the leading roles. That changed not long after, as in February 2016, Variety reported that Li had dropped out of the project and that Donnie Yen had been cast instead.
The Camera Crew Was Forced To Shoot Donnie Yen's Fight Scenes In Slow Motion In Order To Capture His Movements
Donnie Yen recently made news after it was discovered that he was too quick for the cameras on the set of Mulan, forcing the production crew to shoot his fight scenes in slow motion. Oddly enough, this isn't the first time this has happened to a camera crew trying to film Yen on set.
In the I Live For This Sh#t! documentary, cinematographer Russell Carpenter revealed that in the beginning, Donnie Yen was just too fast for the cameras to pick up exactly what he was doing on screen, stating:
The Movie Made $346 Million Worldwide, With $164 Million Of That Coming From China
And lastly, there's the topic of the film's performance at the box office. xXx: Return Of Xander Cage is the most successful of the three movies in the franchise bringing in $346 million worldwide, but nearly half of that was from China, which you could argue was because of Donnie Yen's star power in his native country. Domestically, the film only brought home $44.8 million, or a little more than half of the $85 million production budget.
Despite the poor performance in North America, the film still brought home more money than xXx with $277 million worldwide, and xXx: State Of The Union, which only brought in $71.1 million worldwide.
Those are some of the more interesting facts about xXx: Return Of Xander Cage. If you have yet to have your fill of Vin Diesel's adrenaline-junkie secret agent, check out the rest of the Xander Cage articles we've written here at CinemaBlend.
Your Daily Blend of Entertainment News
Philip grew up in Louisiana (not New Orleans) before moving to St. Louis after graduating from Louisiana State University-Shreveport. When he's not writing about movies or television, Philip can be found being chased by his three kids, telling his dogs to stop yelling at the mailman, or yelling about professional wrestling to his wife. If the stars properly align, he will talk about For Love Of The Game being the best baseball movie of all time.