5 Things Disney's Live-Action Hercules Needs To Include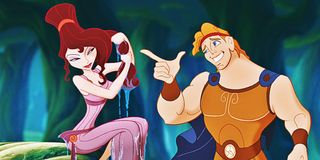 (Image credit: (Disney))
It's no secret that Disney has a huge audience for its live-action iterations, with the titles that hail from the studio's Renaissance era especially being big hits for fans. Last year alone, the House of Mouse reimagined The Lion King and Aladdin for the big screen, and they both made the top ten highest-grossing movies of the year. Niki Caro's Mulan is also one of the most anticipated releases coming this summer. So it feels like a no-brainer that of course Hercules is coming next.
What's unique about 1997's Hercules is it's not held up in the same high regard as the studio's other entries in the Renaissance era, but it's still a hugely nostalgic Disney movie for a certain generation (where are my fellow '90s kids at?). It's been announced that Avengers: Endgame's Joe and Anthony Russo will produce this new take on Hercules and David Callaham (Zombieland: Double Tap, Wonder Woman 1984, Shang Chi and the Legend of the Ten Rings) is penning the script. According to Anthony Russo, this is how they are approaching the remake:
Ok, so Hercules will not be a shot-by-shot remake, and that's a good call from the directors of Avengers: Infinity War. That said, there are a few aspects from the 1997 classic that the in-development Disney project should definitely include.
Of Course Disney's Live-Action Hercules Should Be A Musical
Along with the Russos' early comments about the approach for Hercules, they expressed some uneasiness about how the music might come into play in the live-action version. For now, the Hercules producers said it would definitely have an important role in the film, but I think when audiences sign up for a Disney version of Hercules, they want to see the music numbers play out on the big screen again. "Go The Distance," "I Won't Say (I'm In Love)," all the Muses' numbers – those are the lively elements of Hercules that really set it apart from other versions of the Greek myth that have not played well with audiences in recent years. We've seen the gritty Hercules movies starring Dwayne Johnson and Kellan Lutz. The lesson learned with those live-action versions is no one really cared.
A Recreation Of The Original's Mount Olympus In Vibrant Live-Action
Going hand-in-hand with the musical element of 1997's Hercules, the live-action version should also model its visual aesthetic off the original. Recent movies about Greek mythology have gone for darker and more realistic colors for its design, but Disney should really go for a spectrum of color in its palette for the live-action Hercules. One really smart element of the movie was its use of vibrance for the world Zeus lives in on Mount Olympus, in contrast with Hades' Underworld and the more typical colors for Thebes. It provides great imagery for establishing the worlds of Hercules; plus, seeing this heavenly depiction of Mount Olympus on the big screen would just be breathtaking!
Danny DeVito Needs To Return As Philoctetes
As soon as the live-action Hercules was announced, fans quickly took to social media to show their love for Danny DeVito's portrayal of Philoctetes, a.k.a. Phil. Audiences clearly feel like there's a certain ownership over that character comparable to Robin Williams' Genie. 2019's Aladdin obviously had no choice but to cast Will Smith in the role, and he rose to the occasion/ But in the instance of Phil, Danny DeVito should absolutely be the only one on the call sheet for that character. DeVito is still a regular comedy actor in It's Always Sunny In Philadelphia and could easily reprise his Hercules role, capturing the spirit of the character without reciting it line-by-line. Hercules' mentor was a vital part of the original, but wasn't necessarily explored enough in the cartoon.
Let Megara Keep Her Edge In The Live-Action Hercules
The creation of Megara in Disney's framework was a vital element to the company for more new and complex female characters compared to the traditional Disney princess. Megara is truly one of the most unique women from Disney because she's coming off the loss of love and has been used by multiple characters in the film. It was unheard of for the studio at the time to write a female cynic, who is forced to make her way out of a bad situation by making a deal with Hades. The wholesomeness of Hercules and their blooming love is what redeems her, makes her believe in love and trust someone again. It's an edgy arc for a leading lady in a Disney flick and should absolutely be revisited and on a deeper level in the live-action Hercules.
More Characters From Greek Mythology Should Have A Large Role
Looking back at Hercules today, it feels like it had a lot of epic concepts the story had that were rushed through just so the film could remain an hour and a half. Over the course of the movie, audiences only briefly meet the gods living on Mount Olympus or learn about the culture of Ancient Greece. The ride through the intriguing Underworld is only minutes long, and the Mad Titans that Hercules must fight off during the finale have limited screen time as well. The beauty of this live-action project is it could be a three-act epic that is not only filled with action, but infused with a ton more Greek mythology for viewers to explore just as Hercules is learning of his roots with the gods.
Overall, Hercules is an especially exciting pick for Disney to bring to live-action and having the Russo Brothers behind the scenes skyrockets the film's potential even further. The House of Mouse is also planning to remake Robin Hood and Lilo & Stitch for Disney+. What are your thoughts on Hercules remake? What does it absolutely need to include? Sound off in the comments below and stay tuned here on CinemaBlend for more news on Disney remakes as they go from zero to hero.
YA genre tribute. Horror May Queen. Word webslinger. All her writing should be read in Sarah Connor's Terminator 2 voice over.
Your Daily Blend of Entertainment News
Thank you for signing up to CinemaBlend. You will receive a verification email shortly.
There was a problem. Please refresh the page and try again.