Wonder Woman 1984's Gal Gadot Gives Inspiring Speech To Class Of 2020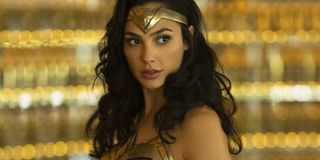 The coronavirus pandemic has caused countless disruptions to our everyday lives. For the Class of 2020, it's also stolen the chance for a traditional graduation ceremony. As schools all over the world have moved their graduation celebrations online, students have at least been able to say they had some pretty awesome virtual commencement speakers. Case in point: this weekend, Wonder Woman 1984's Gal Gadot stepped up to offer some words of wisdom to graduating seniors.
On May 16th, public figures from around the world joined together to offer well wishes to the Class of 2020. While former president Barack Obama gave a keynote speech for the online special Graduate Together, Gal Gadot joined others for CNN's own extended version of the event called "Class of 2020: In This Together." Like everyone else, the Wonder Woman 1984 star spoke from a remote location, and offered up an empowering message (via CNN):
Gal Gadot was quoting the first female Israeli Prime Minister, Golda Meir in her speech -- and she found a way to make that leader's words resonate with 21st century students by addressing the challenges they're facing:
Gal Gadot ended her speech by drawing inspiration from a character that's very personal to her:
Gal Gadot's virtual graduation speech was definitely an upgrade from her widely panned "Imagine" sing-along -- and it struck a much-needed positive tone in these exceedingly stressful times. The graduation celebration also featured hopeful, empowering messages from Zendaya, NBA icon and Space Jam 2 star Lebron James, Nobel Peace Prize winner and activist Malala Yousafzai, among others. It was one of several events taking place over the next couple of weeks to honor the Class of 2020. And fans who are excited to see Gadot on the big screen again can check out Wonder Woman 1984 when it hits theaters on August 14.
Your Daily Blend of Entertainment News
Your Daily Blend of Entertainment News
Thank you for signing up to CinemaBlend. You will receive a verification email shortly.
There was a problem. Please refresh the page and try again.