8 Movies And TV Shows You Might've Forgotten The Guardians Of The Galaxy Stars Were In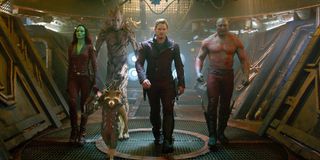 When Guardians of the Galaxy was released in 2014, it became an incredible critical and commercial success. Even by Marvel's standards, director James Gunn's goofy, charmingly irreverent ensemble piece was a rousing, top-earning blockbuster, one that elevated many of its stars into A-list status, including Chris Pratt and Dave Bautista, while also further advancing the careers of Zoe Saldana, Karen Gillan, Vin Diesel, Bradley Cooper, and Michael Rooker.
The movies remain a favorite among Marvel lovers and casual moviegoers alike, but it can be easy to forget/overlook some of the Guardians of the Galaxy cast's earlier performances. Indeed, before each of these celebrities made a name for themselves (or continued to shine), they had smaller, less remembered roles in some famous (and not-so-famous) movies and TV shows. Let's take a look at some films and shows that you might've forgotten were on the resumes of these famous stars.
Chris Pratt - Wanted
If you saw 2008's Wanted, you probably remember the scene where James McAvoy's Wesley Gibson, a frustrated account manager who discovers his father is a professional assassin and joins his secret society of mercenaries, triumphantly quits his horrendous cubicle job and gleefully whacks the dim-witted, self-centered co-worker (who's cheating with his girlfriend) with his computer keyboard, right smack in the jaw. What you might not remember, though, is that this minor role in this major action blockbuster was played by a pre-fame Chris Pratt.
Yes, years before the A-lister became a household name with Parks and Recreation and Guardians of the Galaxy, Pratt played supporting roles in movies like Bride Wars, Jennifer's Body, Zero Dark Thirty, Strangers With Candy, and the aforementioned Wanted, paving the way for his commercial success roughly five years later. Indeed, before he became a hit-making action star, Pratt could take a hit.
Zoe Saldana - Center Stage
Roughly a decade before she starred in 2009's Star Trek and Avatar, thus being prominently featured in two of the biggest action franchises of the following decade, and before she joined the Marvel Cinematic Universe with Guardians of the Galaxy, Zoe Saldana had noteworthy roles in small movies like Crossroads and Drumline, as well as bigger films like Pirates of the Caribbean: The Curse of the Black Pearl and Steven Spielberg's The Terminal, though some audiences were first introduced to the young actress through the dance drama, Center Stage.
The 2000 film earned a cult following, so it's certainly not forgotten by some, but it didn't get a loud response upon its release. Nevertheless, it was a bright showcase for Saldana's early talents, and it'd only be a few years later when she appeared in some of the biggest movies of the early 21st century.
Dave Bautista - Smallville
Before he became Drax the Destroyer in Guardians of the Galaxy, Dave Bautista was best known as a professional wrestler and mixed martial artist, with only a few acting credits to his name outside of the WWE. But Bautista did pick up the occasional acting gig, whether it was Chuck, The Man with the Iron Fists, or Riddick, including a notable guest star appearance in Smallville back in 2006. Credited solely by his stage name, Batista, at the time, this brief television appearance found our wrestler-turned-actor sparring with the Man of Steel. While he didn't win this round, it was only a matter of time before Bautista found his big career triumph in this hugely successful Marvel blockbuster — thus paving the way for other acting roles, including Blade Runner 2049, Spectre, Hotel Artemis, Stuber, and the upcoming My Spy, Dune, and Army of the Dead.
Vin Diesel - Awakenings
Vin Diesel has seen an interesting career progression. The actor struggled to find roles at first, leading to his autobiographical short film, Multi-Facial, which he wrote, directed, and starred in. The short film premiered at the Cannes Film Festival and got the attention of Steven Spielberg, leading Diesel to make his feature directorial debut, Strays, and playing a supporting role in his award-winning war drama, Saving Private Ryan.
A few years later, Diesel was playing lead roles in action movies like Pitch Black and The Fast and the Furious, which gave way to their own individual franchises and turned Diesel into an international superstar, including his one-sentence turn as Groot in Guardians of the Galaxy. Before all this happened, however, he earned his first acting credit in Penny Marshall's Awakenings. Or, should we say, his first acting appearance, as Diesel was uncredited as a hospital orderly.
Bradley Cooper - Sex and the City
It wasn't until his starring role in 2009's The Hangover that Bradley Cooper became a leading man and, eventually, an Oscar-nominated actor, writer, producer, and director. In the years leading up to his incredible success this past decade or so, including his tremendous performance in the Guardians of the Galaxy movies as Rocket Raccoon, Cooper was designated primarily to supporting turns in popular (and not-so-popular) movies and TV shows, including Failure to Launch, Wedding Crashers, Yes Man, Alias, Law & Order: SVU, and Nip/Tuck.
He also earned his first professional on-screen acting credit through an episode of HBO's Sex and the City, where he played a guy named Jake, a potential love interest for Carrie for a very brief (one episode) time. His character didn't play a noteworthy part in the immensely popular series, but it was a good calling card for the up-and-coming actor. Cooper would only continue to rise in the years that followed.
Michael Rooker - Cliffhanger
Making his film acting debut through a menacing turn in the bold, controversial crime drama, Henry: Portrait of a Serial Killer, Michael Rooker certainly caught a great deal of attention early into his career. In the years that followed, Rooker was known for playing supporting roles — often villains and antagonistic figures — in several movies and shows, including (but not limited to) Mississippi Burning, Tombstone, Mallrats, and the Sylvester Stallone mountain-climbing action movie, Cliffhanger.
The early-'90s action movie featured death-defying stunts and a decent bit of cheese, but it also had Rooker playing Hal Tucker, the best friend of Stallone's character who blames him for failing to save his ill-fated girlfriend, who fell to her death at the start of the movie. It was a substantial role in this 1993 flick, but it would be a while before Rooker regained wide and/or prominent commercial success with 2014's Guardians of the Galaxy.
Karen Gillan - Oculus
Granted, Karen Gillan has found a great deal of success from the start of her career. The young Scottish actress gained both early critical acclaim and a fervent fanbase when she played Amy Pond for several years on Doctor Who. The standout role allowed the one-time TV actress to find notoriety in the United States too — notably with her performance as Nebula in the Guardians of the Galaxy movies.
So, there is a good chance that her fanbase hasn't forgotten about even some of her early performances, including Outcast, Harley Street, and the lead role in the romantic comedy, Not Another Happy Ending. But a year before she played this Marvel character, Gillan starred in the Blumhouse supernatural horror movie, Oculus, directed by Mike Flanagan (The Haunting of Hill House, Doctor Sleep). It was a critical and box office triumph, leading to continued career highlights.
Lee Pace - Law & Order: SVU
Earning critical acclaim with shows like Pushing Daisies and Wonderfalls, Lee Pace was a celebrated TV actor who gained a few noteworthy movie roles in A Single Man, Lincoln, The Fall, Marmaduke, The Twilight Saga: Breaking Dawn - Part 2, and The Hobbit movies before he joined the cast of Guardians of the Galaxy as Ronan the Accuser. Before all these roles came to be, however, Pace's first professional on screen acting credit came from a 2002 episode of Law & Order: Special Victims Unit where he played a prisoner named Benjamin Tucker. In typical Law & Order fashion, the brief appearance only lasted a single episode, but it was certainly a start. Certainly, it was the guest role that eventually paved the way to the actor's future film and TV endeavors, including Halt & Catch Fire, the upcoming Foundation, and more to follow.
Who is your favorite Guardians of the Galaxy actor? Let us know in the comment section below!
Will is an entertainment writer based in Pittsburgh, PA. His writing can also be found in The Playlist, Cut Print Film, We Got This Covered, The Young Folks, Slate and other outlets. He also co-hosts the weekly film/TV podcast Cinemaholics with Jon Negroni and he likes to think he's a professional Garfield enthusiast.
Your Daily Blend of Entertainment News
Thank you for signing up to CinemaBlend. You will receive a verification email shortly.
There was a problem. Please refresh the page and try again.