Dark Waters And 7 Other Movies That Showcase Mark Ruffalo's Excellent Acting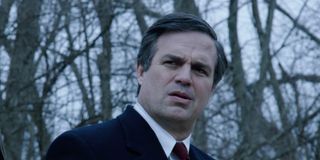 When I was watching Dark Waters not too long ago, I got to thinking about the film's lead actor, Mark Ruffalo, and just how good of an actor he really is. Since joining the Marvel Cinematic Universe with the 2012 release of The Avengers, Mark Ruffalo has been one of my favorite parts of the franchise. Being able to balance the responsibilities of playing both Bruce Banner and The Incredible Hulk in multiple movies is no easy task and requires someone with a great deal of talent. Luckily for everyone, Ruffalo has that and then some.
This got me thinking, for a large portion of the population, Mark Ruffalo might mostly be known for his appearances in the MCU. But in addition to pulling off the Hulk better than anyone before, the three time Oscar-nominated actor has given audiences some of the best performances of the 21st Century, some of which may have been lost in the shuffle. Here are just a few of those movies that showcase what Mark Ruffalo has to offer.
Dark Waters
Based on the true story of Robert Bilott, a former corporate defense lawyer who led a decades-long crusade to take on DuPont after he discovered a connection between a number of unexplained illnesses and deaths around some of the corporation's facilities, Dark Waters is equal parts environmental thriller and personal drama. This real-life legal drama was brought to life by the extremely talented acting skills of Mark Ruffalo. Watching his character transform from a corporate lawyer to emotionally-connected voice of the voiceless is riveting to say the least. There are times when you can feel the character's tension and stress, making his crusade all the more convincing, especially in the tail-end of the film.
Spotlight
Mark Ruffalo was nominated for an Academy Award for Best Supporting Actor for his portrayal of Boston Globe reporter Michael Rezendes in the 2015 journalism drama Spotlight. The film, which took home Oscars for Best Picture and Best Original Screenplay, focuses on the Spotlight investigative team that shed light on the Boston Archdiocese's role in covering up a widespread child sex scandal and the fallout of the investigation. With a team of actors made up Michael Keaton, Rachel McAdams, Brian d'Arcy James, no one shines more than Ruffalo. There's one scene in particular where Ruffalo's character confronts his team about holding the story and gives audiences the "They knew" line with so much anger and rage it's hard not to listen.
Foxcatcher
One year before he was nominated for his portrayal of an accomplished journalist, Mark Ruffalo was recognized with an Oscar nominated performance as Olympic gold medal-winning wrestler Dave Schulz in the 2014 sports drama Foxcatcher. The movie centers around the coach-wrestler relationship between American multimillionaire and convicted murderer John Eleuthère du Pont (Steve Carell) and Olympic gold-medalist Mark Schulz (Channing Tatum), but the latter's older brother plays an instrumental role in the film's plot. Constantly the voice of reason trying to get his younger brother to listen and distance himself from the eccentric du Pont, Ruffalo's character is constantly fighting with this brother's coach and pays the ultimate price.
The Kids Are All Right
When The Kids Are All Right was first released in 2010, it seemed like anyone and everyone was talking about it (for good reason). This dramatic comedy follows a same-sex couple (played by Annette Bening and Julianne Moore) whose lives are thrown into disarray after their teenage son discovers the identity of the anonymous sperm donor (Mark Ruffalo) who's responsible for his birth. Nominated for a bevy of Academy Awards (including Best Supporting Actor for Ruffalo) this chaotic, emotional, and hilarious family drama features some of the best acting you'll see from Ruffalo, whose portrayal of a free-wheeling restaurateur is one of the highlights of his stellar career.
The Normal Heart
Back in the early 2010s when Mark Ruffalo was between Avengers movies, he signed on to portray writer and activist New Weeks in Ryan Murphy's 2014 HBO original film The Normal Heart. Based on the play written by Larry Kramer (the inspiration for the character), the film dives headfirst into the AIDS epidemic in New York City. The movie features an all-star supporting cast of Julia Roberts, Alfred Molina, Jim Parsons, Matt Bomer, and Taylor Kitsch, but none compare to the intensity shown by Ruffalo in the leading role. Ruffalo's commitment to the role, in which he loses himself, provides for one of the most emotional and powerful performances of his career.
Zodiac
David Fincher's 2007 crime thriller Zodiac offers one of the most in-depth looks into the infamous Zodiac Killer who left the San Fransisco Bay area in a state of fear between in the 1960s and 1970s after killing multiple victims and toying with local police and media with coded messages. Mark Ruffalo appears as police inspector Dave Toschi, who worked the case for a number of years. Watching Ruffalo's character transform from a respected detective to the shell of his former self is both engaging and upsetting, especially when the scene in which the film Dirty Harry sets him off. I've watched this movie multiple times over the years, but Toschi's slow descent into madness gets me every time.
Shutter Island
Shutter Island is one of the movies that is anchored by such a strong performance by its lead actor, Leonardo DiCaprio in this case, that you forget about the phenomenal supporting cast. But Mark Ruffalo's portrayal of U.S. Marshal Chuck Aule (who turns out to be the lost doctor Lester Sheehan) is remarkable when you consider the fact he is giving a performance of a character whose whole goal is to convince another character that he is someone else. Bouncing back and forth between the roles shows Ruffalo's range as an actor, and it would be hard to find someone better equipped to handle the subtlety of the roles.
Eternal Sunshine Of The Spotless Mind
Eternal Sunshine Of The Spotless Mind is highlighted by the performances of Jim Carrey and Kate Winslet, two former lovers erasing their memories of one another after a bad breakup. Outside that, however, there is a different story about Lacuna, the company that carries out the procedure. One of these players is Mark Ruffalo's Stan Fink, the highly-trained, yet careless Lacuna technician whose lackadaisical approach to this job ends up causing a great deal of pain and heartache for all involved parties. Being able to craft a stoner-like character who floats through life's problems comes off so natural for the actor. Good thing Bruce Banner didn't make mistakes like that. Oh, wait…
Those are just eight of Mark Ruffalo's best performances outside the Marvel Cinematic Universe. Don't get me wrong, Ruffalo is amazing in every MCU movie in which he's appeared, but sometimes we forget that actors from that franchise have careers outside of Marvel. But if you want to see how Ruffalo's Zodiac co-star Robert Downey Jr. got him to be an Avenger, we've got you covered at CinemaBlend.
Philip grew up in Louisiana (not New Orleans) before moving to St. Louis after graduating from Louisiana State University-Shreveport. When he's not writing about movies or television, Philip can be found being chased by his three kids, telling his dogs to stop yelling at the mailman, or yelling about professional wrestling to his wife. If the stars properly align, he will talk about For Love Of The Game being the best baseball movie of all time.
Your Daily Blend of Entertainment News
Thank you for signing up to CinemaBlend. You will receive a verification email shortly.
There was a problem. Please refresh the page and try again.