Why Adam Sandler's Movies Are So Great To Work On, According To The Wrong Missy Star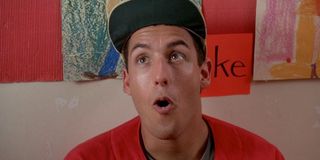 Adam Sandler has been in the film industry for decades now, and many know that he has a very "specific" style of filmmaking. Over the years, fans and critics have had polarized thoughts on Sandler's filmography, leading to a debate on the merits of his work. Despite this, many find his films to be relatively harmless fun, and it sounds like the process of making the films is just as enjoyable.
Lauren Lapkus recently starred in Netflix's The Wrong Missy, which was produced by Adam Sandler's production company, Happy Madison Productions. Although it was only her first time working on a Sandler production, Lapkus says that she was quickly embraced by the cast and crew, who are like an extended family. She believes this stems from the fact that most of the Happy Madison crew have been working together for a few decades:
Lauren Lapkus' sentiments to Los Angeles Daily News aren't unfounded. Say what you will about Adam Sandler and his work, the veteran actor does keep his collaborators close. When it comes to directors, Sandler has established a core group that include filmmakers like The Benchwarmers and I Now Pronounce You Chuck and Larry's Dennis Dugan and Frank Coraci, who helmed Click, Zookeeper and Blended.
This also applies to the actors Sandler works with in front of the camera. Most know by now that he's had multiple collaborations with actors like Kevin James, Rob Schneider and Jon Lovitz, some of whom are colleagues from Sandler's Saturday Night Live days. Schneider and two of Sandler's close colleagues, David Spade and Nick Swardson, actually star in The Wrong Missy alongside Lauren Lapkus.
When it comes to his movies, Adam Sandler is quite self-aware about what they are and how people perceive them. That doesn't mean the comedian doesn't stand by his work, though, as he's stated that he has never phoned in a single role. This is probably why characters like Billy Madison and Bobby Boucher have earned so many fans -- including Ariana Grande, who has even parodied scenes from The Waterboy.
Lauren Lapkus' comments about working with Happy Madison are nice to hear, as it's usually to anyone's benefit to be working in a warm work environment. Not only does it make people more comfortable, but it arguably allows work to be performed at a high-quality rate.
The Wrong Missy is now streaming on Netflix.
Your Daily Blend of Entertainment News
Covering superheroes, sci-fi, comedy, and almost anything else in film and TV. I eat more pizza than the Teenage Mutant Ninja Turtles.
Your Daily Blend of Entertainment News
Thank you for signing up to CinemaBlend. You will receive a verification email shortly.
There was a problem. Please refresh the page and try again.