Forget Endgame, Chris Hemsworth Says His New Netflix Movie Was The 'Most Exhausting' Shoot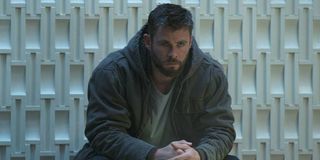 CinemaBlend is partnering with PIA VPN to bring you fresh content to stay in and stream with each day. We're also offering a special 76% discounted rate for a limited time only. You can sign up for the package with PIA here.
It's no secret Avengers: Endgame was a huge undertaking for the Russo Brothers, the cast, and everyone involved. The epic scope of the Marvel movie is undeniable. However, it looks like another film may have topped the exhaustion level for Thor actor, Chris Hemsworth and that film would be none other than Netflix's big upcoming movie Extraction.
After commenting on his brother's new physique, Chris Hemsworth spoke a little about his latest movie Extraction (not to be confused with the movie of the same name starring Kellan Lutz and Bruce Willis), saying it's the been the most exhausting shoot he's ever been apart of. Which now definitely piques my interest in the Netflix movie. Here's what he had to say:
Though Netflix's Extraction is not directed by the Russo Brothers, they have their hand all over it. Joe Russo wrote the script and it's being produced by he and his brother, Anthony Russo. Avengers: Endgame stunt coordinator, Sam Hargrave, will be making his directorial debut on Extraction, which is part of what Hemsworth is touching on with his comments to News.com.au.
With the same team behind Avengers: Endgame crafting this new action movie, it makes more sense that it might be more exhausting than Endgame. For one, this has more focus on one singular character, namely Chris Hemsworth as Tyler Rake, but there's likely a drive by the team to ratchet up what they've done before and push their talent to new areas and you can see the end results in the trailer for the movie.
But it's not like Chris Hemsworth can't handle the strain. Other than the time he wore a fat suit to play Fat Thor, he's never been known to pack on the pounds and has been a fitness geek for a long time. Still, that says something about the next-level intensity the director and crew took things for the movie.
Extraction is about Tyler Rake, a black market mercenary hired to rescue a crime lord's kidnapped son. All of this coming after the tragic death of his son, Rake must find and rescue the child in Dhaka, Bangladesh and grows close with the child as a result. It releases on April 24th on Netflix.
After killing bad guys and rescuing kids from imminent danger, Chris Hemsworth will also return as a worthy hero in Thor: Love and Thunder with plans to start shooting in August 2020. Until then, it looks like Extraction could be worth a nice Netflix night-in.
Your Daily Blend of Entertainment News