Chris Hemsworth's Franchise Roles, Ranked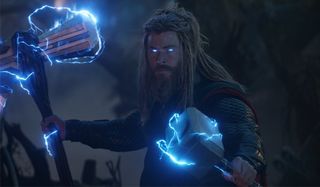 One of the famous Four Chrises, Chris Hemsworth is unquestionably one of the biggest stars working in Hollywood today, mainly due to his time as Thor in the Marvel Cinematic Universe. Fifteen years ago he was basically just a soap opera star, performing on the long-running Australian series Home And Away, but from those humble beginnings he's become one of the most popular actors working in the industry. And while his filmography is peppered with fantastic performances in excellent features like The Cabin In The Woods, Rush, 12 Strong, and Bad Times At The El Royale, a lot of his best work can be found in the franchise projects that he's taken on.
The reality is that we currently live in a world where brands are bigger than any single movie star, and it's a world to which Chris Hemsworth has adapted nicely over the years, specifically by taking part in a whole lot of different franchise projects. But how do all of those projects stack up against one another? That's what we're here to determine today through this feature. So sit back and let's take a journey through all of the actor's franchise roles to date.
5. Vacation (Stone Crandall)
John Francis Daley and Jonathan Goldstein's Vacation takes a lot of big swings in its attempt to recreate the magic of the classic National Lampoon films from the 1980s and 1990s… and to be blunt, most of those swings are misses. It's a movie packed with a lot of gross out moments and just straight-up mean comedy, and more often than not it just doesn't connect. At the very least, though, Chris Hemsworth does manage to get some laughs in the movie, and it did give him his first real chance to show off his legitimate comedy skills.
Audiences meet Chris Hemsworth's Stone Crandall about halfway through the 2015 comedy, as the ranch he owns along with Audrey Griswold-Crandall (Leslie Mann) is one of the many stops made by the Griswold clan (Ed Helms, Christina Applegate, Skyler Gisondo, and Steele Stebbins) as they continue their cross-country trip to Wally World. The central gag is that Stone makes Rusty Griswold feel terribly insecure, and it's not difficult to see why. He is a popular weatherman ready to step up to the national stage, is incredibly handsome, and is much more of the typical "man's man." Oh, and he has a giant penis that he likes to show off while strutting around in tight underwear.
Most of the jokes in Vacation get more grimaces than chuckles, but what few giggles there are to be found in the movie do come from Chris Hemsworth's small supporting role. His weird obsession with faucets in his folksy sayings does successfully become one of the film's funnier running gags, and he also gets one of the funnier reaction bits after Rusty decimates one of his cows by plowing through it while riding an ATV. This probably isn't one of the best moments from Hemsworth's career so far, but at the very least it did start to show audiences that he was more than just an action movie star.
4. Huntsman (Eric The Huntsman)
Chris Hemsworth carried a whole lot of heat going into Rupert Sanders' 2012 fantasy film Snow White and the Huntsman, and while the movie isn't exactly one of the best titles on his resume, it did ultimately prove his growing star power. While the majority of the film was given a tepid response by critics and audiences, one thing that most could agree upon was the impressive charisma demonstrated in Hemsworth's turn as the nameless Huntsman. And if you need any larger proof of this, it's one of the few blockbusters in history that got a sequel entirely based around a supporting character.
We first meet The Huntsman (later revealed to be named Eric) as a drunken lout in perpetual mourning of his dead wife. He is given a chance at redemption, however, when he goes against orders from the evil Queen Ravenna (Charlize Theron) and transforms his manhunt for Snow White (Kristen Stewart) into a rescue mission. Teamed with the fairest of them all, he is then able to help take down Queen Ravenna – though as we learn in The Huntsman: Winter's War, it proves to only be a temporary success. The sorceress returns in the sequel, teamed with her ice-powered sister Freya (Emily Blunt), and the adventures comes packed with the surprise reveal that Freya has been keeping his wife, Sara (Jessica Chastain), prisoner for years.
The two Huntsman movies are primarily failed by lacking scripts not quite worthy of the stars hired to play the roles, and this is particularly true for Chris Hemsworth, who really does shine through the material. As silly as the movies can be, he commits to the drama and the world, and is the MVP of both features. Clearly it's not his best franchise work, but it did start to help him make a name for himself beyond his work for Marvel Studios.
3. Ghostbusters (Kevin Beckman)
While Paul Feig's Ghostbusters is viewed as "controversial" by some, one aspect of the movie that most audiences can agree on is that Chris Hemsworth is hilarious as Kevin Beckman. Sure, he's a character so stupid that you suspect he might occasionally forget to breathe, but that's a massive part of his charm, as you're laughing basically every second that he's on screen in the film.
As they newly formed Ghostbusters (Kristen Wiig, Melissa McCarthy, and Kate McKinnon) are setting up their new company, they realize that they need a receptionist to help keep their business organized, and they make the misguided choice of picking Kevin for the job. The man is certainly a pleasure to look at, but he is also dumb as a stump, and not exactly incredibly skilled when it comes to being an office manager. He does, however, have the occasional bit of insight, such as pointing out that an aquarium is essentially a submarine for fish.
Chris Hemsworth's dramatic chops and action star good looks have primarily kept him more often playing serious characters in his career, but the Australian star also has truly awesome comedic timing, and his role in Ghostbusters arguably takes better advantage of it than any other film he's made so far in his career. And making it only more impressive is the fact that the role required Hemsworth to adapt to a whole new style of acting, as Paul Feig is all about on-set invention and improvisation. All in all, it's a performance that demonstrates just how awesomely talented the guy really is.
2. Star Trek (George Kirk)
Like his role in Vacation, Chris Hemsworth's part in J.J. Abrams' Star Trek isn't very large. Not only is he not in the movie beyond the first sequence, his character doesn't even survive beyond it, dying in a massive explosion out in the depths of space. Limited as the screen time may be, however, the actor's time as George Kirk wholly deserves to take the number two slot on this list, as it's fantastic and impressively memorable – and arguably the reason why Hemsworth has the career that he has today.
Star Trek is a film that takes zero time throwing the audience into the action, as it opens with the Federation starship USS Kelvin under attack by a massive Romulan ship that emerges from what appears to be a lightning storm in space. As Captain Robau (Faran Tahir) prepares to leave his post and negotiate with the enemy, he leaves Chris Hemsworth's George Kirk in charge, and it proves to be a remarkably intelligent move. While Robau is killed and the Kelvin is ultimately destroyed, hundreds if not thousands of lives are saved because of Kirk's fortitude, as he is able to not only temporarily fend off the hostile aliens, but make the brave choice to sacrifice his life to ensure everyone's safety… a group that includes his wife (Jennifer Morrison) and newborn son James.
Though his tenure as a Star Trek captain is perhaps one of the shortest in the history of the franchise, Chris Hemsworth's performance is one we remember every second of because the immense bravery and emotion that he is able to sell. Even if he weren't the father of one of the most famous sci-fi heroes of all time it would still make an impact, as everything about the turn is impressive. And even if it's a role that he never gets to play again, fans will always hold it close to their hearts, as it was specifically because of it that he ultimately landed him his greatest character…
1. The Marvel Cinematic Universe (Thor)
Did you really think any other role was going to take the top spot on this list other than Thor? The answer is no, because picking anything else would have been devastatingly stupid. In the last eight years, the actor has turned the God of Thunder into a cinematic icon, and even when the movies haven't been as good as his performances, he's still managed to shine as brightly as the buildings of Asgard.
Prior to 2011, Thor seemed like a questionably property, as while the character had persisted for decades as one of the most popular heroes on the pages of Marvel Comics, Hollywood was unsure if he could be taken seriously by mainstream audiences. In large part thanks to Chris Hemsworth's performance, however, that conversation quickly changed, and at this point it's hard to believe there was a time when anyone questioned his worthiness to wield Mjolnir. The first solo film directed by Kenneth Branagh cemented him as a star, Joss Whedon's The Avengers fully affirmed that he wasn't just a flash in the pan and the rest has been a massive part of 21st century cinematic history.
Perhaps even most impressive of all is the fact that Thor's time on screen has only improved as the years have passed, and Marvel Studios has figured out how to best utilize Chris Hemsworth's talent. Not only have the movies continued to lean more into the actor's impressive aforementioned comedic gifts, but he's also gotten better and better with increased stakes and drama as well – with the hero repeatedly losing all of the people in his life he truly cares about. From Thor: Ragnarok, to Avengers: Infinity War, to Avengers: Endgame, Hemsworth has navigated one of the greatest character arcs in the entire Marvel Cinematic Universe, and it has been awesome to watch.
Fortunately, it also would appear that Chris Hemsworth's time playing Thor is not yet at an end, as he has said that he is still excited to take the character on more adventures in the future – perhaps with the Guardians of the Galaxy. Only time will tell, but one can estimate that the Asgardian won't be departing the top of this ranking any time soon.
What do you think are Chris Hemsworth's best franchise roles? Do you agree with our ranking, or would you order them differently? We want to know your views on the matter, so hit the comments section below with all of your thoughts, feelings, and opinions.
Your Daily Blend of Entertainment News
Assistant Managing Editor
NJ native who calls LA home and lives in a Dreamatorium. A decade-plus CinemaBlend veteran who is endlessly enthusiastic about the career he's dreamt of since seventh grade.