Jessica Chastain Explains Why She Can't Re-Watch One Of Her Movies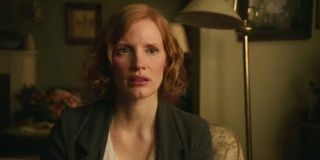 Jessica Chastain's film career has pretty much run the gamut. She's done everything from romantic dramas to gory, horror films and somehow always seems to fit right into the genre. While there are countless films she can be proud to be a part of, there is one in particular she has a hard time watching - though maybe not for a reason you might expect.
In 2011, Jessica Chastain's career was just beginning to take off. She appeared in a total of six films that year, including The Help, which catapulted her to the top of the list of Hollywood's most sought-after actresses. But it was Terrence Malick's experimental The Tree of Life that seems to have made the biggest impact on her personally. Jessica Chastain recently shared her thoughts on how her experience making the film was so intense and how she has a hard time seeing footage from it:
In the video clip accompanying her tweet, Jessica Chastain reveals she was an unknown before she was cast in The Tree of Life. While she was initially told that they would never cast someone like her opposite Brad Pitt, she eventually won the role:
In The Tree of Life, Jessica Chastain plays Mrs. O'Brien, a loving but stern housewife in 1950s Texas. The film is primarily told from the perspective of her child, who sees her reverentially. While that may not sound all that life-changing, those who've seen the film may be able to understand why Jessica Chastain feels the way she does about it. Like most Terrence Malick movies, The Tree of Life feels more like a rumination on the purpose of existence than anything else. It's mostly a slice of life story, showing how the main character, Jack, grows up while observing his mother's kindness, often at odds with his strict father's approach to parenting. Though not a lot happens through the segments of the movie that feature Mrs. O'Brien, the movie still paints a poetic and sometimes hauntingly intimate picture of what it feels like to grow up.
Though Jessica Chastain says that she can't watch The Tree of Life because it feels so vulnerable, she also makes it clear that Terrence Malick helped capture that vulnerability thanks to the tone that he set during production:
When it was released, The Tree of Life initially polarized critics and audiences. Though it won the Palme d'Or at Cannes, it was both cheered and booed when it screened there. Many found the film's extremely long runtime and meandering narrative difficult to follow and wrote the film off as a result. In the near-decade since, especially since its 2018 re-release, it's experienced a reappraisal, and many fans have come to enjoy the introspective way the film explores humanity -- in other words, the elements of the film that are so personal to Jessica Chastain and make it so difficult for her to watch it now.
Your Daily Blend of Entertainment News