Karen Gillan: 7 Fascinating Facts About The Marvel And Doctor Who Star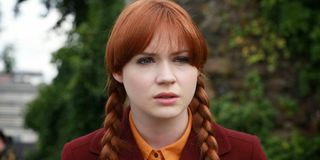 In the past 12 years, Karen Gillan has gone from being a promising young Scottish actress to one of the biggest names in Hollywood. Notably with key roles in Doctor Who, Guardians of the Galaxy, Avengers: Infinity War, Avengers: Endgame, and the latest two Jumanji movies, Gillian's Hollywood profile continues to rise, particularly as she steps behind-the-camera more. There is no shortage of Karen Gillan fans worldwide, but do you know these fun facts about the rising superstar? Here are seven interesting pieces of trivia you should know about Karen Gillan, especially if you're a super-fan.
As A Teenager, Karen Gillan Made Amateur Horror Movies With Her Dad
Even from a young age, Karen Gillan was interested in making movies. Before she starred in some of our biggest blockbusters, the actress and future writer/director was making amateur horror movies in her house as a teenager, with her father often playing roles. During a 2018 profile with The Guardian, Gillan talked about how she was once a 14-year-old with a "plan" and an "unusual drive," which she attributes to growing up without siblings. It allowed the actress to spend a lot of time in her head and make up stories, some of which became home movies she filmed.
Also, in your typical low-budget horror movie fashion, Gillan would squirt ketchup over her father in lieu of fake blood. She claims the support her parents gave her paved the way to her continued interest in professional acting and filmmaking.
Karen Gillan Doesn't Drive
Some folks jump behind-the-wheel as soon as can. Others take their time to learn how to drive — if they learn at all. Ultimately, Karen Gillan falls into the latter camp. The actress traveled across the galaxy, not to mention space and time, in Doctor Who, but the TV-movie star actually doesn't drive. In fact, as seen in the video found below, Gillan claims she didn't learn until she was in her 20s and working on the popular BBC sci-fi series. As recently as 2018, Gillan said she still doesn't drive, despite living in car-friendly L.A., which certainly provides several different challenges. It might not make a difference given her fame, but it's interesting to know that — despite all her accomplishments —Gillan hasn't made this leap yet. It's a bit ironic that someone with this much personal and professional drive can't actually, you know, drive.
Karen Gillan Made Her Broadway Debut In 2013's Time To Act With James McAvoy
As an actress, Karen Gillan has certainly made a splash on screens both big and small. But in 2013, Gillan made the leap from the screen to the stage with her Broadway debut, Time To Act, one of the plays included in The 24 Hour Plays on Broadway series. The event required the actors involved to learn a play in 24 hours, as the name suggests, and perform it. For her play, Gillan had fellow Scottish actor James McAvoy as a stage partner. While the details of the play itself were vague, Gillan noted in an interview that it involved McAvoy stealing Gillan's hair. The actress was bald at this time, as she was recently in production on the first Guardians of the Galaxy movie. With this play, Gillan crossed yet another achievement off her list!
Karen Gillan's Hair Was Donated To Star Wars
Speaking of Karen Gillan's hair, or lack thereof, when the actress shaved her head to play Nebula in 2014's Guardians of the Galaxy, Gillan's striking red tresses went in a curious new destination. More specifically, it went to a galaxy far, far away. Indeed, Gillan claimed in a Collider interview to promote her horror movie, 2013's Oculus, that she donated her shaved mane to the hair and make-up crew of Star Wars: The Force Awakens, another Disney production. Where the hair went in that massive production is unclear, but it was ultimately used to bring the hugely popular sci-fi movie to life. While the hair is no longer attached to Gillan's scalp, it lives on inside this ever-expansive science-fantasy franchise. So, the next time you watch J.J. Abrams' space adventure film, be sure to look out for Gillan's locks! They're there somewhere!
Nebula Wasn't Originally Going To Survive Guardians of the Galaxy Vol. 1, Apparently
As many film fans should know, a movie doesn't always stay the same from script-to-screen. There are several changes made throughout the process. Some major, some minor. And that includes the fate of some notable characters. Certainly, when you have a movie as massive as 2014's Guardians of the Galaxy, you should expect a number of changes made, and that includes Nebula's storyline. According to Karen Gillan, her character originally did not make it to the end of the movie, by her own recollection, but something changed and she was brought back. It's a decision she's obviously quite happy about; it allowed Nebula to grow, change, and appear in future blockbusters like Guardians of the Galaxy Vol. 2, Avengers: Infinity War, Avengers: Endgame, and the upcoming Guardians of the Galaxy Vol. 3, respectively. Here's what Gillan said:
Karen Gillan Made Her Feature Screenwriting/Directorial Debut With The Party's Just Beginning
From her early days making shorts in her house, Karen Gillan has clearly wanted to jump behind-the-camera. Therefore, it was simply a matter of time before she made her directorial debut. While Gillan helmed a couple short films in 2015, including the drama Coward and the horror-dramedy Conventional, which was featured in the anthology Fun Size Horror: Volume Two, it was with 2018's The Party's Just Beginning that the actress officially made her feature screenwriting-directorial debut. In the dark dramedy, Gillan plays Liusaidh, a wayward 20-something who remains adrift after her best friend commits suicide. This first feature showcased lots of talent, style, and confidence from Gillan as a promising young filmmaker, and she aspires to jump behind-the-camera again. Last year, Gillan directed another short film, The Hoarding, and she expressed interest in directing an MCU movie someday.
Karen Gillan Also Expressed Interest in Playing The Joker Or Batgirl
As Karen Gillan continues her career ascension, it's apparent that the talented star wants to tackle as many projects as she can — both as a performer and filmmaker. Notably, in past interviews, the Marvel actress noted that she's eager to take on two separate DC characters: Joker and Batgirl. In 2017, Gillan noted that she'd love to play the first female Joker, even going as far as to say it was her "calling" to be this memorable Batman super-villain. Certainly, with Warner Bros. keen to provide many different Jokers as possible, a female Joker is an intriguing prospect. Additionally, earlier this year, Gillan discussed her interest to not only play Batgirl but also direct a movie based on the DC character. Clearly, Gillan's ambitions are lofty. Here's hoping she continues to prove herself in the years to come.
These are only a few fun trivia facts about Karen Gillan. There's more to know about the star, from her piano skills to her inability to swim to her desire to play a Bond villain someday. But what are some things you think every fan should know about this A-list actress? Be sure to let us know in the comment section below!
Will is an entertainment writer based in Pittsburgh, PA. His writing can also be found in The Playlist, Cut Print Film, We Got This Covered, The Young Folks, Slate and other outlets. He also co-hosts the weekly film/TV podcast Cinemaholics with Jon Negroni and he likes to think he's a professional Garfield enthusiast.
Your Daily Blend of Entertainment News
Thank you for signing up to CinemaBlend. You will receive a verification email shortly.
There was a problem. Please refresh the page and try again.