Why John Wick's Director Doesn't Think The Movies Should End On Cliffhangers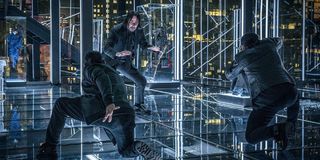 A lot of Hollywood movies end on a happy note, and only the rare few will end on a cliffhanger or a down note. For John Wick's director, Chad Stahelski, however, it sounds like he takes a totally different approach to storytelling with the Keanu Reeves-led franchise, and doesn't think the movies should end on cliffhangers.
Recently, Chad Stahelski spoke with The Hollywood Reporter about his upcoming projects, including The Matrix 4 and John Wick 4, and gave a little insight into his process when ending each John Wick movie. Stahelski said he's not keen on forcing a happy ending or a cliffhanger, but just ending the story when it needs to end. Here's what he said:
The mythology of John Wick and all the rules that the underground societies follow have always been among the franchise's most compelling strengths. So it's interesting to hear those in charge have used that focus on mythology as a compass to guide how their stories will end.
All of this points directly to the climactic ending in John Wick: Chapter 3 – Parabellum, an ending that feels so much like a cliffhanger that it's maddening. However, even though some of John Wick's endings may feel like cliffhangers, it sounds like that's not director Chad Stahelski's intention, as he added:
This isn't the first time the director has spoken about John Wick's endings. This time last year, Chad Stahelski bluntly said he doesn't think John Wick will ever have a happy ending. Keanu Reeves added to that sentiment, saying things will end with the character dying or being alone.
With no intention for cliffhangers or happy endings, Chad Stahelski has every intention to dive back into the next John Wick installment. However, since Keanu Reeves has his hands full with a number of projects, it sounds like they ran into scheduling conflicts. To make matters worse, John Wick 4 was scheduled to release the same day as The Matrix 4, but was pushed back a whole year later to May 27, 2022. Hopefully that story doesn't end on a cliffhanger.
Your Daily Blend of Entertainment News
Thank you for signing up to CinemaBlend. You will receive a verification email shortly.
There was a problem. Please refresh the page and try again.